--Welcome to Friday! Here are the usual assortment of thoughts running through my muddled mind and as always, they come in no particular order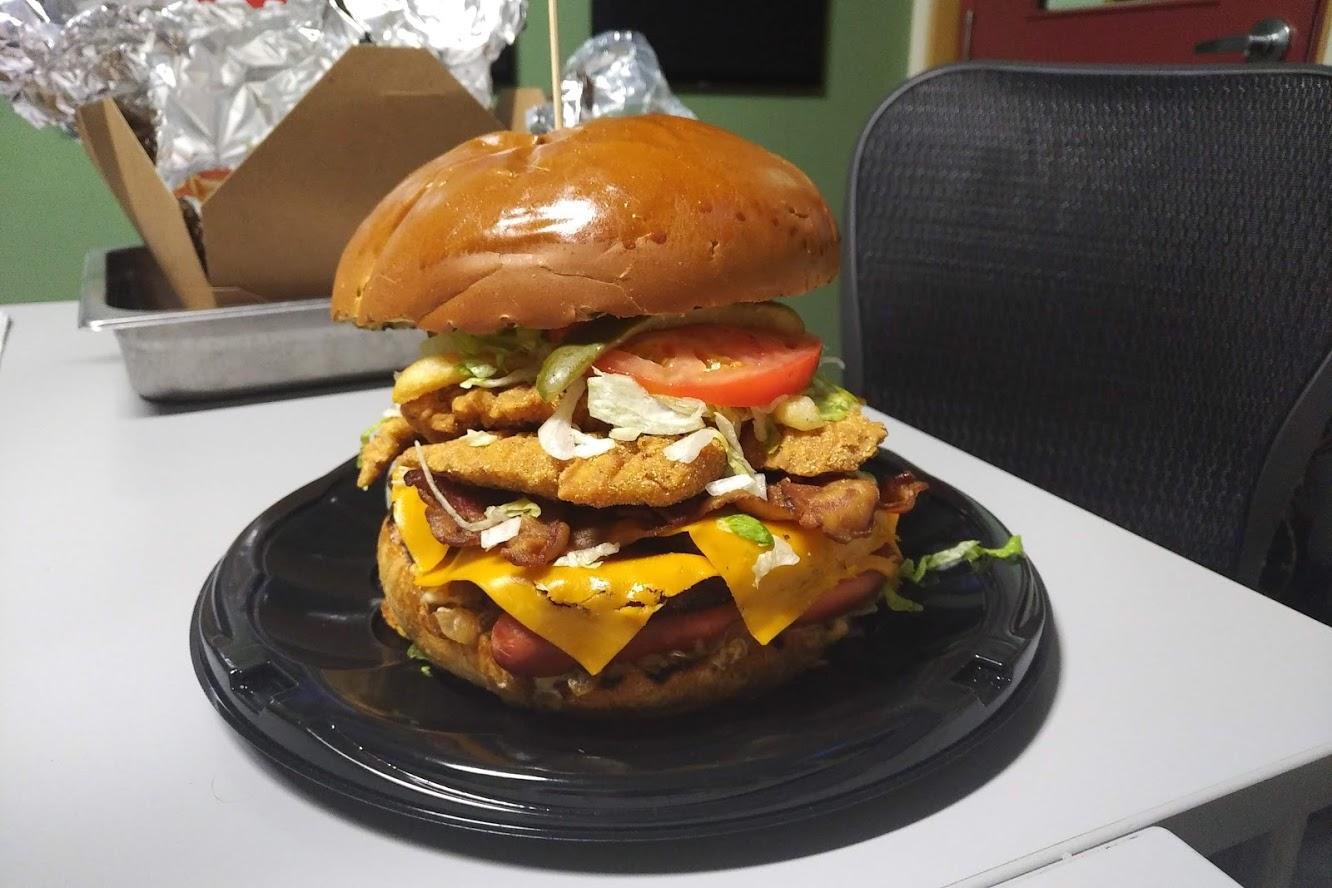 --This is what they sold in Winnipeg last night as an attempt to get some more fans into Investors Group Stadium. It is a Walbyburger. For $45, you could have had this monstrosity which features 6 hamburger patties, six chicken fingers, six hot dogs, cheese and well....you can see it and if you haven't vomited already go ahead! Actually, your old pal Dalby from the WOLF 104.9 said if you were taking your family to the game, you could buy one of these things and feed the family at the same time. Some get chicken fingers, some get a hamburger patty...etc. etc. and it would likely be cheaper in the long run.
I've said it once and I'll say it again. Why do teams believe that creating food monstrosities like this will be what brings them out. You could plop one of these things down beside me and I would push it away and go thanks, but no thanks (OK, I might pull two burgers out before doing so). Going to the game for me is not about ludicrous food options like this. It is about the game. Give me a burger, give me a dog, give me nachos, but don't give me this. Does this interest you? If so, please tell me why? I just don't get the fascination.
--As Cody Fajardo mania continues to grow in Saskatchewan, I had someone ask me this week "Whatever happened to Brett Smith". I do not know. This is not to suggest Fajardo is going to end up like Smith, but I remember when many thought he could be the next one.
Speaking of Cody, 3Down Nation's Justin Dunk got tongues wagging when he said the XFL is looking at Fajardo I love JD, but I am guessing the XFL is looking at Fajardo and any other player that won't have a contract next year both on this side and the other side of the border. Its no different than what we saw with the Alliance of American Football. Whether or not Fajardo bolts for the XFL is something we won't know for a long time, but this is news that should surprise no one.
Still with Cody, are people really mad that he brings up religion when he speaks. Really? Who cares? Yeah, it isn't my cup of tea either and I don't think he or anyone else will be thanking Jesus if he throws three interceptions and is pulled at the end of the half, but if he wants to do it because he is religious in nature so be it.. To criticize that is being very petty and nitpicky if you ask me.
--Let's be honest. Did anyone of you think the Riders would be the hottest team in the CFL as we approach the midway mark of the season. I sure didn't, but low and behold they are. I wondered aloud if the team's first bye of the year came at the right time because there was a Chris Jones-hangover. Since that first bye week, the team has gone out and won all four of their games. As they now take their second bye week, I think they see they are a good football team, but one that still needs to show they can beat Calgary and Winnipeg. They will get that chance against the Bombers soon,
With Jeremiah Masoli out of the lineup, I would say the Riders are the 3rd best team in the league right now and certainly no lower than 4th. Sorry Edmonton!

--The Riders win in Montreal is still being debated because of the way the game ended. I ask you this. What would the reaction be on Labour Day if a big storm hit around 3 o'clock, but all was good and pleasant by 6 and it was a perfect night. I hope this issue is re-visited during the off-season.

--Who's the MOP right now?

--The Argos have placed Zach Collaros on the six-game injured list. I am beginning to think we have seen the last of Zach Collaros on a CFL field.
--The Oilers rookies usually play the University of Alberta in an exhibition game. That game won't go this year because Oilers owner Daryl Katz is upset with the University over something so he doesn't want the game to go. Nice job Daryl! Don't give your rookies some competition in a meaningful game. Just keep being your petty self Daryl. Let your personal battles be more important than that of your major property which isn't generating much excitement right now. If it weren't for Eugene Melnyk, the Oilers might have the worst owner in the NHL.

--MY92 afternoon guy Mark Johnston, who might be the best when it comes to radio in this city and is just an all-around great schmuck, asked a great question this week. Where have all the lemonade stands been this summer? He hasn't seen them and either have I. They have to be out there. Don't tell me that phones and tablets have taken over kids to the point they aren't spending their afternoons making lemonade. That would be terrible!
--The Regina Pats sent out a photo this week of the Brandt Centre ice all adorned with logos of advertisers. It was hard not to notice the boards were white. I know advertisers will soon be along the boards as well, but I love the pristine white boards and wish it could be that way. Alas, some things are gone and never will return.......like the intense hatred between Moose Jaw and Regina. SIGHHH!
--Has it really been eight years since we lost Rick Rypien?
--Without the work of Gary Brotzel, Bernie Eiswirth and Sharon Clarke, I don't know if Regina baseball fans would be able to enjoy the nights they do at Currie Field watching the Regina Red Sox. All three are getting inducted into the Saskatchewan Baseball Hall of Fame this weekend and I think that is fantastic. Many of those who come to games have no idea how hard those three work whether it be during the short-season or the long off-season to give this city a team that year in and year out is one of the league's best.
Speaking of the Red Sox, what a gorgeous night to watch baseball at Currie Field as Regina opened up the WCBL final against Okotoks. If a 3rd game is needed, it will be back in Regina on Saturday with Regina needing a win after losing to the Dawgs.
--That's all I got. I'm Alberta-bound so be good to yourself and we'll chat next week