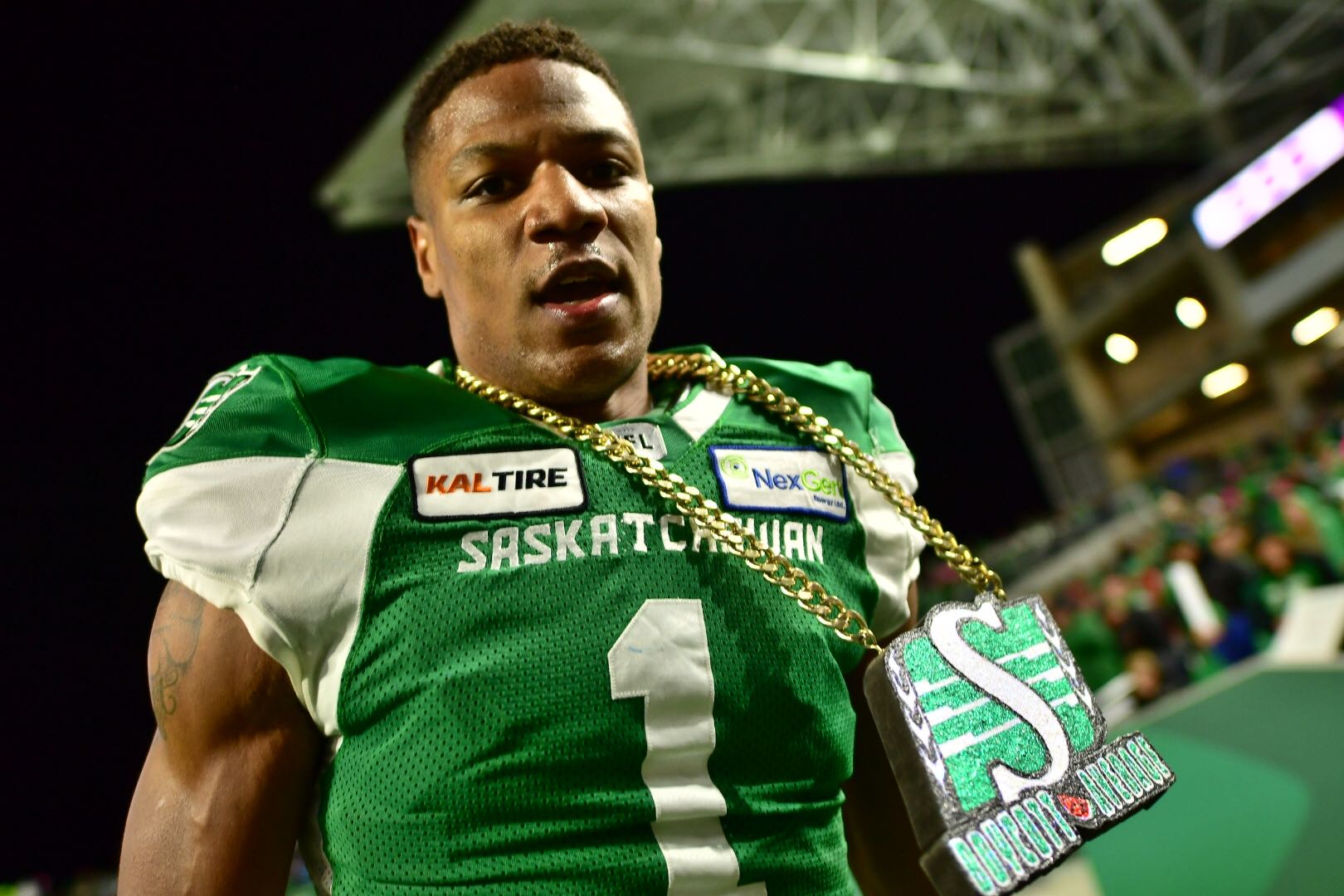 Since losing their first two games of the season, the Saskatchewan Roughriders have won 10 of their last 12. In fact, if the season ended after this weekend's games, the team would find itself sitting first in the West after a 21-6 win over Winnipeg Saturday night as they are now 10-4.
It was a night second-year receiver Shaq Evans won't forget. The UCLA product had a monster night making seven catches for 193 yards including a game-breaking 61 yard touchdown late in the 4th quarter to break open what had been a tight playoff-type encounter between the two Western Division rivals.
Evans, who now has 1,096 yards receiving on the season, told 620 CKRM's Derek Taylor during "The 5th Quarter" says it was a very tough game and one where they were confident they could break through.
"Just keep grinding. We knew if we just kept grinding, we would be able to make the plays we needed." Evans said. "It was frustrating to know we were so close, but we just couldn't get that play we needed until the end."
Cody Fajardo threw for 299 yards. He was quick to credit Evans saying with full bias that he is the best receiver in the league.
"Hands down he is the best receiver in the league. Don't at me on Twitter either." Fajardo said. "He is a go and get it player. Sometimes I throw some hope balls and he comes down with them which is what good football players do. He makes big-time plays in big-time games."
Fajardo added that while his team might be in first right now, it doesn't mean a lot at the end of the day.
Being in first place is tremendous, but our goal is to be in first place at the end of the year," Fajardo said."If we say we're the Week 18 first-place team that doesn't mean anything. It's finishing the end of the year in first place."
While the Riders are first in the West with four games to play—three on the road, head coach Craig Dickenson says it is nice, but there is still a lot of football to be played.
"It gives us a leg up to be sure, but we're not there yet. We know we are going to have be good on the road starting next week in Calgary." Dickenson said.
The Riders can go a long ways to perhaps finishing first in the West next Friday night when they meet Calgary. A win in that game would leave Saskatchewan two games ahead of the Stampeders with three games to play.
NOTES:
The 193 yard game from Evans was the 6th 100 plus yard game he has had in his career. Saturday's game was his 31st CFL game.
The Riders have not been in first place after Week 14 of the season since the 1976 season
Ed Gainey had one of three interceptions that the Rider defence had. The pick was Gainey's 2oth career INT