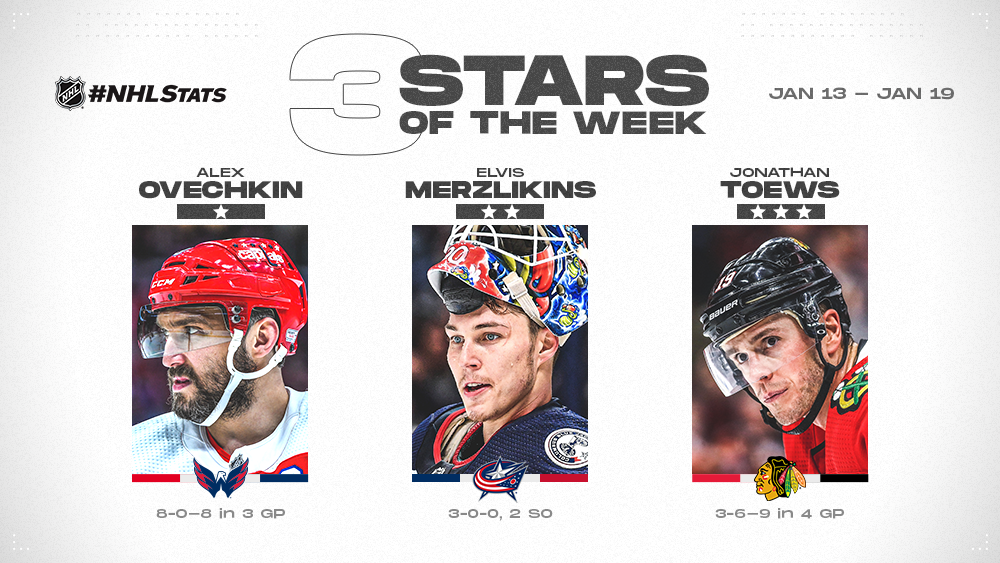 NEW YORK (Jan. 20, 2020) – Washington Capitals left wing Alex Ovechkin, Columbus Blue Jackets goaltender Elvis Merzlikins and Chicago Blackhawks center Jonathan Toews have been named the NHL's "Three Stars" for the week ending Jan. 19.
FIRST STAR – ALEX OVECHKIN, LW, WASHINGTON CAPITALS
Ovechkin led all skaters in goals and tied for second in points with 8-0—8 in three games, including three multi-goal performances highlighted by back-to-back hat tricks for the third time in his career, to propel the League-leading Capitals (33-11-5, 71 points) to a perfect 3-0-0 week. He opened the week with a pair of goals in a 2-0 victory over the Carolina Hurricanes Jan. 13 to bump his career goal total to 686 and surpass Teemu Selanne into 11th place on the NHL's all-time list. Ovechkin then rattled off back-to-back hat tricks in a 5-2 win over the New Jersey Devils Jan. 16 and a 6-4 triumph over the New York Islanders Jan. 18 – marking the first time in his career he has scored multiple goals in three straight outings. In addition to Selanne, the 34-year-old native of Moscow, Russia, also passed Mario Lemieux (690) and moved into a tie with Steve Yzerman (692) for ninth on the all-time goals list while moving within eight markers of becoming the eighth member of the NHL's 700-goal club.
SECOND STAR – ELVIS MERZLIKINS, G, COLUMBUS BLUE JACKETS
Merzlikins recorded a perfect 3-0-0 record in three appearances with a 0.67 goals-against average, .982 save percentage and two shutouts as the Blue Jackets (26-16-8, 60 points) won four games to move into the first Wild Card position in the Eastern Conference. He began the week with a 34-save shutout in a 3-0 win over the Boston Bruins Jan. 14 after also blanking the Vegas Golden Knights in his previous start Jan. 11. In doing so, he became the second rookie in franchise history to record a shutout in consecutive appearances, joining Steve Mason (Dec. 27-31, 2008; 3 GP). He then made 32 saves in a 3-2 victory over the Carolina Hurricanes Jan. 16 and concluded the week with yet another shutout in which he turned aside 41 shots in a 5-0 triumph over the New Jersey Devils Jan. 18 to become just the seventh rookie goaltender in the NHL's modern era (since 1943-44) to post three shutouts in the span of four starts. Merzlikins, a 25-year-old native of Riga, Latvia, has made 20 appearances with Columbus this season with an 8-6-4 record (2.36 GAA, .928 SV%, 3 SO).
THIRD STAR – JONATHAN TOEWS, C, CHICAGO BLACKHAWKS
Toews led all skaters with 3-6—9 in four games last week to help the Blackhawks (24-20-6, 54 points) win all four contests and move within three points of the final Wild card position in the Western Conference. Toews opened the week with 1-2—3, including his 15th career overtime winner, in a 3-2 victory over the Ottawa Senators Jan. 14 and followed it up with an assist in a 4-1 win over the Montreal Canadiens Jan. 15. He closed the week with 2-2—4 in a 6-2 victory over the Toronto Maple Leafs Jan. 18 and added an assist in a 5-2 win over the Winnipeg Jets Jan. 19. Toews, a 31-year-old native of Winnipeg, Man., ranks second on the Blackhawks with 14-30—44 in 50 games this season and is currently riding a six-game point streak dating to Jan. 9 (4-9—13 in 6 GP). He boosted his career totals to 341-458—799 in 923 games and now sits one point shy of becoming the sixth player in Blackhawks history to record 800 points with the franchise.