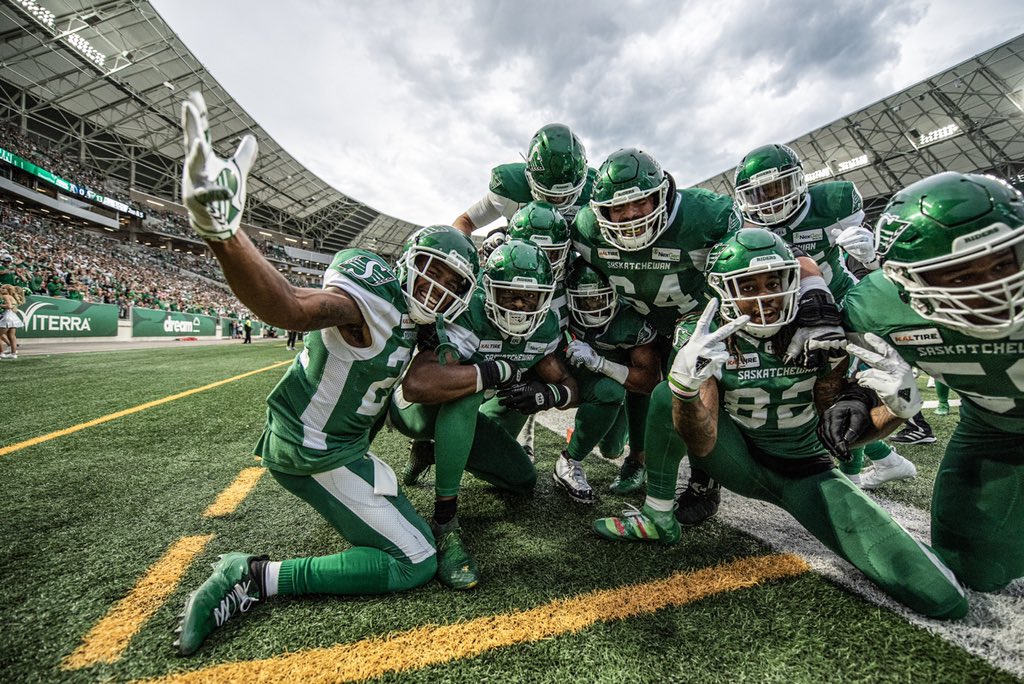 (Photo: Saskatchewan Roughriders)
The Cody Fajardo show continued Monday night at Mosaic Stadium much to the delight of Rider Nation.
After throwing for 360 yards in his first start with the club to set a team record last month against Ottawa, many wondered if Fajardo could come up with a repeat performance. He answered that question with an emphatic yes.
Fajardo threw for a career-high 430 yards and two touchdowns in a 32-7 win over Toronto that was delayed two hours because of a summer storm that passed through Regina. He was quick to give credit to the other 11 players around him for having the success he has.
"It's truly a blessing to have two games back-to-back like that, but I can't do without the guys in that room." Fajardo said. "The offensive line did a great job protecting me, our receivers came down with multiple contested balls and Coach (offensive co-ordinator Stephen) McAdoo did a great job of calling a game-plan that made me feel comfortable so it was an all-around effort."
The biggest pass of the night came one play after Derrick Moncrief snuffed out a promising Toronto drive by intercepting a James Franklin pass at the Riders 12. On that next play, Fajardo found Kyran Moore behind the Toronto secondary for a 98 yard touchdown and a 13-0 lead.
For Head Coach Craig Dickenson, it was a special night as he recorded his first victory as a CFL head coach receiving the Gatorade shower from Dan Clark and Dyshawn Davis to celebrate the milestone victory. He says it was a special night.
"That was a long game. The football gods were going to make us wait today." Dickenson said. "Our guys showed a lot of resilience and played hard from start-to-finish. I was real proud of them."
Dickenson was also quick to praise the play of Fajardo.
"He just managed the offence well and had a good feel for the game." Dickenson told reporters in his post-game scrum. "He's a proven player. I think a lot of people forget he had a good college career. He has taken his opportunity and has made the most of it.
Defensively, the team played its best game of the young season with Charleston Hughes leading the way with a pair of sacks. He says while it was a solid effort from his group, they can still be better.
"So far it's been the best one, but we can still improve so that's just the beginning. "Hughes said. "We left a lot out there. We got to the quarterback a lot, but we didn't bring him down so we can be better in that area and we did give up a couple of big plays so we have some things to look on."
There isn't much time to relish this victory as the green-and-white will be back on the Mosaic Stadium turf Saturday to take on the Calgary Stampeders. Game time is 8 PM.