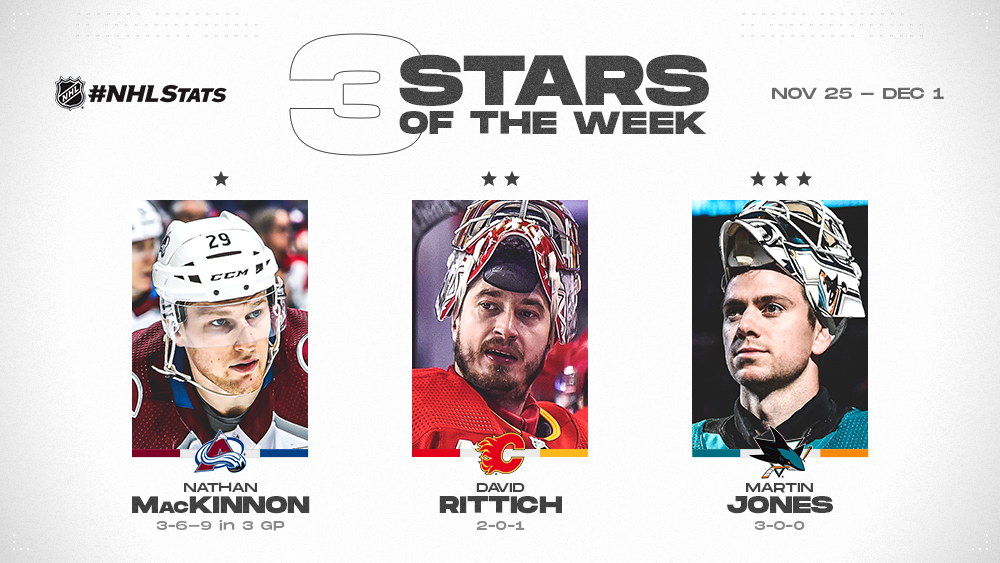 NEW YORK (Dec. 2, 2019) – Colorado Avalanche center Nathan MacKinnon, Calgary Flames goaltender David Rittich and San Jose Sharks goaltender Martin Jones have been named the NHL's "Three Stars" for the week ending Dec. 1.
FIRST STAR – NATHAN MacKINNON, C, COLORADO AVALANCHE
MacKinnon topped the NHL with 3-6—9 in three games to power the Avalanche (16-8-2, 34 points) to a perfect week and into second place in the Central Division. He collected 1-1—2, assisting on the go-ahead goal and scoring 1:02 later, in a 4-1 comeback victory against the Edmonton Oilers Nov. 27. MacKinnon then registered 1-3—4, his eighth career four-point performance and third of the season, in a 5-2 triumph over the Chicago Blackhawks Nov. 29. He closed the week with 1-2—3 in a 7-3 win against the Blackhawks Nov. 30. The 24-year-old Halifax, N.S., native – who on Sunday was named the NHL's "Second Star" for the month of November – is riding a seven-game point streak dating to Nov. 16, accumulating 6-10—16 during that stretch. Overall, MacKinnon ranks among the League leaders in assists (t-4th; 25), points (5th; 42) and goals (6th; 17) through 26 total contests this season.
SECOND STAR – DAVID RITTICH, G, CALGARY FLAMES
Rittich stopped 95 of the 101 shots he faced, compiling a 2-0-1 record, 1.94 goals-against average and .941 save percentage in three contests to lift the Flames (13-12-4, 30 points) to five out of a possible six standings points. He made 35 saves in a 3-2 overtime loss to the Pittsburgh Penguins Nov. 25. Rittich then turned aside 34 shots, including 16 in the third period and overtime, in a 3-2 triumph over the Buffalo Sabres Nov. 27. He added 26 stops in a 3-1 victory against the Ottawa Senators Nov. 30. The 27-year-old Jihlava, Czech Republic, native has played in 23 total games this season, posting a 12-7-4 record with a 2.68 goals-against average, .915 save percentage and two shutouts.
THIRD STAR – MARTIN JONES, G, SAN JOSE SHARKS
Jones went 3-0-0 with a 1.98 goals-against average and .935 save percentage in three appearances to backstop the Sharks (15-12-1, 31 points) to three wins in four games and into third place in the Pacific Division. He earned two victories against his former team, the Los Angeles Kings, making 33 saves in both a 4-3 overtime win Nov. 25 and a 4-1 triumph Nov. 29. Jones, who went 10-2-0 in November (2.62 GAA, .902 SV%), closed the month with 21 stops in a 4-2 victory against the Arizona Coyotes Nov. 30. The 29-year-old North Vancouver, B.C., native has compiled a 12-8-1 record with a 3.03 goals-against average and .896 save percentage through 22 total outings this season.
(NHL Media)