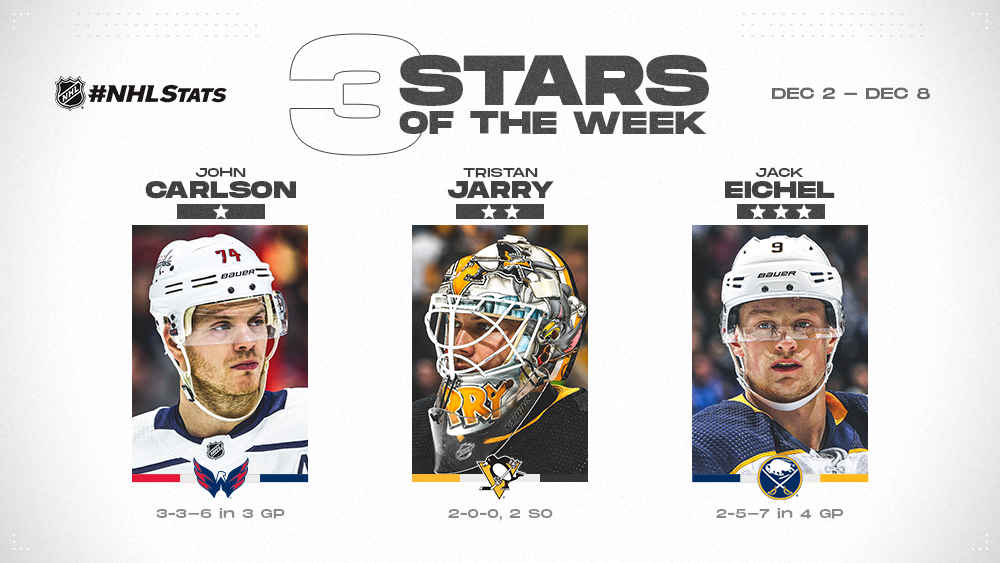 NEW YORK (Dec. 9, 2019) – Washington Capitals defenseman John Carlson, Pittsburgh Penguins goaltender Tristan Jarry and Buffalo Sabres center Jack Eichel have been named the NHL's "Three Stars" for the week ending Dec. 8.
FIRST STAR – JOHN CARLSON, D, WASHINGTON CAPITALS
Carlson registered 3-3—6, including two game-winning goals, in three contests to propel the Capitals (22-4-5, 49 points) to a perfect week and into first place in the overall NHL standings. Carlson posted his sixth three-point performance of the season, as well as his third game-winning goal, in a 5-2 triumph over the San Jose Sharks Dec. 3 (1-2—3). He then scored twice, including the decisive goal, in a 3-1 victory against the Los Angeles Kings Dec. 4. Carlson closed the week with one assist in a 3-2 win over the Anaheim Ducks Dec. 6, helping Washington sweep a three-game road trip through California for the first time in franchise history. The 29-year-old Natick, Mass., native tops NHL defensemen in goals (11), assists (32), points (43) and game-winning goals (4) through 31 outings this season. Only two other blueliners in League history have recorded as many points through their team's first 31 games of a campaign: Bobby Orr (5x, most recently in 1974-75: 21-37—58 w/ BOS) and Al MacInnis (1990-91: 13-31—44 w/ CGY).
SECOND STAR – TRISTAN JARRY, G, PITTSBURGH PENGUINS
Jarry stopped all 61 shots he faced across two appearances, compiling a 2-0-0 record and two shutouts to help the Penguins (17-9-4, 38 points) earn three wins and move into the first Wild Card position in the Eastern Conference. Jarry made 28 saves for his third career shutout in a 3-0 triumph over the St. Louis Blues Dec. 4. He then turned aside all 33 shots against in a 2-0 victory over the Arizona Coyotes Dec. 6, extending his personal shutout streak to 144:51 (dating to Nov. 29) – the longest by a Pittsburgh goaltender in the regular season since Marc-Andre Fleury's 165:06 run from Feb. 1-11, 2015. The 24-year-old Surrey, B.C., native has played in 11 total games this season, going 7-4-0 with a 1.82 goals-against average, .943 save percentage and two shutouts.
THIRD STAR – JACK EICHEL, C, BUFFALO SABRES
Eichel topped the NHL with 2-5—7 in four outings to extend his personal point streak to a career-high 13 games (10-13—23) and lift the Sabres (14-11-6, 34 points) into third place in the Atlantic Division. Eichel registered 1-2—3, his seventh three-point effort of the season, in a 7-1 victory over the New Jersey Devils Dec. 2. He then scored once in a 4-3 defeat against the Calgary Flames Dec. 5 and picked up two assists in a 6-5 overtime loss to the Vancouver Canucks Dec. 7. Eichel capped the week with an assist on Colin Miller's overtime winner in a 3-2 triumph against the Edmonton Oilers Dec. 8. The 23-year-old North Chelmsford, Mass., native – who is one of 10 players on pace for 100 points in 2019-20 – ranks seventh in the League with 18-24—42 through 31 contests this season.