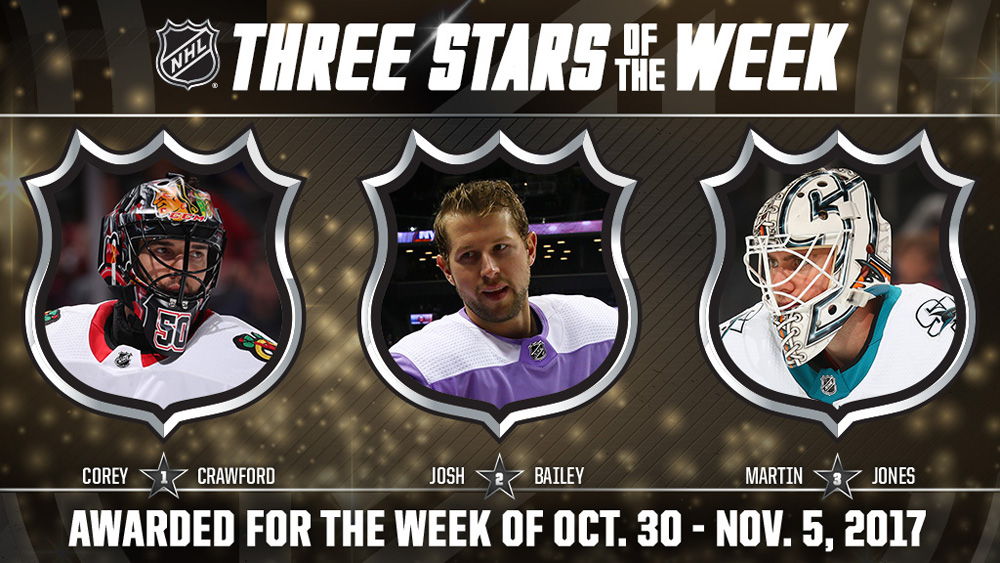 Chicago Blackhawks goaltender Corey Crawford, New York Islanders right wing Josh Bailey and San Jose Sharks goaltender Martin Jones have been named the NHL's "Three Stars" for the week ending Nov. 5.
FIRST STAR – COREY CRAWFORD, G, CHICAGO BLACKHAWKS
Crawford went 2-1-0 with a 0.68 goals-against average, .979 save percentage and two shutouts to lead the Blackhawks (7-6-2, 16 points) to a pair of wins. He opened the week with consecutive shutouts, making 35 saves in a 3-0 triumph against the Philadelphia Flyers Nov. 1 and 24 stops in a 2-0 victory over the Minnesota Wild Nov. 4. It marked the fifth time Crawford has registered consecutive shutouts in his NHL career (394 GP) and first such instance since Dec. 11-13, 2015. He then finished the week with 33 saves in a 2-0 loss to the Montreal Canadiens Nov. 5. The 32-year-old Montreal native owns a 7-5-0 record in 13 appearances this season, pacing the NHL with a 1.77 goals-against average, .945 save percentage and two shutouts (tied).
SECOND STAR – JOSH BAILEY, RW, NEW YORK ISLANDERS
Bailey collected a League-leading seven assists in three games to guide the Islanders (8-5-1, 17 points) to a 2-1-0 week. He matched a career high with three helpers in a 6-3 victory against the Vegas Golden Knights Oct. 30. Bailey then posted two assists in each of his next two outings, a 4-3 loss to the Washington Capitals Nov. 2 and a 6-4 win over the Colorado Avalanche Nov. 5. The 28-year-old Bowmanville, Ont., native has 2-14—16 during a career-high, nine-game point streak, the longest by any Islanders player since 2013-14 (Thomas Vanek: 5-10—15 in 10 GP). His 15 assists share second place in the NHL this season (3-15—18 in 14 GP).
THIRD STAR – MARTIN JONES, G, SAN JOSE SHARKS
Jones picked up three victories in three starts, compiling a 1.30 goals-against average and .938 save percentage to backstop the Sharks (8-5-0, 16 points) to a perfect week. He made 16 saves in a 3-2 triumph over the Toronto Maple Leafs Oct. 30, 19 stops in a 4-1 victory against the Nashville Predators Nov. 1 and 25 saves in a 2-1 shootout win over the Anaheim Ducks Nov. 4. The 27-year-old North Vancouver, B.C., native is 7-3-0 in 10 appearances this season, ranking second in the NHL with a 1.98 goals-against average and fifth with a .930 save percentage.
(NHL Media)