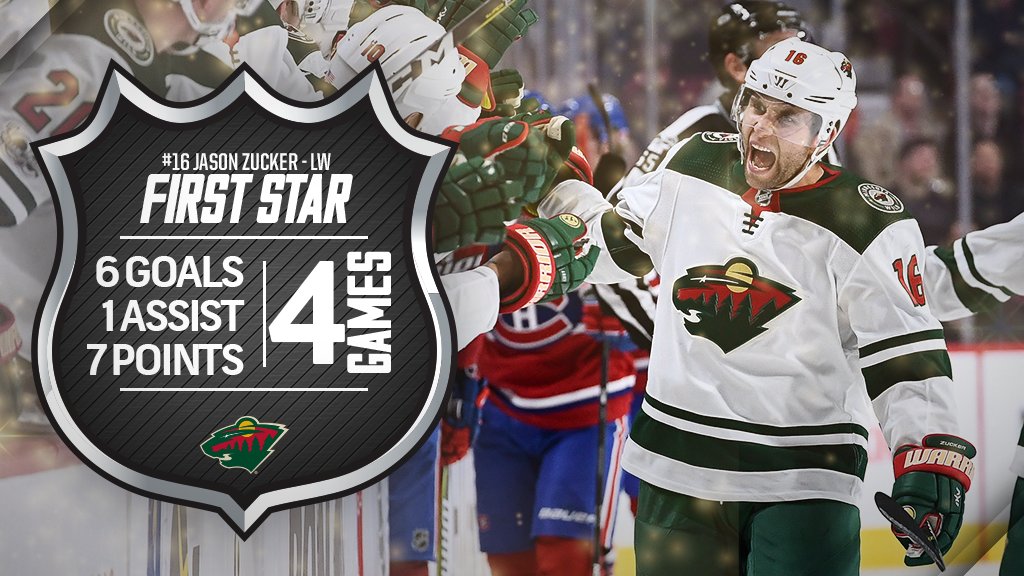 FIRST STAR - JASON ZUCKER, LW, MINNESOTA WILD
Zucker led the NHL with six goals and seven points in four games (6-1-7) to power the Wild (7-7-2, 16 points) to a pair of victories. He collected one assist in a 5-3 loss to the Boston Bruins Nov. 6. Zucker then scored each of the next six goals for the Wild, beginning with two in a 4-2 loss to the Toronto Maple Leafs Nov. 8. He added his first career hat trick, including the decisive marker, in a 3-0 triumph over the Montreal Canadiens Nov. 9 and then capped the week with the lone tally in a 1-0 victory against the Philadelphia Flyers Nov. 11. In doing so, Zucker became the first NHL player to record six straight team goals since Boston's Glen Murray in 2003-04. The 25-year-old Las Vegas native - who is one shy of matching the League record for consecutive team goals scored - paces Minnesota with nine tallies and 14 points in 16 contests this season.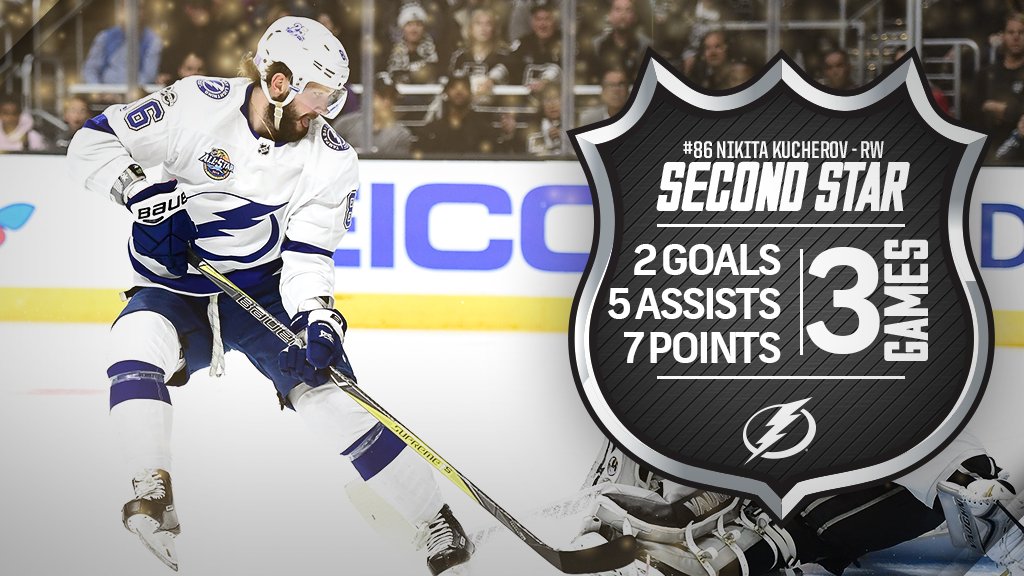 SECOND STAR - NIKITA KUCHEROV, RW, TAMPA BAY LIGHTNING
Kucherov ranked second in the NHL with 2-5-7 in three games to propel the League-leading Lightning (14-2-2, 30 points) to a perfect road trip through California. He posted 1-2-3, including the winning goal, in a 5-1 victory over the San Jose Sharks Nov. 8. He added another 1-2-3 performance in a 5-2 triumph against the Los Angeles Kings Nov. 9 and picked up one assist in a 2-1 win over the Anaheim Ducks Nov. 12. The 24-year-old Maykop, Russia, native paces the NHL with 16 goals and ranks second with 30 points in 18 games this season. He and Steven Stamkos (8 23-31) are the first set of NHL teammates to each record 30 or more points before their club's 20th game of a season since 2005-06, when players from both the Ottawa Senators and Philadelphia Flyers achieved the feat.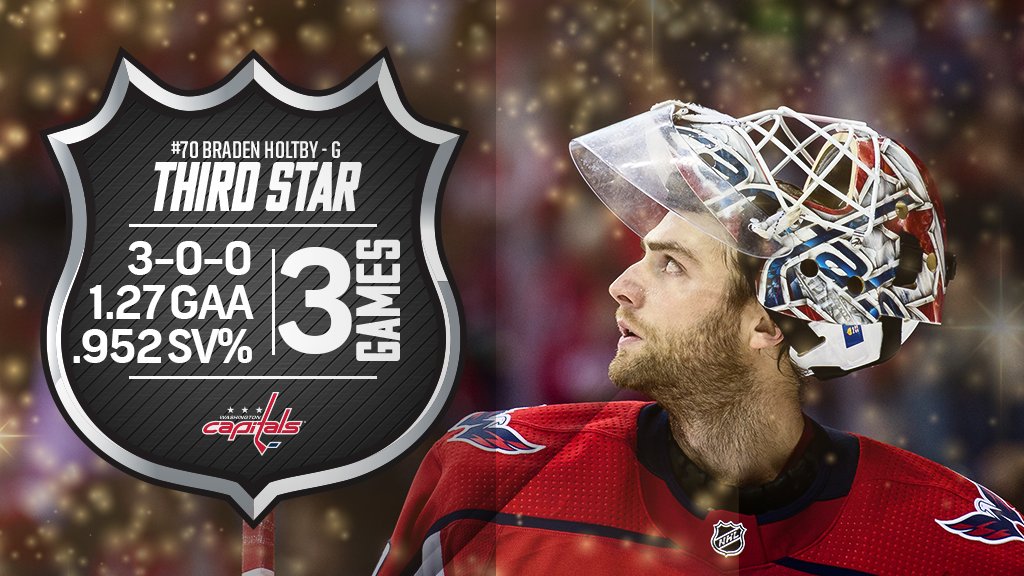 THIRD STAR - BRADEN HOLTBY, G, WASHINGTON CAPITALS
Holtby went 3-0-0 with a 1.27 goals-against average and .952 save percentage to backstop the Capitals (10-7-1, 21 points) to three wins in four contests. He opened the week with 24 saves in a 3-2 overtime victory against the Arizona Coyotes Nov. 6. Playing his 319th career game, Holtby made 27 stops to earn his 200th NHL win in a 4-1 triumph over the Pittsburgh Penguins Nov. 10. In doing so, he became the second-fastest goaltender in League history to record 200 victories, behind Ken Dryden (309). Holtby added 29 saves, plus three shootout stops, in a 2-1 win over the Edmonton Oilers Nov. 12. The 28-year-old Lloydminster, Sask., native - who has won six straight games - shares second place in the NHL with 10 victories in 13 outings this season (2.35 GAA, .927 SV%).
(NHL Media)