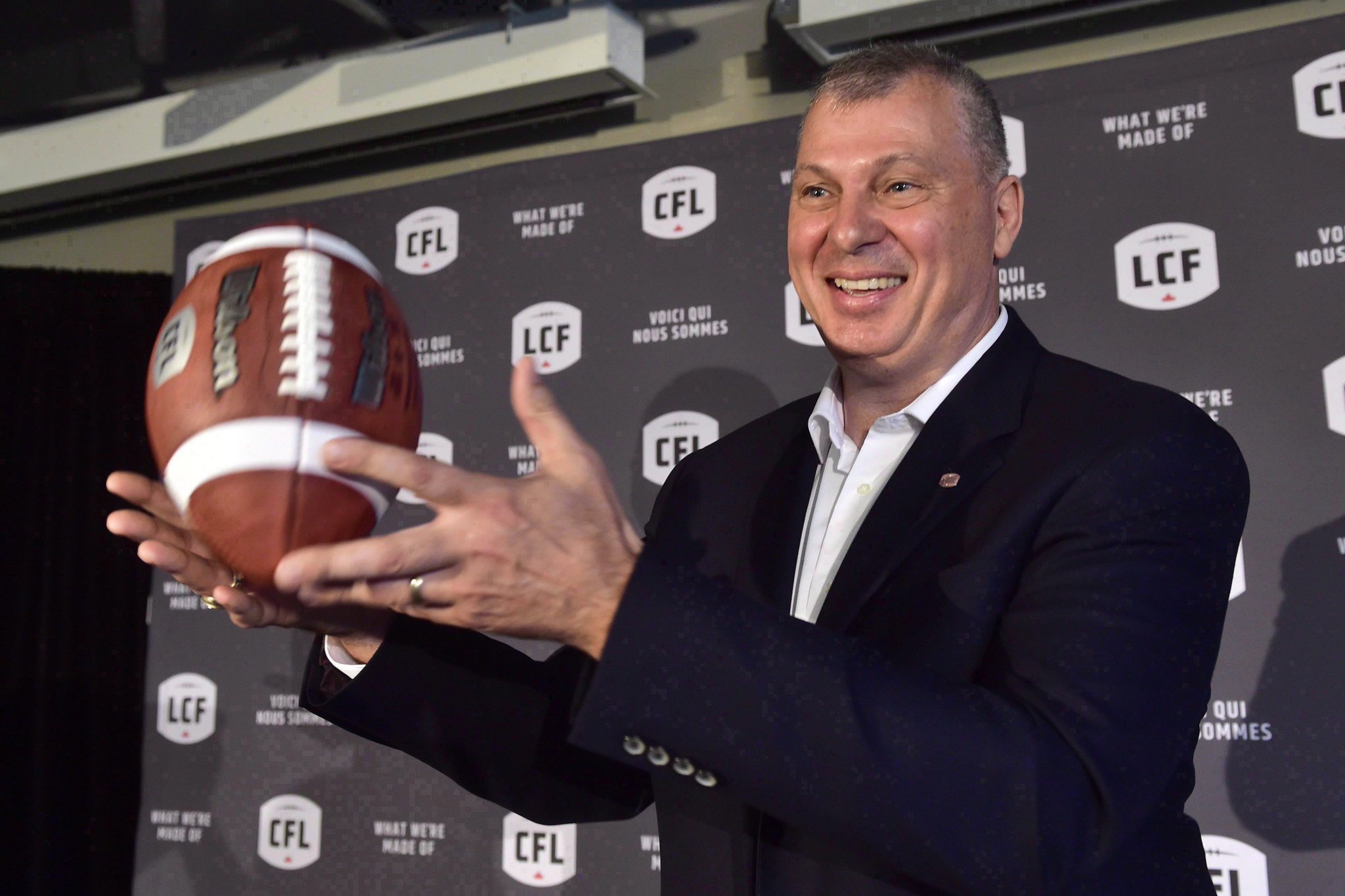 The Canadian Football League is strong and looking towards an even brighter future, says Commissioner Randy Ambrosie.
"Our mission is to take our league to even greater heights," Ambrosie told those at the annual State of the League news conference today in Ottawa.
Five months into his tenure as the league's 14th Commissioner, Ambrosie highlighted some key metrics:
- It is expected that one in three Canadians will watch at least part of the 105th Grey Cup presented by Shaw on TSN and RDS this Sunday at 6 pm ET.
- Two million fans attended a CFL game this year.
- 2.4 million watch the CFL on TSN and RDS each regular season weekend.
- Playoff ratings for the divisional semifinals were up seven per cent and ratings for the divisional finals were up 15 per cent from a year ago.
- Offensive scoring is up 19 per cent and penalties are down 14 per cent since 2014.
- The league has seen $2 billion invested in recent years in new and improved venues, including the opening of the new Mosaic Stadium this year in Saskatchewan.
- Fans are engaging with the league online like never before, with 20.7 million video views this year on CFL social media channels; 25 million page views on CFL.ca; 175,000 fans playing some form of CFL fantasy and 60,000 downloads of the league's CFL Football Frenzy mobile game.
Ambrosie cited several new steps forward for the league in 2017:
- the launch of its Diversity is Strength campaign, which brought a message of inclusion to the CFL's own sidelines and events with youth, including a #BringItIn Rally with hundreds of local school children here this week.
- the introduction of Mark's CFL Week, a fan- and media-friendly offseason showcase for the league's leading players and top prospects;
- the mid-season decision to improve game flow by reducing coaches' video challenges to one per team per game;
- the CFL NFL Flag Football tournament for youth that included competitions in every CFL city and culminated in a championship played here this week.
- an unprecedented agreement with the Canadian Football League Players' Association to ban full contact practices during the regular season plus an extension of the season to reduce the number of short turnarounds between games.
"The health and safety of our players is of paramount importance to us," said Ambrosie, who played in the CFL for nine seasons and was a member of the Edmonton Eskimos team that won the Grey Cup in 1993.
Addressing the issue of concussions in sport, Ambrosie described as "state of the art" the league's approach to promoting awareness among players and working to prevent, diagnose, assess and treat concussions.
He vowed to continue to work with experts in the medical and scientific communities as research evolves.
He praised the work CFL teams and players do in the community, including the Be More Than a Bystander program that combats violence against women, Purolator Tackle Hunger which supports local food banks, CP Has Heart and its efforts to promote heart health, and many more.
On the prospect of the CFL adding a tenth team, Ambrosie confirmed an "enthusiastic and credible" group has come forward with hopes of securing a franchise for Halifax. But he stressed that discussions are in the early stages and a lot of work has to be done before any decisions are made.
"I know this can feel like unfinished business for many Canadians and especially our fans," he said.
"But we must do our due diligence to ensure any expansion would make our entire league stronger over the long term."
The Calgary Stampeders will face the Toronto Argonauts Sunday in the 105th Grey Cup presented by Shaw, which will also feature a half-time performance by Shania Twain.
To be played here at TD Place Stadium at Lansdowne Park, the home of the Ottawa REDBLACKS, the Grey Cup is the biggest single day sporting event in Canada and one of the country's most watched events of any kind.
(CFL Communications)