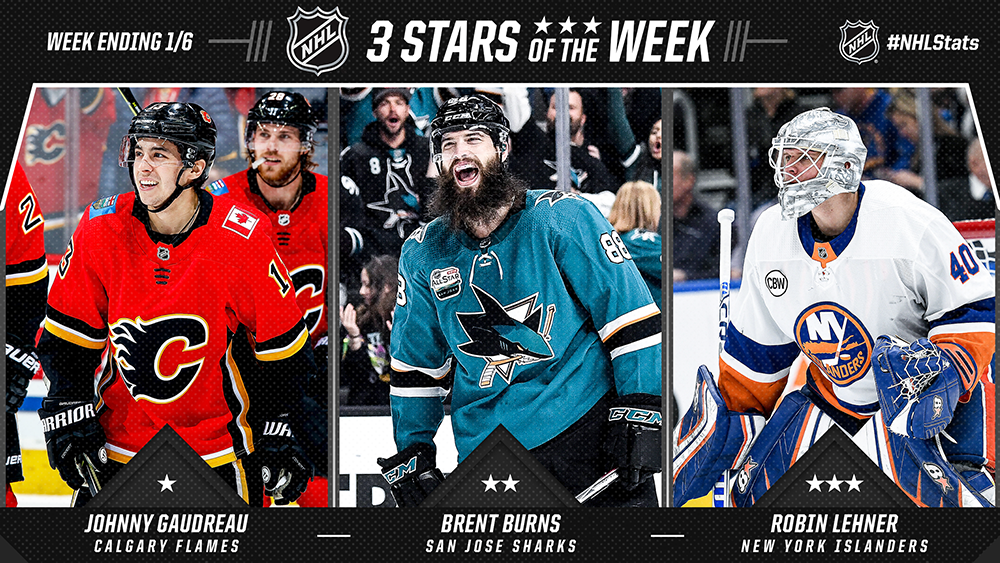 Calgary Flames left wing Johnny Gaudreau, San Jose Sharks defenseman Brent Burns and New York Islanders goaltender Robin Lehner have been named the NHL's "Three Stars" for the week ending Jan. 6.
FIRST STAR – JOHNNY GAUDREAU, LW, CALGARY FLAMES
Gaudreau led the NHL with five goals and 11 points in four games (5-6—11) to propel the Flames (26-13-4, 56 points) to a 3-1-0 week and into first place in the Western Conference standings. Gaudreau opened the week with consecutive four-point performances, registering 2‑2—4 in an 8-5 victory over the San Jose Sharks Dec. 31 and 1-3—4 (including the winning goal) in a 5-3 triumph against the Detroit Red Wings Jan. 2. In doing so, he became the third different player in franchise history to record four-plus points in consecutive team games and the first to accomplish the feat since Doug Gilmour from Nov. 3-5, 1988 (1-8—9 in 2 GP). Gaudreau posted his third straight multi-point game with 1-1—2 in a 6-4 loss to the Boston Bruins Jan. 3. He added one goal, his team-leading 24th of the season, in a 3-2 overtime victory against the Philadelphia Flyers Jan. 5. The 25-year-old Salem, N.J., native – who was named the NHL's 'Second Star' for the month of December and selected to his fifth straight All-Star Game last week – has appeared in 43 total contests this season, ranking among the League's top 10 in points (4th; 62), assists (t-6th; 38) and goals (t-8th; 24).
SECOND STAR – BRENT BURNS, D, SAN JOSE SHARKS
Burns placed second in the NHL with 2-7—9 in three outings to guide the Sharks (23‑13‑7, 53 points) to a pair of wins. He collected 1-1—2, his second consecutive two-point effort (also Dec. 29 at EDM: 0-2—2), in an 8-5 loss to the Calgary Flames Dec. 31. Burns then posted his second career four-point game – and first since Nov. 29, 2013 (3-1—4 vs. STL) – with 1-3—4 in a 5-4 triumph over the Colorado Avalanche Jan. 2. He closed the week with his second straight and 10th career three-assist performance in a 5-2 victory against the Tampa Bay Lightning Jan. 5. The 33-year-old Barrie, Ont., native – who will represent the hometown Sharks at the 2019 Honda NHL All-Star Weekend – tops League defensemen with 40 assists and 47 points in 43 total contests this season, aided by an active five-game point streak (3-9—12).
THIRD STAR – ROBIN LEHNER, G, NEW YORK ISLANDERS
Lehner went 3-0-0 with a 1.99 goals-against average and .935 save percentage to backstop the Islanders (23-13-4, 50 points) to a perfect week and their sixth straight win overall. He made a season-high 39 saves in a 3-1 victory over his former team, the Buffalo Sabres, Dec. 31. Lehner then posted 19 stops in a 3-2 overtime triumph against the Chicago Blackhawks Jan. 3 and 29 saves in a 4-3 win over the St. Louis Blues Jan. 5. The 27-year-old Gothenburg, Sweden, native – who has won seven consecutive decisions dating to Dec. 18 (1.22 GAA, .959 SV%, 1 SO) – has appeared in 21 total games this season, leading the NHL with a 2.18 goals-against average and ranking second with a .927 save percentage to go along with an 11‑6‑3 record.
(NHL Media)