New York Islanders goaltender Robin Lehner, New York Rangers center Mika Zibanejad and Chicago Blackhawks right wing Patrick Kane have been named the NHL's "Three Stars" for the week ending Jan. 20.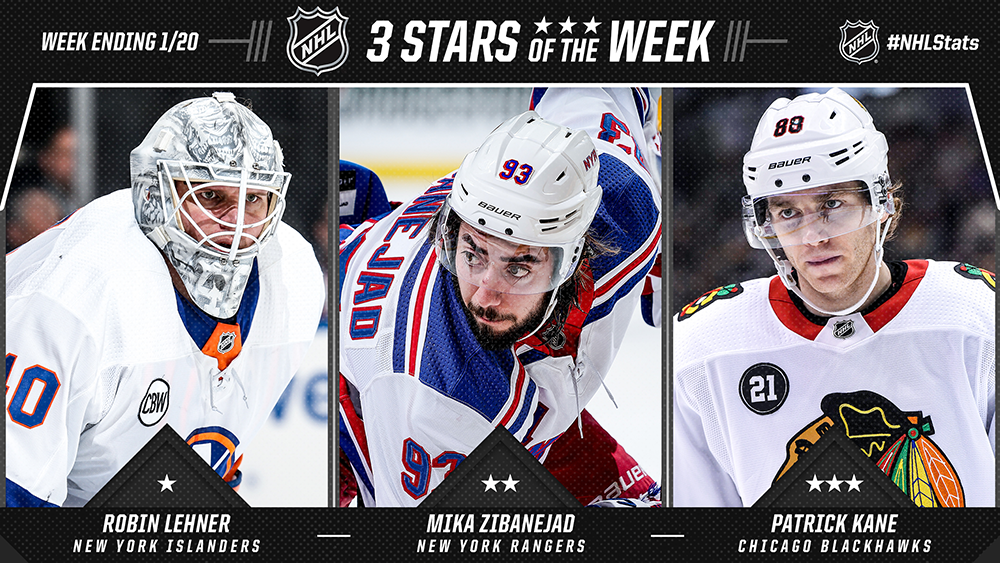 FIRST STAR – ROBIN LEHNER, G, NEW YORK ISLANDERS
Lehner stopped 65 of the 67 shots he faced, compiling a 3-0-0 record with a 0.67 goals-against average, .970 save percentage and one shutout to lift the Islanders (29-15-4, 62 points) to their fifth straight victory overall and into first place in the Metropolitan Division. He yielded one goal in each of his first two outings for the week, making 30 saves in a 2-1 overtime win against the St. Louis Blues Jan. 15 and 16 stops in a 4-1 triumph over the New Jersey Devils Jan. 17. Lehner then helped the Islanders record their second consecutive shutout (following a 19-save performance by Thomas Greiss Jan. 18 at WSH), turning aside all 19 shots against in a 3-0 victory over the Anaheim Ducks Jan. 20. The 27-year-old Gothenburg, Sweden, native has appeared in 26 total games this season, pacing the NHL with a 2.02 goals-against average and ranking second with a .930 save percentage to go along with a 15-7-3 record and three shutouts. Lehner also leads the League with 11 wins in his past 12 contests dating to Dec. 18 (1.30 GAA, .953 SV%, 2 SO).
SECOND STAR – MIKA ZIBANEJAD, C, NEW YORK RANGERS
Zibanejad scored the winning goal in all three of his appearances, topping the NHL with five total tallies (5-2—7) to propel the Rangers (21-20-7, 49 points) to a perfect week. Zibanejad posted 2-2—4, his fourth career four-point performance and third of the season (also Oct. 23 vs. FLA: 2-2—4 and Dec. 29 at NSH: 0-4—4), in a 6-2 win over the Carolina Hurricanes Jan. 15. He then scored once, the decisive marker, in a 4-3 victory against the Chicago Blackhawks Jan. 17. Zibanejad added two more goals in a 3-2 triumph over the Boston Bruins Jan. 19, making him the second player in the Rangers' 93-year history to record the winning goal in three consecutive team games (also Rod Gilbert: Dec. 11-17, 1966). The 25-year-old Huddinge, Sweden, native leads New York with 27 assists and 44 points in 48 total contests this season (17-27—44) – three points shy of his 72-game output from 2017-18 (27-20—47).
THIRD STAR – PATRICK KANE, RW, CHICAGO BLACKHAWKS
Kane, the top scorer on the Blackhawks (17-24-9, 43 points), registered one four-point outing and one five-point performance to lead the NHL with 4-6—10 in three games. He opened the week with 2-2—4, his eighth multi-goal effort of the season, in an 8-5 loss to the New Jersey Devils Jan. 14. Kane collected one assist in a 4-3 loss to the New York Rangers Jan. 17. He then posted 2-3—5, his second career five-point game and first since Jan. 9, 2018 (1-4—5 at OTT), in an 8-5 victory over the Washington Capitals Jan. 20. The 30-year-old Buffalo native sits fifth in the League with 29-41—70 through 49 total contests this season. That includes 7-13—20 during an active eight-game point streak, giving him the most points thus far in the 2019 calendar year.
(NHL Communications)