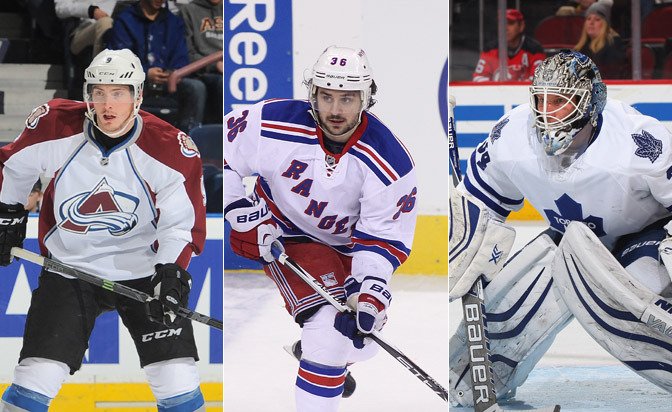 Colorado Avalanche center
Matt Duchene
, New York Rangers right wing
Mats Zuccarello
and Toronto Maple Leafs goaltender
James Reimer
have been named the NHL's "Three Stars" for the week ending Nov. 15.
FIRST STAR – MATT DUCHENE, C, COLORADO AVALANCHE
Duchene led the NHL with four goals and eight points – including three multi-point performances in as many outings – to help the Avalanche (7-9-1, 15 points) begin their season-long, seven-game road trip with a 3-0-0 record. He posted 2-1—3 in a 4-0 win over the Philadelphia Flyers Nov. 10. Duchene then recorded 1-1—2, including the game-winning goal midway through the third period, in a 3-2 comeback victory over the Boston Bruins Nov. 12. He finished the week with 1-2—3 in a 6-1 triumph over the Montreal Canadiens Nov. 14. The 24-year-old Haliburton, Ont., native and No. 3 overall pick from the 2009 NHL Draft has 8-6—14 in 17 games this season, including 7-5—12 and a +6 rating in his past seven contests.
SECOND STAR – MATS ZUCCARELLO, RW, NEW YORK RANGERS
Zuccarello paced the NHL with five assists and ranked second with seven points in four outings to help the League-leading Rangers (14-2-2, 30 points) extend their winning streak to nine games and point streak to 13 contests (11-0-2). He registered one assist in a 3-0 victory over the Carolina Hurricanes Nov. 10, followed by 1-2—3 in a 6-3 triumph over the St. Louis Blues Nov. 12. After scoring in the shootout in a 2-1 win over the Ottawa Senators Nov. 14, Zuccarello collected 1-2—3 – including the tiebreaking goal with 53.8 seconds remaining in regulation – in a 4-3 victory over the Toronto Maple Leafs Nov. 15. The 28-year-old Oslo, Norway, native leads the Rangers with 9-9—18 in 18 games this season, including 5-7—12 in his past eight outings.
THIRD STAR – JAMES REIMER, G, TORONTO MAPLE LEAFS
Reimer went 3-0-0 with a 1.62 goals-against average and .952 save percentage to backstop the Maple Leafs (5-9-4, 14 points) to three wins in four games. He made 36 saves in a 3-2 victory over the Dallas Stars Nov. 10. Reimer then denied 21 shots – as well as all five attempts he faced in the shootout – in a 2-1 triumph over the Nashville Predators Nov. 12. He capped the week with 43 saves in a 4-2 win over the Vancouver Canucks Nov. 14. In doing so, Reimer improved to 14-2-2 in 18 career regular-season games when making 40 or more stops. The 27-year-old Morweena, Man., native owns a 5-2-3 record in 11 appearances this season (2.30 GAA, .925 SV%), including a 3-0-2 clip in his past five starts.