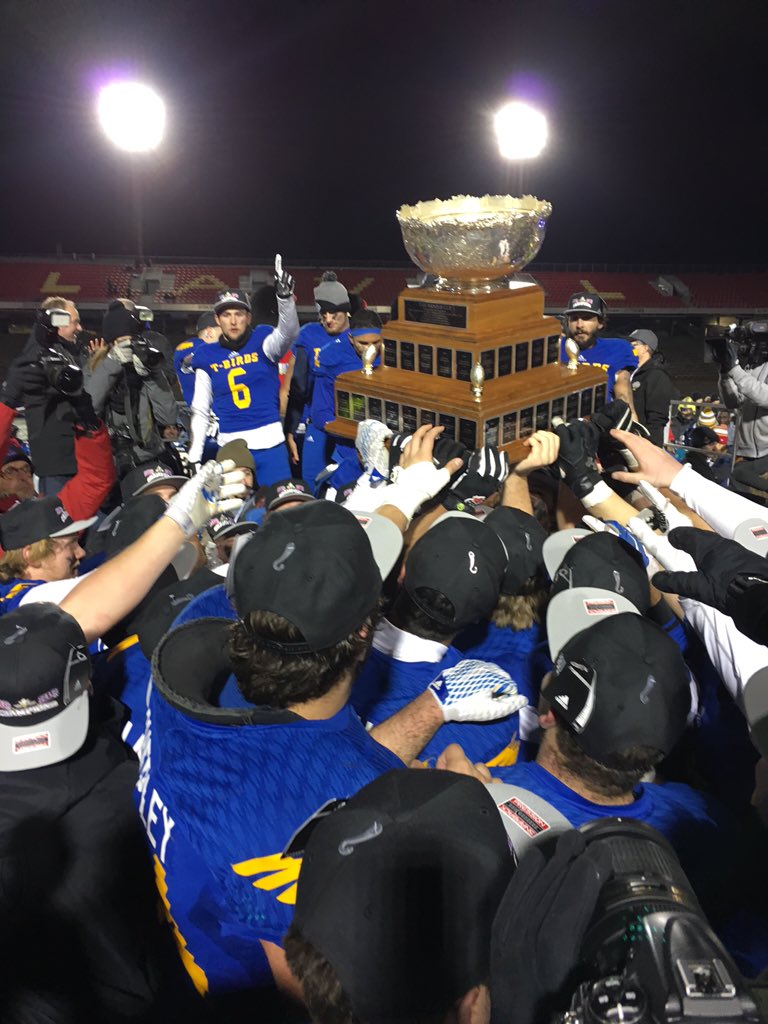 (Picture courtesy CIS)
Quinn van Gylswyk kicked the game-winning field goal with no time remaining as the University of British Columbia Thunderbirds defeated the University of Montreal Carabins 26-23 to win the Vanier Cup on Saturday afternoon.
With the game tied in the final minutes, UBC wasted what could have been a winning boot when Trevor Casey mishandled the snap. But two plays later, Anthony Blackwell picked off a Gabriel Cousineau pass at the Montreal 52 to give the Thunderbirds a second chance.
Van Gylswyk, with his fourth of the game, was good from the 20 on the final play of the game to give UBC its fourth Vanier Cup and it's first since 1997.
The Carabins, who won their first Cup last year, won the Quebec conference by blocking a last-play field goal against Laval, but couldn't repeat that feat against UBC.
Marcus David caught a touchdown pass and Brandon Deschamps ran one in for UBC, whose offence was led by a spectacular performance from first year quarterback Michael O'Connor. O'Connor was named MVP of the game and Stavros Katsantonis was named defensive player of the game.
Cousineau, in his last university football game, threw TD strikes to Guillaume Paquet and Samuel Nadeau-Piuze and David Deschamps had three boots for Montreal, which erased an early 16-0 deficit.
A lively but less than capacity crowd of 12,557 at Telus Stadium at Laval University seemed split between fans of the Carabins and those who wanted the Laval Rouge et Or's closest rivals to lose.
O'Connor, perhaps the top Canadian quarterback prospect in more than decade, lived up to his billing with 290 passing yards and 21 completions in the first half. The Carabins defence did well to hold UBC to a 16-10 lead at the intermission.
The opening drive produced a 45-yard Van Gylswyk field goal and the next he was good from 33 after O'Connor moved the offence with six completed passes.
Late in the opening quarter, Dylan Chapdelaine picked off a Cousineau pass at the Montreal 33 and, four plays later, O'Connor found David with a six-yard TD pass.
Momentum turned late in the half when the Carabins' Jonathan Boissonneault-Glaou recovered a fumbled punt at the UBC 28. Four plays later, Paquet hauled in a Cousineau pass in double coverage in the end zone at 12:01.
UBC opted for a fake field goal while inside the Montreal five, but it failed, and a last-minute drive helped by a 23-yard Cousineau run ended with a final-play 10-yard boot by David Deschamps.
The Thunderbirds' ground attack was held to 28 first-half yards, but on their first possession of the second, Brandon Deschamps went 44 yards up the middle to score at 5:37.
Montreal answered with two drives capped by David Deschamps' field goals, from 22 and 12 yards.
Then Cousineau led his best drive of the game, marching 88 yards on nine plays ending with Nadeau-Piuze's diving catch in the end zone to tie the game 23-23 with 7:15 left to play.
(Canadian Press)