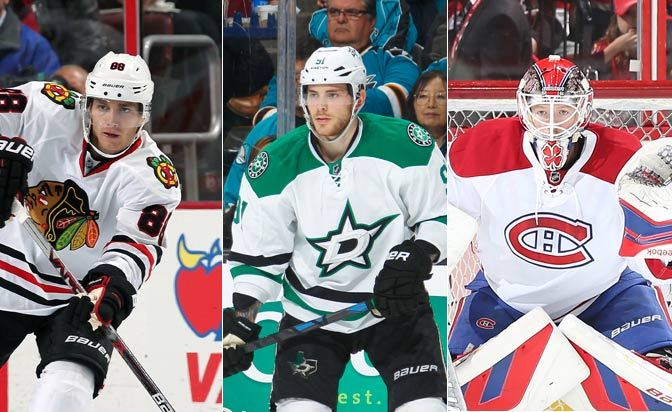 Chicago Blackhawks right wing Patrick Kane, Dallas Stars center Tyler Seguin and Montreal Canadiens goaltender Mike Condon have been named the NHL's "Three Stars" for the week ending Nov. 8.
FIRST STAR – PATRICK KANE, RW, CHICAGO BLACKHAWKS
Kane shared first in the NHL with four goals and led the League with five assists and nine points to help the Blackhawks (8-6-1, 17 points) gain five of a possible eight standings points. He opened the week with a pair of 1-1—2 games, in a 4-2 triumph over the Los Angeles Kings Nov. 2 and in a 6-5 overtime loss to the St. Louis Blues Nov. 4. Kane scored again in a 4-2 loss to the New Jersey Devils Nov. 6 before capping the week with 1-3—4, including the game-winning goal, in a 4-2 victory over the Edmonton Oilers Nov. 8. In doing so, Kane equaled career highs for assists and points in one game; the only other time he recorded four points in the regular season was Oct. 23, 2007 vs. CBJ (2-2—4), his ninth appearance in the NHL. The 26-year-old Buffalo, N.Y., native shares first in the League with 10 goals and 23 points in 15 contests this season, including 7-10—17 during a 10-game point streak.
SECOND STAR – TYLER SEGUIN, C, DALLAS STARS
Seguin tied for first in the NHL with four goals and ranked second with seven points as the Stars (12-3-0, 24 points) won three of four games en route to their best 15-game start to a season in franchise history. After assisting on the team's lone goal in a 4-1 loss to the Toronto Maple Leafs Nov. 2, Seguin recorded his seventh career hat trick (and sixth w/ DAL) in a 5-3 victory over his former team, the Boston Bruins, Nov. 3. In doing so, Seguin became the first former Bruins player to post a hat trick against the club since Nov. 7, 1996 (Mariusz Czerkawski, EDM). He followed that up with one assist in a 4-1 win over the Carolina Hurricanes Nov. 6 and 1-1—2 in a 4-1 triumph over the Detroit Red Wings Nov. 8. The 23-year-old Brampton, Ont., native ranks first in the NHL with 14 assists and shares the League lead with 23 points in 15 outings this season, including 5-8—13 during an eight-game point streak.
THIRD STAR – MIKE CONDON, G, MONTREAL CANADIENS
Filling in for injured starter Carey Price, Condon posted a 2-0-1 record with a 1.66 goals-against average and .934 save percentage to lead the Canadiens (13-2-1, 27 points) to their best 16-game start to a season in the franchise's 98-year NHL history. He made 25 saves in a 2-1 overtime loss to the Ottawa Senators Nov. 3 before bouncing back with 17 saves in a 4-1 victory over the New York Islanders Nov. 5 and 29 stops in a 4-2 win over the Boston Bruins Nov. 7. The 25-year-old Needham, Mass., native, who made his League debut Oct. 11, has compiled a 6-0-1 record with a 1.57 goals-against average and .940 save percentage in his first seven NHL appearances.
(NHL Media)