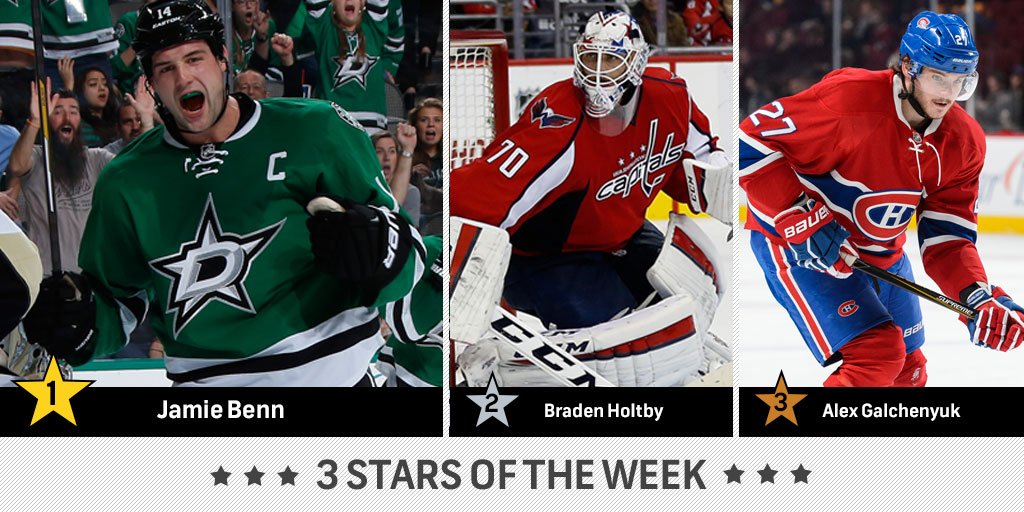 Dallas Stars left wing Jamie Benn, Washington Capitals goaltender Braden Holtby and Montreal Canadiens center Alex Galchenyuk have been named the NHL's "Three Stars" for the week ending Nov. 29.
FIRST STAR – JAMIE BENN, LW, DALLAS STARS
Benn shared the League lead in goals (4) and points (6) as the Stars (19-5-0, 38 points) won two of three games to continue their best start to a season in the franchise's 48-year history. He opened the week with 2-1—3, his fourth multi-goal and three-point performances of the season, in a 7-4 loss to the Ottawa Senators Nov. 24. Benn also scored once in a 3-2 shootout victory over the Vancouver Canucks Nov. 27 and added 1-1—2, including the primary assist on Tyler Seguin's overtime goal, in a 4-3 comeback win over the Minnesota Wild Nov. 28. The 26-year-old Victoria, B.C., native and reigning Art Ross Trophy winner paces the NHL with 18 goals and ranks second with 35 points in 24 outings this season, including 8-6—14 during an eight-game point streak and 6-2—8 during a four-game goal streak.
SECOND STAR – BRADEN HOLTBY, G, WASHINGTON CAPITALS
Holtby posted a 4-0-0 record with a 1.75 goals-against average, .945 save percentage and one shutout to backstop the Capitals (17-5-1, 35 points) to the top of the Metropolitan Division standings. He denied all 33 shots he faced to earn his 21st career shutout and first of the season in a 1-0 victory over the Edmonton Oilers Nov. 23. Holtby followed that performance with 23 stops in a 5-3 triumph over the Winnipeg Jets Nov. 25 before capping the week with a pair of 32-save outings: in 4-2 wins over the Tampa Bay Lightning Nov. 27 and Toronto Maple Leafs Nov. 28. The 26-year-old Lloydminster, Sask., native leads the NHL with 15 victories and a 1.95 goals-against average in 19 appearances this season, including a career-high seven consecutive wins.
THIRD STAR – ALEX GALCHENYUK, C, MONTREAL CANADIENS
Galchenyuk tied for first in the NHL with four goals and added one assist to help the Canadiens (18-4-3, 39 points) earn five of a possible six points and reclaim first place in the League standings. He registered 1-1—2 in a 5-1 victory over the New York Rangers Nov. 25. Galchenyuk then scored in regulation and the shootout in a 3-2 win over the New Jersey Devils Nov. 27 before recording his first multi-goal outing of the campaign in a 3-2 overtime loss to the Devils Nov. 28 (2-0—2). The 21-year-old Milwaukee, Wis., native has 7-11—18 in 25 contests this season, including 5-2—7 during a five-game point streak as well as goals in a career-high four straight games.