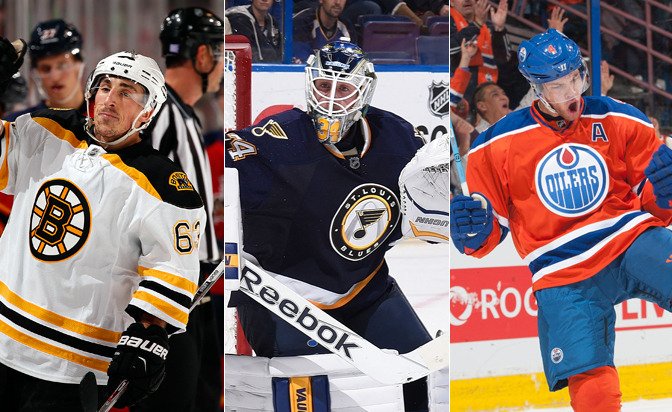 Boston Bruins left wing Brad Marchand, St. Louis Blues goaltender Jake Allen and Edmonton Oilers left wing Taylor Hall have been named the NHL's "Three Stars" for the week ending Nov. 1.
FIRST STAR – BRAD MARCHAND, LW, BOSTON BRUINS
Marchand shared first in the NHL with four goals and added a pair of assists to lead the Bruins (6-3-1, 13 points) to a trio of wins, extending the club's point streak to seven contests (6-0-1). He posted 1-1—2 in a 6-0 victory over the Arizona Coyotes Oct. 27, the team's first home win of the season. Marchand then scored twice, including the game-winning goal, in a 3-1 triumph over the Florida Panthers Oct. 30. He capped the week with 1-1—2, including the primary assist on Brett Connolly's tiebreaking goal, in a 3-1 victory over the Tampa Bay Lightning Oct. 31. The 27-year-old Halifax, N.S., native, who has spent his entire career with the Bruins, has 121-116—237 in 385 NHL appearances, including 5-4—9 in eight outings this season.
SECOND STAR – JAKE ALLEN, G, ST. LOUIS BLUES
Allen went 3-0-0 with a 0.98 goals-against average, .963 save percentage and one shutout to backstop the Blues (8-2-1, 17 points) to three consecutive victories. He denied all 26 shots he faced, including 12 in the opening period, to record his sixth career shutout in a 2-0 win over the Tampa Bay Lightning Oct. 27. Allen added 22 saves in a 2-1 triumph over the Anaheim Ducks Oct. 29 and closed the month with 29 saves in a 3-2 overtime victory against the Minnesota Wild Oct. 31. The 25-year-old Fredericton, N.B., native, who led all rookies with 22 wins last season, owns a 35-13-4 record in 58 career NHL appearances (2.29 GAA, .913 SV%, 6 SO), including a 4-2-0 clip in six games this season (1.98 GAA, .929 SV%, 1 SO).
THIRD STAR – TAYLOR HALL, LW, EDMONTON OILERS
Hall posted a trio of multi-point games to pace the NHL in scoring (2-5—7) and guide the Oilers (4-8-0, 8 points) to one win in three starts. He collected 1-1—2 in a 4-3 loss to the Minnesota Wild Oct. 27. Hall then registered two assists, including the secondary helper on Leon Draisaitl's tiebreaking goal with 1:02 remaining in regulation, in a three-goal comeback victory over the Montreal Canadiens Oct. 29 (4-3 W). He finished the week with 1-2—3, his second three-point performance of the season, in a 5-4 loss to the Calgary Flames Oct. 31. The 23-year-old Calgary native and top pick from the 2010 NHL Draft has 111-165—276 in 311 career games, including 5-8—13 in 12 outings this season.