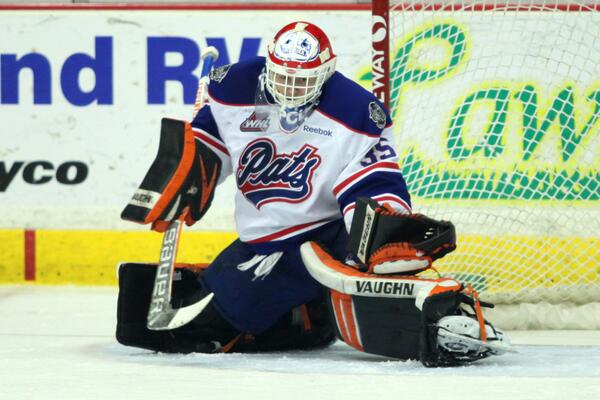 The Regina Pats Hockey Club has traded over-age goaltender Daniel Wapple to the Vancouver Giants in exchange for a 2017 fourth round WHL Bantam Draft pick.
Wapple joined the Pats ahead of the 2014 WHL Trade Deadline, helping backstop the Blue and White to an East Division pennant. The Saskatoon, SK product appeared in 84 games for Regina while posting a 46-23-5-7 record, a 3.01 GAA and 0.907 SV%. He also recorded two shutouts in his time with the Pats. In eleven playoff appearances with the Pats, Daniel has a 5-4-2 record with a 3.21 GAA, 0.910 SV% and one shutout.
"Daniel's given us real solid goaltending which you have to have no matter where you're at as a team," said Pats Head Coach and GM John Paddock. "It's just one of those things, when we look to the future, we have to do. He's a good goalie and he'll give good goaltending to Vancouver."
On the personal honours front, Wapple was named the Vaughn WHL Goaltender of the Month in November 2014. At the end of the 2014-15 season, he was voted the Pats Most Popular Player by fans and captured the Molson Cup Three Stars Award, earning the most star points on the Pats including four first star nods.
Over his WHL career to date, the 20 year old played in 128 games with a 63-44-6-9 record to go with a 3.08 GAA, 0.903 SV% and four shutouts. With the trade, the Pats have three over-age players remaining on the roster (Williams, Cooper and Macklin).
The Regina Pats thank Daniel for his commitment to the team, leadership and contributions to the community during his time in Regina.
The Pats also announced the team recalled 16 year old goaltender Jordan Hollett from the Ridge Meadow Flames of the PJHL. The youngest player on his team, Hollett carried the load by appearing in eight games. The Langley, B.C. native posted a 3-4-1 record with a 3.29 GAA. His 0.923 SV% ranked fifth in the league. Hollett also saw the fourth most shots in the league (336); an average of 42 per game (tied most in PJHL).