--An epic beatdown! That is how you can describe what the Riders did to the Argos Saturday night at BMO Field in a game where there may have been more people cheering for the visiting team than the home team. I guess it happens in a place other than Calgary!
Once Cody Fajardo got things rolling in the second quarter, it was just a matter of how bad was this game going to be for the Argonauts. Cody was throwin it, Cody was runnin it, Cody was puttin up points and the Riders are going to the playoffs as a result,
I don't know about you, but I found Fajardo to be a very dangerous weapon on this night as he not only got it done throwing the ball, but by using his legs and taking off at very opportune times gaining 80 yards on the ground. He is becoming a bigger and bigger threat which is good news for the Riders and bad news for defensive co-ordinators
--You had to like the fact that Emmanuel Arceneaux finally got into the endzone. It may have been his last catch with the Riders with Jordan Williams-Lambert knocking at the door. Many believe "The Manny Show" will be put on hiatus when JWL returns and I can't disagree with that. One has to think JWL will be ready for Winnipeg.
--I know its bad Jacques, but has it come to this??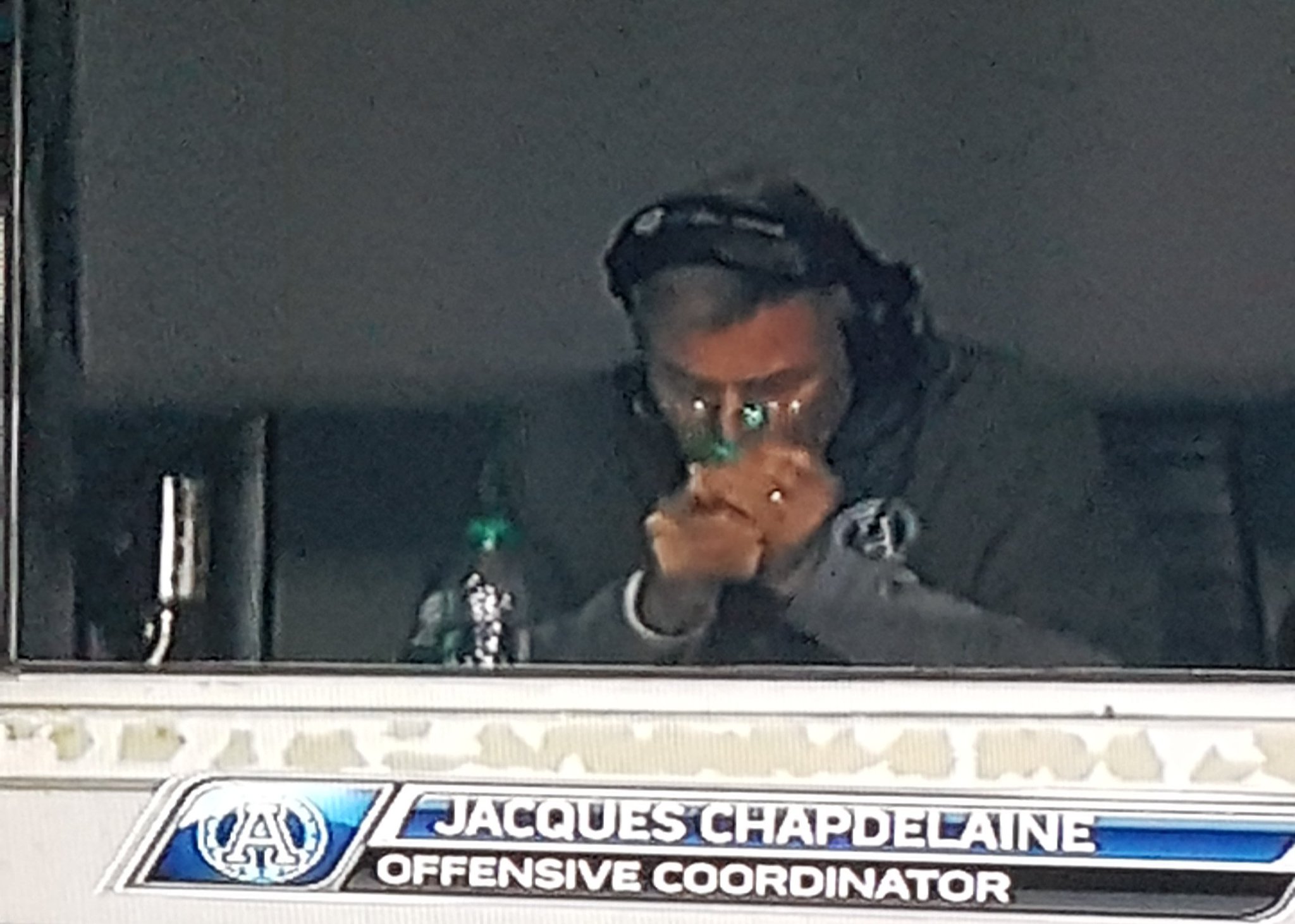 What exactly was he doing?

--Micah Johnson had his best game as a Rider. If he is starting to heat up now, look out!
--I'm not big on the CFL live mic games, but the comments of Craig Dickenson on the sidelines were interesting. It shows you what type of coach he is and how he is willing to forgive a mistake here and there. I found it interesting how he joked about giving the defence one free offside a game. There are a lot of coaches who would be upset with an whetoffside at any time of the game no matter the score because its a focus thing. Craig is willing to let the guys trip up from time to time, but he isn't going to get upset about it. It's one of the things Dickie does well and it is one of the reasons this team is tied for first with five games to go.
--You can't retire all numbers, but I think its wrong that Logan Kilgore is wearing 15 in Edmonton, Armanti Edwards is wearing 10 in Toronto and Mitch Picton wears 81 in Saskatchewan. Those numbers belong to Ricky Ray, Terry Greer and Ray Elgaard. Just sayin! By the way, it is time to retire Elgaard's number if you ask me.
--Was anyone surprised to see the Ti-Cats squash Winnipeg? Sorry Winnipeg, you aren't winning with Chris Streveler.
--I am all for a tripleheader of CFL football and while I wasn't able to watch a lot due to other committments, it is something that needs to be done more often. Did you sit for all nine hours or did you tap out at some point during the game in Vancouver. While there is a lot of US College Football on the tube Saturdays, I wonder how many do stick to the CFL when there are three games on instead of seeing what's happening down south.

--The U of R Rams suffered another tough loss on Saturday losing on a last-play field goal. In three of the four losses this year, the Rams kick game has hurt them tremendously and Saturday was no different. Aldo Galvan simply has to make a 35 yarder late in the game to make Manitoba score a touchdown. He did not and the Rams did not win. The Mexican product has struggled tremendously this year and I have to wonder with the crucial misses he has had how much confidence there is in him both with the coaching staff and players.

The good news is Regina knows they can beat these teams and they play them each once more with a chance to win the season series. The last three games are all winnable, but I am sure head coach Steve Bryce will be wondering if he should just leave his offence out instead of having the field goal team come on because that part of the team is letting them down.

--I can't help think that Kyle Dubas got played by Mitch Marner and his representation especially after seeing what Mikko Rantanen signed for on the weekend. Marner, who numbers-wise isn't even close to the player Rantanen is, got almost 11 million dollars while Rantanen is getting just over 9. Whether or not Dubas bowed to the pressure of the Toronto media, the fact is Dubas should have done what Tampa did with Brayden Point and what Winnipeg did with Patrik Laine. That is sign short-term deals with the final year seeing the big payday. If Toronto can't get to where they want to get, the salaries Dubas has signed players to will be the reason. If they win, no one complains, but if they don't, you can start with the Marner deal.

--How do the Tampa Bay Buccaneers score 55 points against a team that went to the Super Bowl? How!! The first four weeks of the NFL season have just been bizarre with some of the results we have seen. It makes for interesting Sundays. If you had both the Bucs and Rams on your Thunder lottery ticket, you might be getting some $$$$

--How many thought New Orleans would be 0-2 without Drew Brees? They are 2-0 and are still my Super Bowl pick.

--The Vikings couldn't beat the Bears with Chase Daniel at quarterback?

--The Pats are a better team, but the one problem they had last year has raised its head again early this year. For the second straight game, a bad 3rd period led to a 5-2 defeat. Prince Albert did it Friday at the Brandt Centre and Winnipeg did it on Sunday. Give a lot of credit to the Ice as they went into PA, Saskatoon and Regina and took out five of six points available. That team may not be as bad as some had suggested.

It was too bad Regina hockey fans couldn't see Matthew Savoie in this one, but they will be able to see him once he starts playing full-time for Winnipeg.

--14 years after playing in Rimouski, the Oceanic retired Sidney Crosby's jersey. What took them so long? As Pats/Access colour man correctly stated, the Pats didn't need that long to retire Jordan Eberle's number. The Quebec Major Junior Hockey League also announced no player in the league will wear 87 again as that is Sid's number. If the WHL were to do that, whose number would it be. The 14 of Theoren Fleury, the 19 of Joe Sakic, the 27 of Scott Niedermayer or maybe the 9 of Lanny MacDonald. Who would it be?

That's all I got. Have a great week and let's hope this snow goes away so the farmers that need to can get back on the field. Some are saying winter is here to stay. Many know it is not uncommon in Saskatchewan to see snow before Thanksgiving. Now that it's come though, it can you know what until late November or December.