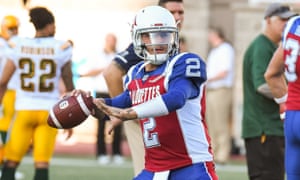 --Alouettes head coach Mike Sherman expects quarterback Johnny Manziel to be cleared for game action ahead of Friday's contest against the Ottawa Redblacks. Manzie, who has missed the team's past two games after incurring a concussion, was to meet with team doctors Tuesday to see if he can be removed from the CFL's concussion protocol. Sherman added that, if cleared, Manziel will speak to media Wednesday after being unavailable since incurring the injury.
--Toronto third baseman Josh Donaldson began his rehab assignment on Tuesday with the Class A Dunedin Blue Jays _ just days ahead of the Aug. 31 waiver trade deadline. Donaldson batted second in the lineup and went 1 for 2 with a walk and RBI single in three plate appearances with Dunedin before being replaced at third base after five innings against the Palm Beach Cardinals. The 2015 American League MVP, who has been sidelined with left calf tightness, walked in his first at-bat, followed with an RBI single in the third and flew out to centre in his final appearance.
Donaldson has been out since May 29 in an injury-plagued 2018 season, preventing the Blue Jays from trading him if they wanted to do so.
--Thrilled with the results, the St. Louis Cardinals thanked Mike Shildt. The Cardinals took off the interim tag from Shildt's title and promoted him to full-time manager today, a reward for steering the team back into post-season contention after taking over for the fired Mike Matheny. The Cardinals have gone 26-and-12 under Shildt and now holds top spot in the N-L wild-card standings.
--The Edmonton Oilers have signed defenceman Jason Garrison to a professional tryout. Garrison, who played in Vegas last year, has played 538 games over a 10 year career.
--Jerry Jones is among those who've seen enough of subpar preseason football. During a radio interview in Dallas on Tuesday, the Cowboys owner says he remains in favor of implementing an 18-game regular season and cutting the preseason in half, arguing "it's probably better physically for players" and that it would "create a safer game,"