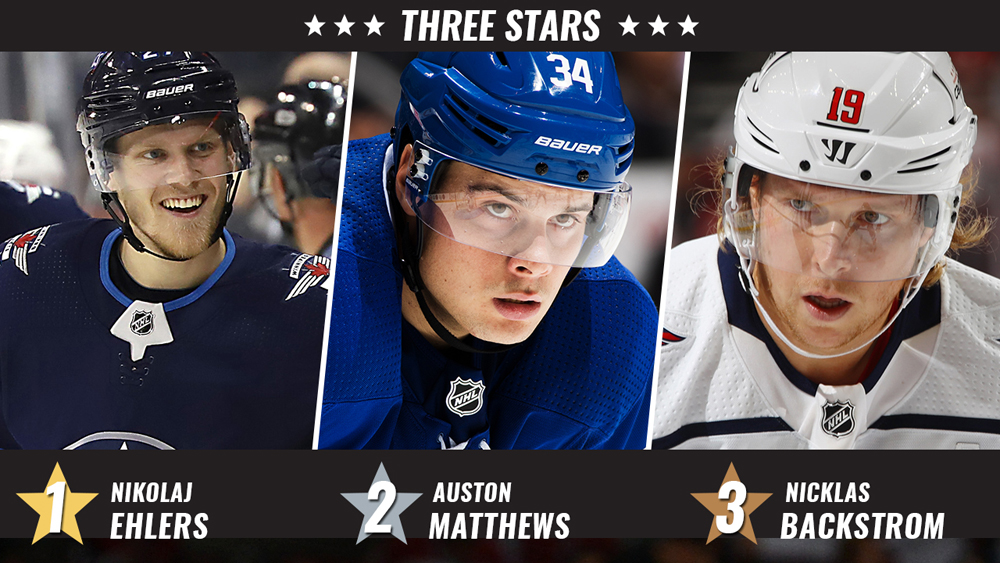 Winnipeg Jets left wing Nikolaj Ehlers, Toronto Maple Leafs center Auston Matthews and Washington Capitals center Nicklas Backstrom have been named the NHL's "Three Stars" for the week ending Oct. 15.
FIRST STAR – NIKOLAJ EHLERS, LW, WINNIPEG JETS
Ehlers led the NHL with five goals (5-2—7), including a pair of winners, to propel the Jets (3-2-0, 6 points) to three straight victories. He recorded 3-1—4, including a natural hat trick and the decisive goal, in a 5-2 win over the Edmonton Oilers Oct. 9. In doing so, Ehlers became the third player in Jets/Thrashers history to post a natural hat trick, joining Ilya Kovalchuk (Nov. 11, 2005 vs. TBL) and Marian Hossa (Jan. 15, 2008 at DET). Ehlers added one goal in a 4-2 triumph against the Vancouver Canucks Oct. 12 and collected 1-1—2, including the winning tally, in a 2-1 victory over the Carolina Hurricanes Oct. 14. The 21-year-old Aalborg, Denmark, native has totaled 45-64—109 in 159 career NHL games, including a team-high 5-2—7 in five outings this season.
SECOND STAR – AUSTON MATTHEWS, C, TORONTO MAPLE LEAFS
Matthews recorded four goals (4-0—4), including two in overtime, to power the Maple Leafs (4-1-0, 8 points) to a pair of wins in three starts. He collected his second career overtime goal in a 4-3 victory against the Chicago Blackhawks Oct. 9. Matthews also scored in a 6-3 loss to the New Jersey Devils Oct. 11 before capping the week with two goals, including the overtime winner, in a 4-3 triumph over the Montreal Canadiens Oct. 14. The 20-year-old Scottsdale, Ariz., native and reigning Calder Memorial Trophy winner has registered 45-32—77 in 87 career NHL games, including a club-high 5-3—8 in five contests this season. His 45 career goals are tied for second in the League since the start of the 2016-17 campaign, behind only Pittsburgh's Sidney Crosby (47).
THIRD STAR – NICKLAS BACKSTROM, C, WASHINGTON CAPITALS
Backstrom paced the NHL with 3-6—9 in four games with the Capitals (3-2-1, 7 points). He posted 1-2—3, factoring on all three Washington goals in a 4-3 overtime loss to the Tampa Bay Lightning Oct. 9. Backstrom added one assist in a 3‑2 defeat to the Pittsburgh Penguins Oct. 11 before recording 1-3—4, his 19th career four-point game, in a 5-2 victory over the New Jersey Devils Oct. 13. He closed the week with one goal in an 8-2 loss to Philadelphia Flyers Oct. 14. The 29-year-old Gävle, Sweden, native has collected 191-548—739 in 740 career NHL games, including a League-high 3-8—11 in six outings this season. Backstrom's 548 career assists rank third in the NHL since his debut in 2007-08, while his 739 career points place fifth.
(NHL Communications)