Welcome to Friday! Here are the usual weekly thoughts running through my muddled mind, and as always they come in no particular order.
--The Trent Richardson era begins in Saskatchewan tomorrow afternoon. Safe to say there is a lot of interest. Richardson got tongues wagging this week when he said he is in this for "me". He has made no secret he is hoping to use his journey to the CFL as a way to get back to the NFL. He wants just one team to give him an opportunity he has not had since the end of the 2014 season. To get that chance, he will have to be amazing.
While Richardson has experience and is 27, he is still someone who failed in the NFL the first time around. There is a lot of football left in his tank, but there are also many players who are younger, and many teams in need of a running back will be able to find one in the 2018 draft or grab someone after the draft is over as a free agent.
If Richardson doesn't get his shot, will he want to come back to the Riders in 2018? Will he say that's it if that offer doesn't come. If he doesn't play well, he may not get the opportunity.
The bottom line is Richardson can write his own ticket with his performance. While there was some "me" in what we heard this week, you still need to have help to be successful. One can't succeed in a team sport by himself. It's not 1 against 12. Like you, I am intrigued to see how he does, and how much he plays.
--There seems to be a mindset amongst the fan base this game could be an easy one for the green-and-white because they are playing another "inferior" Eastern opponent. Let's just pull back on that philosophy for one second.
Both teams have won 7 games, the Argos are 5-2 at home. The Riders have had problems stopping the run and they go up against a guy in James Wilder Junior who averaged over 10 yards a carry in September. This will be far from a cakewalk. I think the Riders claw and scratch their way to a win with the defence having to come up big against Ricky Ray, but I do not think it will be easy. The Argos are favoured by a point and a half. It should be a great game. The question now is what do they get for a crowd. The 2 o'clock start means they will not go head-to-head with the Leafs opener, but Toronto has that opener at 6 o'clock Saskatchewan time and I am guessing if you want to be there for the start of that game, you may not want to be at the Argos game.
--The CFL came out this week and admitted the command centre screwed one up in last week's Toronto-Hamilton game. It came as NO surprise to those who saw the "pass interference" call on Ti-Cats DB Demond Washington. Glen Johnson has been silent on the issue. 3Down Nation.com had a column penned by a fan this week saying overall change is needed in that area. While fan columns are one-sided, this column is one that I think would be met with approval by most who follow the league.
New blood is needed in the command centre. This has is painfully obvious and has been that way for quite some time. The calls we sometimes see originating from there are somewhat baffling for the CFL fan--whether they be fanatic, armchair or casual. The column goes on to say pass interference and illegal contact penalties should not be subject to review. That would be fine with me, but it would just open up another can of worms. Instant replay is good when done correctly. It hasn't been done correctly in the CFL. I have confidence that when the 2018 season begins Commissioner Randy Ambrosie will have fixed a problem that has become "egregious" in nature.
--The Eskimos can't lose in Montreal can they?
--The WHL is shortening its season from 72 games to 68. Would the CFL follow suit and go from an 18 game schedule to 16? The talk from many is they would like to see the season moved up because of the climate. This would allow you to do that and keep training camp at the same time. It would also allow you to play each team twice and perhaps dispose of the East-West format that is so one-sided now. I'd be for it, but I might be in the moral minority in this one.
---I am all in favour of the WHL reducing its regular season putting them at the same amount of games as the Quebec and Ontario Leagues. While education is part of it, I would have to think the fact the WHL is the last team to have its rep for the Memorial Cup decided most years. This will allow whatever team is competing to have some extra time and not get rushed from the league championship to the Memorial Cup.
--Connor McDavid told reporters in Edmonton on Wednesday afternoon that he just wants to try and have a season like last year. He said there are many good players in the NHL so saying he is the overwhelming favourite as the league's Most Valuable Player again this season would be a stretch. If night 1 is any indication, yeah OK thanks Connor.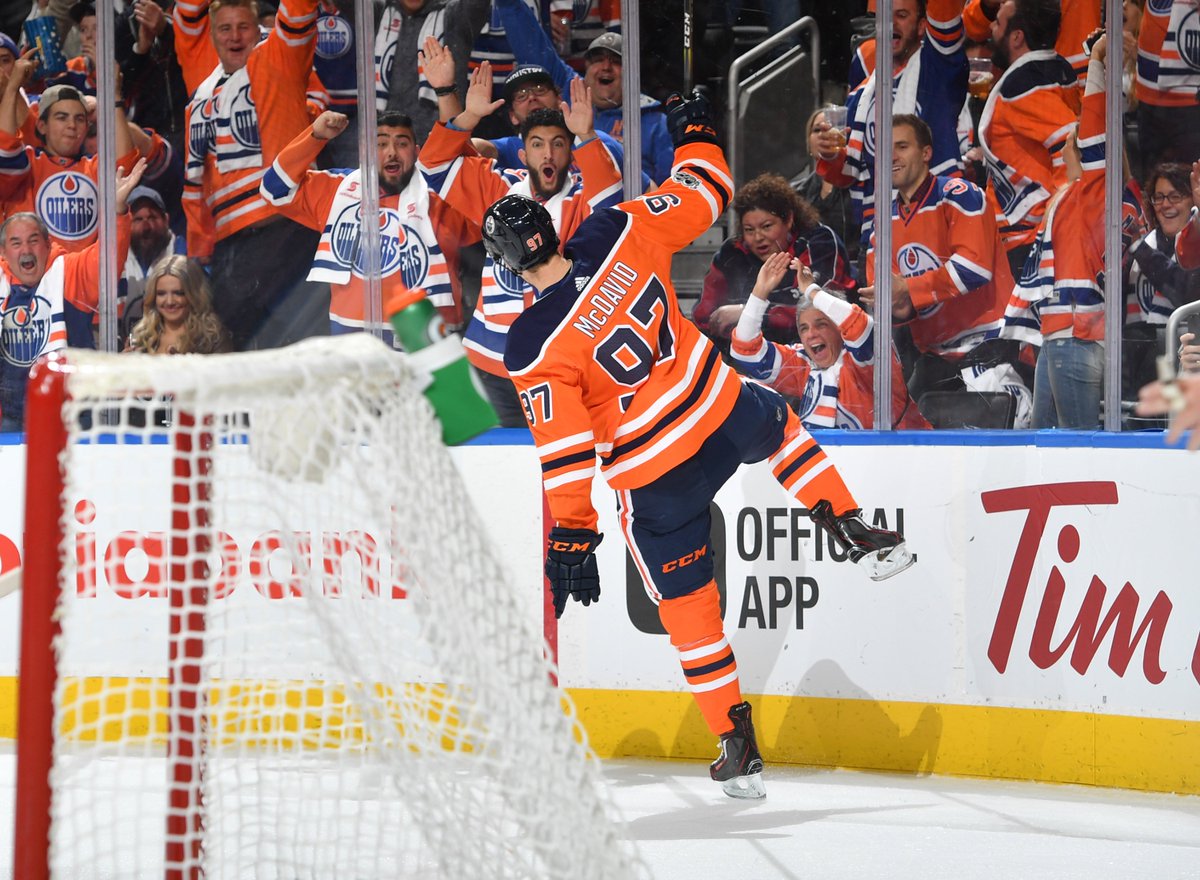 Yes, it is only one game of 82 and no one in Edmonton is getting their spot reserved on Jasper Avenue for the parade, but McDavid showed he is more than ready to improve on last season with his hat-trick in a season-opening win over the Flames.
Watching the game, I kept asking to myself. Is he quicker this year? Is that possible? If he is, and it sounds like that is the case, he is going to be a nightmare for opposition blueliners and goalies.
--Week 5 NFL Lock of the Week --- Pittsburgh over Jacksonville
Week 5 NFL Upset of the Week --- Packers over Dallas
--The baseball playoffs are here. Pitching wins! Isn't that right Trevor Bauer? Isn't that right Justin Verlander? Whoever gets the best performance from their arms will win the World Series. I think we see another Cubs-Indians WS and it goes 7 with the team that lost last year winning this year. If I have the right two teams and the wrong Game 7 verdict, I'm OK with that.
--Have a great Thanksgiving weekend. Eat lots of turkey and get to and from safely!