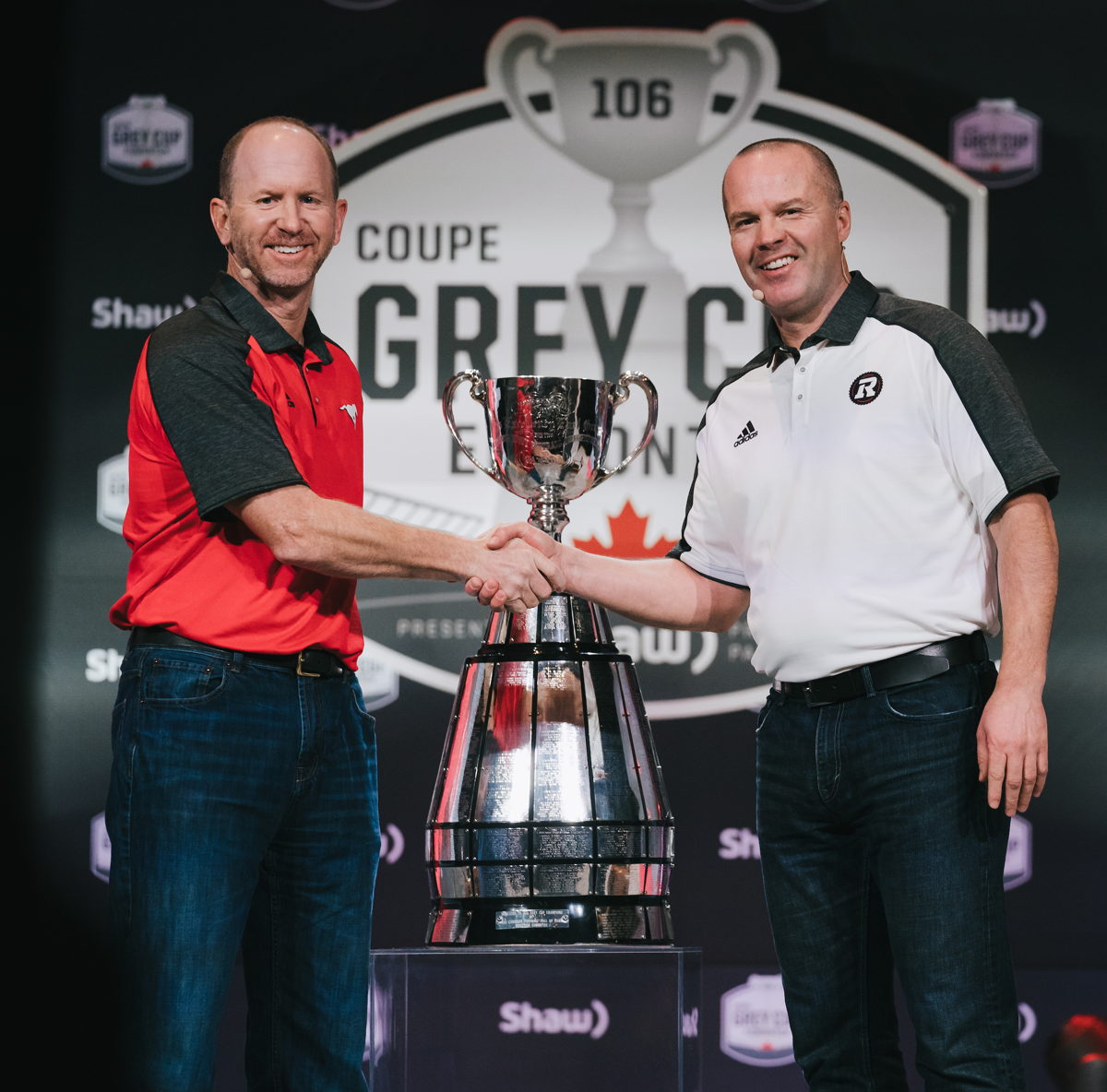 Dave Dickenson and Rick Campbell opened the Grey Cup coaches news conference by taking care of business.
Dickenson apologized again for his controversial remarks during Calgary's 22-14 West Division final win over Winnipeg. An emotional Dickenson was yelling at officials about some calls that were being made in front of Winnipeg head coach Mike O'Shea when TV cameras picked up Dickenson uttering "(expletive) Canadians."
"I just want to let you know I let my emotions get the best of me," he said. "I talk to my players a lot about having poise and I lacked poise.
"I just want to make sure people know at no time were my comments directed at the Canadian people or the CFL. I really, truly believe I am Canadian, not by birth certificate but by choice. I've lived up here for 22 years, I've got a Canadian wife, two Canadian kids, and Calgary's home. Sometimes in football you maybe cross a line and I certainly apologize for that, and I own those remarks."
As for Campbell, he let it be known defensive back Jonathan Rose, who finished tied for the CFL lead in interceptions with five and had a key pick in Ottawa's 46-27 East Division final win over Hamilton, will play Sunday. Rose was ejected late in the first half Sunday for contacting an official, earning a one-game suspension from the CFL.
That was quickly appealed by the CFL Players' Association, opening the door for Rose to play Sunday.
"We will use him and have him play in the game," Campbell said. "I'm going to stay away from commenting on it and our team's going to stay away from commenting on it.
"There's a whole process that's got to happen between the league and the union and let that whole thing play out."
Calgary (13-5) finished atop the West Division standings for a third straight year and is a stellar 41-1-2 (.777) under Dickenson. But the '18 season was hardly a smooth one with numerous injuries to the receiving corps and three late-season losses that forced the Stampeders to earn a 26-9 road win over B.C. to clinch first place.
"I think we showed some resiliency and I think that's missing in life these days," he said. "We want a resilient team, we want guys that can overcome adversity.
"A lot of people thought we were on our way out. I feel good about the guys in our locker room, and hoping to use that momentum to win one more game."
Campbell has compiled a 41-47-2 since joining the expansion Redblacks. But after posting a 2-16 marks in '14 — the franchise's first year of operation — Ottawa is 39-31-2 under Campbell.
The Stampeders are four point favourites to win the 106th Grey Cup Sunday night.. Kickoff is at 5 on TSN and CKRM.