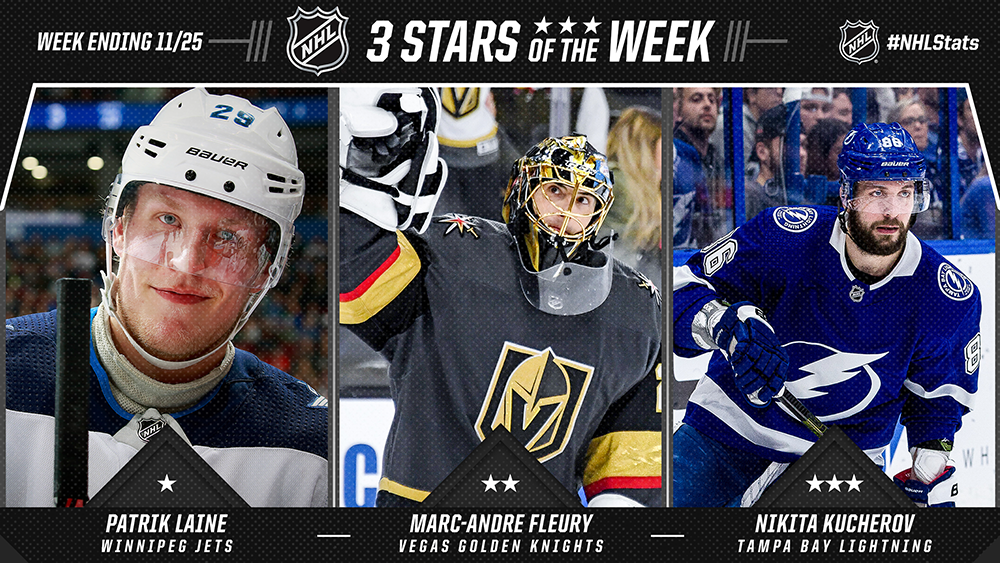 Winnipeg Jets right wing Patrik Laine, Vegas Golden Knights goaltender Marc-Andre Fleury and Tampa Bay Lightning right wing Nikita Kucherov have been named the NHL's "Three Stars" for the week ending Nov. 25.
FIRST STAR – PATRIK LAINE, RW, WINNIPEG JETS
Laine led the NHL with 11 goals (and points) in four games to power the Jets (13‑7-2, 28 points) to a pair of victories. He scored his sixth career hat trick, including the winning goal, in a 6-3 triumph over the Vancouver Canucks Nov. 19. Laine added two more goals in a 6-3 loss to the Calgary Flames Nov. 21 and then one goal in a 4-2 defeat against the Minnesota Wild Nov. 23. He capped the week with a career-high and franchise-record five goals (including the winner) in an 8-4 victory against the St. Louis Blues Nov. 24. In doing so, Laine registered the 57th five-goal performance in NHL history as well as the first since Feb. 2, 2011 (Johan Franzen). At 20 years, 219 days, he became the third different player in League history to post a five-goal game prior to his 21st birthday, joining Wayne Gretzky (2x) and Don Murdoch. The Tampere, Finland, native paces the NHL with 19 goals and three hat tricks in 22 contests this season (19-3—22). His 16 goals in November (16-1—17 in 10 GP) are another Jets/Thrashers record as well as the most by any player in one calendar month since December 1996 (Mario Lemieux: 17-10—27 in 15 GP).
SECOND STAR – MARC-ANDRE FLEURY, G, VEGAS GOLDEN KNIGHTS
Fleury stopped 81 of the 83 shots he faced, going 3-0-0 with a 0.65 goals-against average, .976 save percentage and two shutouts to lift the Golden Knights (12-12-1, 25 points) into third place in the Pacific Division. He made 19 saves in a 3-2 overtime win against the Arizona Coyotes Nov. 21. Fleury then completed back-to-back shutouts, denying 29 shots in a 2‑0 victory over the Calgary Flames Nov. 23 and making 33 saves in a 6-0 triumph against the San Jose Sharks Nov. 24. In doing so, Fleury earned his League-leading fifth shutout of the season – only 10 goaltenders in the NHL's expansion era (since 1967-68) have collected as many through their team's opening 25 games of a campaign, including Fleury in 2014-15 (w/ PIT). The 33-year-old Sorel, Que., native is 12-8-1 overall in 2018-19 (21 GP), compiling a 2.33 goals-against average and .913 save percentage.
THIRD STAR – NIKITA KUCHEROV, RW, TAMPA BAY LIGHTNING
Kucherov shared the League lead with seven assists and ranked second overall with nine points in four games (2-7—9) to propel the Lightning (17-6-1, 35 points) to a trio of wins. He scored once in a 3-2 loss to the Nashville Predators Nov. 19. Kucherov then posted consecutive three-point performances, registering 1-2—3 in a 7-3 triumph over the Florida Panthers Nov. 21 and matching a career high with three assists in a 4-2 victory against the Chicago Blackhawks Nov. 23. He closed the week with two more helpers in a 5-2 win over the New Jersey Devils Nov. 25. The 25-year-old Maykop, Russia, native shares third place in the NHL with 23 assists and places fourth overall with 32 points in 24 appearances this season (9-23—32).