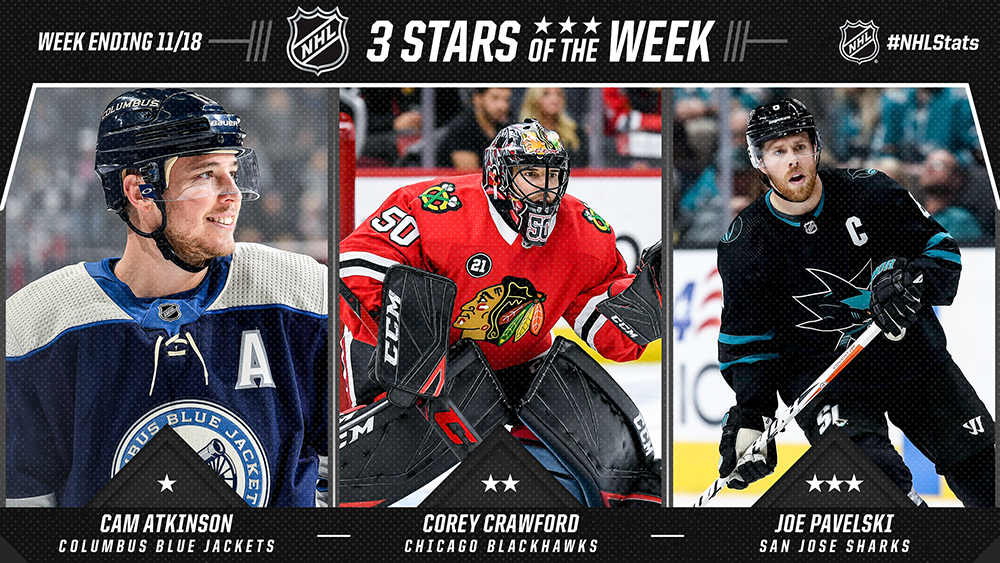 Columbus Blue Jackets right wing Cam Atkinson, Chicago Blackhawks goaltender Corey Crawford and San Jose Sharks center Joe Pavelski have been named the NHL's "Three Stars" for the week ending Nov. 18.
FIRST STAR – CAM ATKINSON, RW, COLUMBUS BLUE JACKETS
Atkinson paced the NHL in goals (t-5), points (8) and plus/minus (+6) in three games help the Blue Jackets (12-6-2, 26 points) record a perfect week and extend their lead atop the Metropolitan Division. He registered 1-1—2 in both a 2-1 victory over the Dallas Stars Nov. 12 and a 7-3 triumph against the Florida Panthers Nov. 15. Atkinson then capped the week with 3-1—4, including his fifth career hat trick and 32nd career game-winning goal (all w/ CBJ), in a 4-1 victory over the Carolina Hurricanes Nov. 17. In doing so, he matched Rick Nash for the most hat tricks in Blue Jackets history. The 29-year-old Riverside, Conn., native shares eighth place in the NHL with 12 goals while ranking second on Columbus with 20 points in 19 outings this season.
SECOND STAR – COREY CRAWFORD, G, CHICAGO BLACKHAWKS
Crawford went 2-0-1 with a 0.65 goals-against average, .980 save percentage and one shutout to help the Blackhawks (8-8-5, 21 points) pick up points in all four of their contests (2-0-2). He denied all 28 shots he faced to earn his 24th career shutout in a 1-0 win against the St. Louis Blues Nov. 14. Crawford then turned aside 31 of 32 shots in a 2-1 shootout loss to the Los Angeles Kings Nov. 16. He closed the week with a season-high 39 saves in a 3-1 triumph over the Minnesota Wild Nov. 18. The 33-year-old Montreal native has compiled a 5-6-1 record with a 2.44 goals-against average, .922 save percentage and one shutout in 12 appearances this season – his first NHL action since Dec. 23, 2017.
THIRD STAR – JOE PAVELSKI, C, SAN JOSE SHARKS
Pavelski collected multiple points in all three of his games, sharing the League lead with five goals and placing third overall with six points to lift the Sharks (11-7-3, 25 points) into first place in the Pacific Division. He scored twice in a 5-4 victory against the Nashville Predators Nov. 13, posted 1-1—2 in a 5-3 loss to the Toronto Maple Leafs Nov. 15 and added two more goals in a 4-0 win over the St. Louis Blues Nov. 17. The 34-year-old Plover, Wis., native is tied for fourth place in the NHL with 13 goals in 21 outings this season (13-3—16). Pavelski's 330 career goals rank 13th in the League since he made his debut in 2006-07.
(NHL Media)