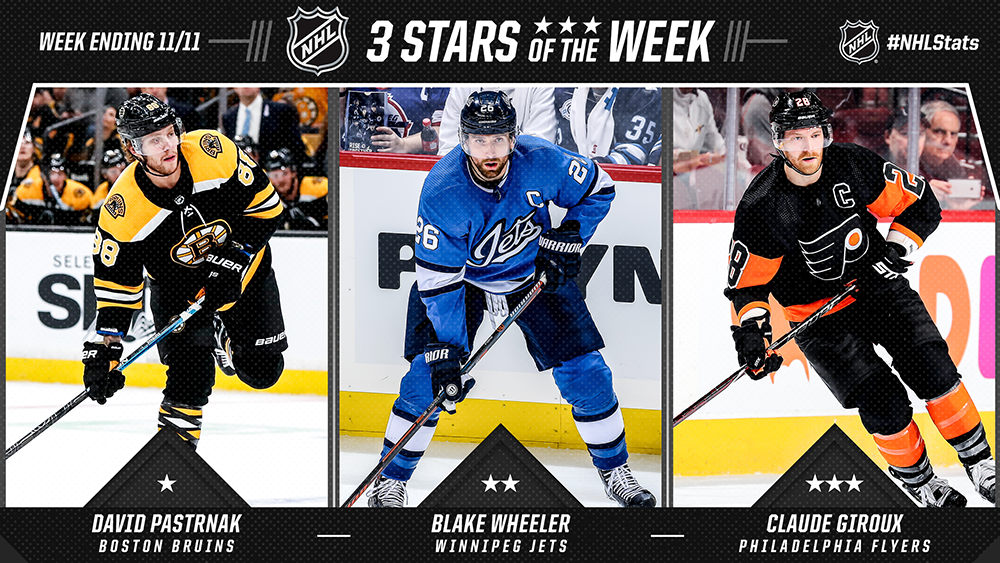 Boston Bruins right wing David Pastrnak, Winnipeg Jets right wing Blake Wheeler and Philadelphia Flyers center Claude Giroux have been named the NHL's "Three Stars" for the week ending Nov. 11.
FIRST STAR – DAVID PASTRNAK, RW, BOSTON BRUIN
S
Pastrnak led the NHL with five goals (5-2—7) in four games to power the Bruins (10-5-2, 22 points) to a trio of victories. He scored the tying goal in a 2-1 overtime win against the Dallas Stars Nov. 5 and then was held off the scoresheet in an 8-5 loss to the Vancouver Canucks Nov. 8. Pastrnak bounced back with 3-1—4, including his third career hat trick and 17th career game-winning goal, in a 5-1 triumph over the Toronto Maple Leafs Nov. 10. He added 1-1—2 in a 4-1 victory against the Vegas Golden Knights Nov. 11, becoming the sixth player in Bruins history to register 16 goals through the team's opening 17 games of any campaign. The 22-year-old Havirov, Czech Republic, native has four more goals than any other NHLer this season while ranking fourth in the League with 23 points (16-7—23) through 17 contests.
SECOND STAR – BLAKE WHEELER, RW, WINNIPEG JETS
Wheeler shared the League lead with six assists (1-6—7) in two outings to propel the Jets (10-5-1, 21 points) to consecutive wins in their return from the 2018 NHL Global Series. He set a career high with 1-4—5 in a 5-2 triumph over the Colorado Avalanche Nov. 9, becoming the first Jets/Thrashers player to post a five-point game since Feb. 28, 2009 (Ilya Kovalchuk: 2-3—5 vs. CAR). Wheeler assisted on nine straight team goals prior to his third-period tally, joining Wayne Gretzky (2x) as the only players in NHL history to achieve the feat. He closed the week with two helpers in a 5-2 win against the New Jersey Devils Nov. 11. The 32-year-old Plymouth, Minn., native is tied for first in the NHL with 20 assists and ranks sixth overall with 23 points this season (16 GP), finding the scoresheet in 10 straight games (2-17—19).
THIRD STAR – CLAUDE GIROUX, C, PHILADELPHIA FLYERS
Giroux paced the NHL with 3-5—8 and a +8 rating in three games to lift the Flyers (9-7-1, 19 points) to a perfect week and into second place in the Metropolitan Division. He recorded three straight multi-point outings, logging 2-1—3 in a 5-2 victory over the Arizona Coyotes Nov. 5, two assists (including a helper on the overtime winner) in a 5-4 triumph against the Coyotes Nov. 8 and 1-2—3 in a 4-0 win over the Chicago Blackhawks Nov. 10. The final game marked the 50th three-point performance of his career (all w/ PHI), making Giroux the ninth player in Flyers history to achieve the feat. The 30-year-old Hearst, Ont., native paces Philadelphia and sits seventh in the NHL with 7-15—22 in 17 contests this season.