--Rob Vanstone may have said it best on Twitter on Sunday afternoon when he said these are the kind of blah Sundays that make one pine for the NFL. No kidding! That being said, it was a day to spend outside considering the weather we have had.
--What is Ricky Ray doing? Its a question being asked around the CFL. Ray's season came to an early end last year when he suffered a neck injury. It was one many said would be the end for the 39-year-old who will be a first ballot CFL Hall of Famer.. However, he isn't telling anyone what his future holds at this time. It's time for Ray to call it a career. What more does he need to do? The Argos aren't the class of the East so it isn't as if he will want to take one more run at a Grey Cup. I think the Argos have moved on with James Franklin, McLeod Bethel-Thompson and Brandon Bridge. Just make the announcement.
--It might just be me, but talk of Kyler Murray being the number one draft pick overall in the NFL makes me scratch my head. Is Murray getting the same treatment Vince Young did back in the day? He is the flavour of the week, but I just don't see him being a stud quarterback for some team. The Arizona Cardinals have a lot of holes to fill and some of those holes are on defence. Unless they were to trade the pick, I don't really see them having a need for Murray, but these are the Arizona Cardinals who are the NFL's equivalent of the Edmonton Oilers these days.
--Antonio Brown to the Raiders? Does that mean A-B will play at Mosaic? I still don't see that happening.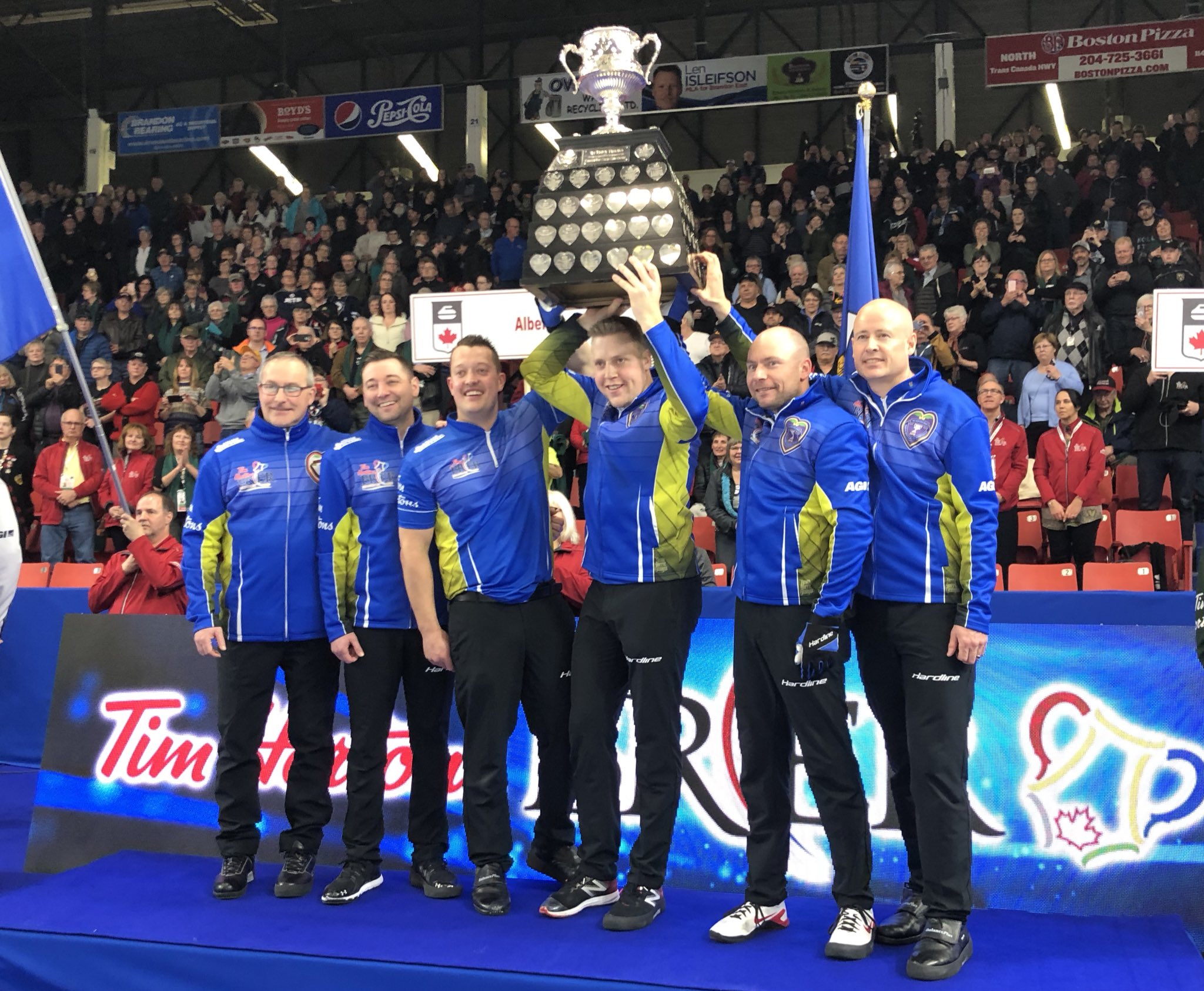 --Kevin Koe has icewater flowing through his veins. What a shot he made in the 10th to win the Tim Hortons Brier in Brandon Sunday night. Does he make that shot without good old Saskies Colton Flasch and Ben Hebert sweeping for him. I think we know the answer to that. Meanwhile, its an Alberta sweep at the Scotties and Brier this year. What are they doing next door that we are not in the 306?
--Who decides on whether a 15 year old is an exceptional hockey player or not? Matthew Savoie, who will barring a miracle be the first pick in this year's WHL Bantam Draft, has been reportedly told he will not be given exceptional player status meaning he can't play full-time in the league as a 15 year old. Has the WHL ever had an exceptional player. Players like Connor McDavid, Aaron Ekblad and John Tavares have been given that distinction in the Ontario League. I don't know if the Quebec League has ever had one. Savoie is a talent, but someone is making the decision that he can't play in the league until he is 16. Some now wonder if he will play in the WHL or head south of the border. I guess time will tell.
--How and why does Flyer forward Jakub Voracek get two games for putting the brakes on and protecting himself from getting slammed by the Islanders Johnny Boychuk who gets slammed himself. That's called a hockey play. Boychuk was ready to paste Voracek into the boards. Once again, I don't understand the NHL Department of Player Safety. Do they? The inconsistency is maddening.
--ESPN has a story on the recently concluded NFL combine called steak, booze and a sense of dull dread. I thought that was a synopsis of my weekends!
--Good luck to U of R Ram players Ryan Schienbein, Kyle Moortgat, Cord Delinte, Layne Hull and Cole Benkic as they take part in the CFL West Regional Combine in Edmonton today. Schienbein may lack the size, but he doesn't lack the heart. If a CFL team wants to take a chance on a pick that could turn into gold, I would watch for Schienbein. The kid has great hands and football smarts.
--Now that the weather is warming up, how long until the snow goes away. Hopefully it won't take too long!
--That's all I got. Have a great week!