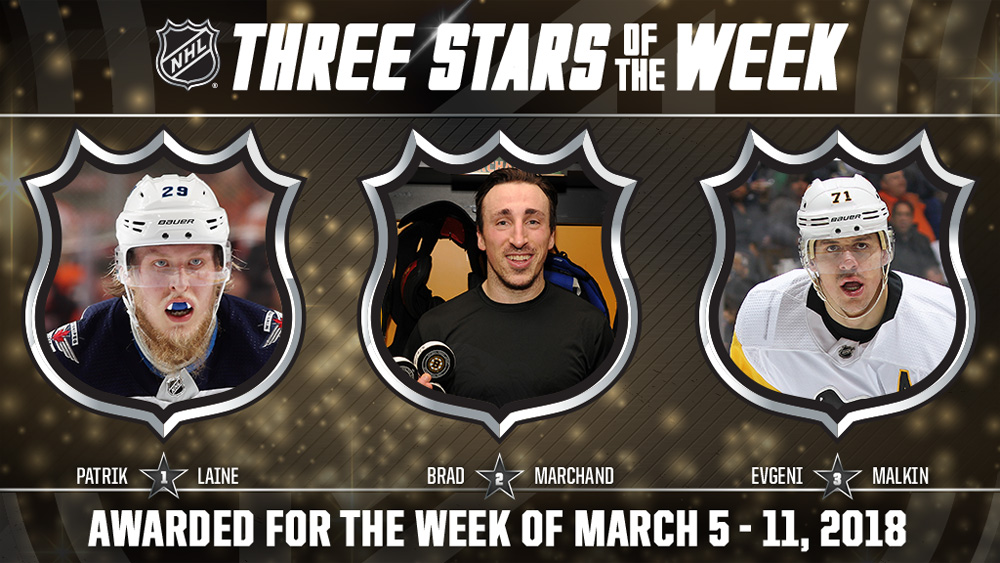 Winnipeg Jets right wing Patrik Laine, Boston Bruins left wing Brad Marchand and Pittsburgh Penguins center Evgeni Malkin have been named the NHL's "Three Stars" for the week ending March 11.
FIRST STAR – PATRIK LAINE, RW, WINNIPEG JETS
Laine led the NHL with five goals in three games to propel the Jets (41-18-9, 91 points) to a 2-1-0 week. He registered his fourth career hat trick, including the winning goal, in a 3-0 victory over the New York Rangers March 6. In doing so, Laine became the third player in League history to post four hat tricks prior to his 20th birthday, joining Jimmy Carson (5) and Dale Hawerchuk (5). Laine then added one tally in both a 3-2 triumph against the New Jersey Devils March 8 and a 2-1 loss to the Philadelphia Flyers March 10 to join Washington Capitals left wing Alex Ovechkin atop the Maurice "Rocket" Richard Trophy race and become the ninth player in NHL history to score 40 goals in one season as a teenager (40-23—63 in 68 GP). The 19-year-old Tampere, Finland, native has collected at least one point in a franchise-record 11 consecutive games (15-6—21), including goals in five straight (9-1—10).
SECOND STAR – BRAD MARCHAND, LW, BOSTON BRUINS
Marchand paced the NHL with 4-4—8 in three games as the Bruins (43-16-8, 94 points) earned three wins in four contests. He notched 3-2—5, including his third career hat trick, fourth career five-point performance and franchise-record 11th career overtime goal, in a 6-5 triumph over the Detroit Red Wings March 6. Marchand then scored his third straight game-winning goal in a 3-2 victory against the Philadelphia Flyers March 8, becoming the seventh player in Bruins history to register the decisive tally in three consecutive team games (and first since Tyler Seguin from Nov. 5-10, 2011). He added two assists in a 7-4 triumph over the Chicago Blackhawks March 10 before missing a 3-1 loss to the Blackhawks March 11. The 29-year-old Halifax, N.S., native ranks fourth in the League with 1.30 points per game this season, sitting 16th overall with 29-40—69 in 53 outings.
THIRD STAR – EVGENI MALKIN, C, PITTSBURGH PENGUINS
Malkin ranked second in the NHL with 3-5—8 in four games to lift the Penguins (40-26-4, 84 points) to a 3-1-0 week and back into first place in the Metropolitan Division. He registered 1-2—3, his League-best 12th three-point effort of the season, in a 4-3 overtime win against the Calgary Flames March 5. Malkin then posted 1-1—2 in a 5-2 victory over the Philadelphia Flyers March 7, one assist in a 5-2 loss to the Toronto Maple Leafs March 10 and 1-1—2 in a 3-1 triumph against the Dallas Stars March 11. The 31-year-old Magnitogorsk, Russia, native places second in the NHL with 87 points and third with 39 goals in 66 appearances this season. That includes a League-high 51 points and 25 goals in 30 contests during the calendar year as well as 3-8—11 during an active six-game point streak.