Courtesy Arthur Images
Regina, you did yourself proud Saturday night and Saskatoon, you helped immensely too. What a madhouse at the University as the Huskies and Cougars played a national women's basketball semi-final in front of over 2400 people.
It was crazy! People were everywhere and it was loud. At times, I had to make sure my mic was on when speaking because I couldn't hear myself. I don't even know if those in the stands could hear me and frankly, I'm guessing they couldn't care. It was great!
Tell me another women's sporting event outside of the Scotties or a Canada-USA hockey game that would get you 2400? Those that were there or who watched it saw a tremendous showcase of the game. It was one that went right down to the final seconds and it was one where the Huskies were lethal from three point land hitting 14 of 28. Regina was the better team on paper, but we all know you don't play the game on paper.
Sadly for the Huskies, they couldn't duplicate their Saturday performance on Sunday as they were beaten by Carleton for the title while the Cougars came back after their defeat to win bronze beating McGill. The Huskies with silver and the Cougars with bronze. I think university women's basketball is pretty solid in Saskatchewan and with the likes of the Giles sisters here and Summer Masikewich at Saskatchewan, this rivalry will remain red hot for a few years yet.
By the way, how does no one in the CFL know Kavis Reed isn't coaching Carleton?
Taffe Charles would win a Reed look-alike contest hands down. It's a good job Kavis isn't in Ottawa.
--The OTHER big event in Regina also came to an end on Sunday night and what a week it was at the Brandt Centre. At the end of the day, there was no surprise.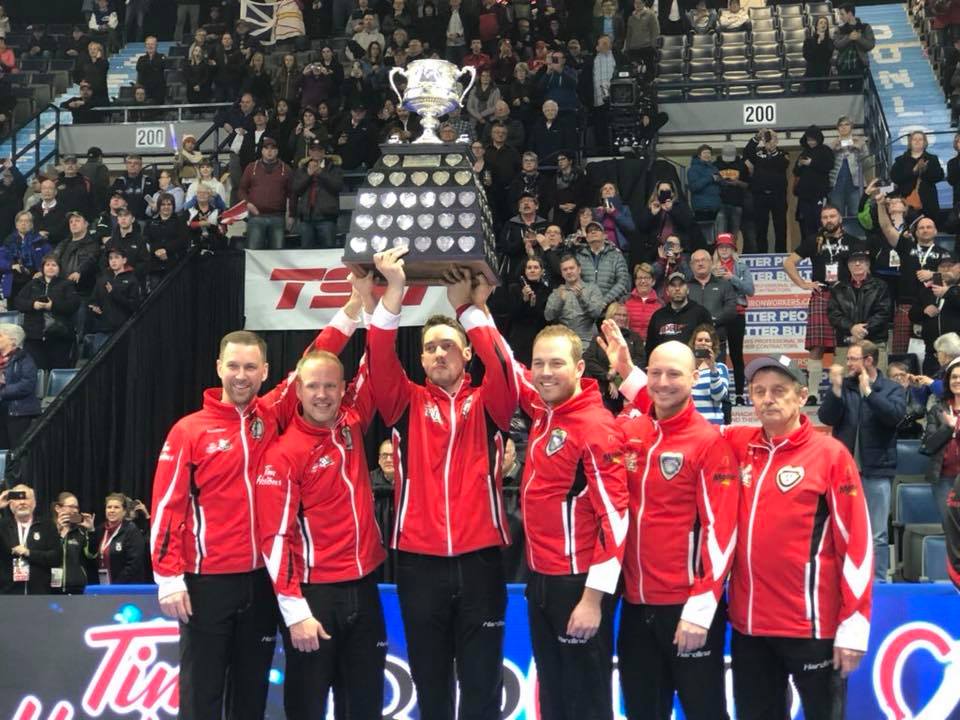 Brad Gushue was favoured by many to win, and he did. He was just about perfect too. He curled 96 percent in the final and 93 percent overall this week. You're not going to have much luck when he is doing that. Did anyone who was watching really think his draw to the button wouldn't be perfect with last rock in 10 for the win. He could do that in his sleep.
--There is a lot of love out there for the Cleveland Browns after what they have done as far as player moves over the past few days. May I remind people this is the Cleveland Browns! We have heard this song and dance numerous times before including when Robert Griffin III went there. They have done nothing yet. Start to win some games and then we can talk.
--Richard Sherman is a San Francisco 49er. Safe to say I will be looking to see when the Seahawks and Niners play this season and whether or not Russell Wilson throws at him. A lot of people are asking about the Seahawks and if their window has closed. I don't know if it has closed, but it certainly isn't as open as it was. All teams need to push the reset button at some time and that is what Seattle is doing. They still have a solid nucleus, but the Legion of Boom days are gone. With the Rams and 49ers improving drastically in the NFC West, a division title is likely out of the equation, but they are still a team that can compete for a playoff spot. This isn't a 5-11 or worse.
--Listening to NHL Radio on Sunday, the discussion centred around the 2022 Olympics and whether or not the league would once again participate after sitting out Pyeongchang. Of course the discussion started as to who might be on that 2022 team. The names of McDavid, McKinnon, Barzal and Reilly are being bounced around, but the conversation really heats up when it comes to who Canada's goalie could be. Some wonder if he is even in the NHL right now. Carey Price has been a mainstay at the position for Canada for years, but I can't see him being the guy in 22.
If Carter Hart continues to progress the way many feel he will, will he be the guy? Could it be Matt Murray or Braden Holtby? I think there are a number of possibilities, but we can start to worry about this in about three years right?
--Eric Staal has 37 goals this year? Anders Lee has 33? Those are two very quiet seasons aren't they?
--The Prince Albert Raiders have won nine games in a row as we head into the final week of the WHL season. Those include wins against both Moose Jaw and Swift Current. They will play one of those teams in the first round and they are showing they will be a tough out.
--The Regina Pats went on an eight-game road trip because of the Brier and won seven of them including a 5-0 trip through the Central Division. They are definitely playing their best hockey of the season. It all equates to what I think will be a very entertaining first round of the playoffs with the four Saskatchewan teams involved. The Raiders are in Regina Wednesday so that will be a good test for both.
--Jake Arrieta is getting paid. The former Cubs pitcher is getting 25 million a year! 25 million! That's a lot of coin for someone who is apparently on the downside of his career.
--Tim Tebow was DH'ing for the Mets this weekend in a Grapefruit League game this season and Jose Bautista is still looking for work. As Sportscage baseball analyst Craig Slater said this weekend, let that just soak in for a moment. Unless someone is VERRRRRRRRY desperate, we have seen our last of Jose.
--Is Tiger Woods back? He has golf fans all lathered up because of his performance at the Valspar Championship. If Tiger was truly back, he would have fired a final round 67 and won the tournament! He didn't. He's not back yet, but he will have everyone talking when it comes time to play at the Masters and that happens soon.
--That's all I got. Have a great week!