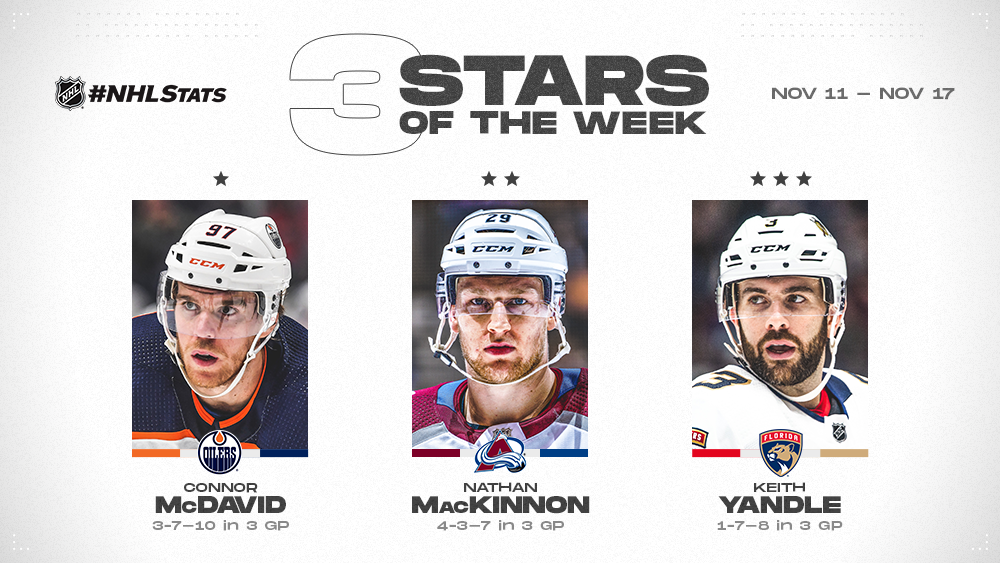 Edmonton Oilers center Connor McDavid, Colorado Avalanche center Nathan MacKinnon and Florida Panthers defenseman Keith Yandle have been named the NHL's "Three Stars" for the week ending Nov. 17.
FIRST STAR – CONNOR McDAVID, C, EDMONTON OILERS
McDavid led all skaters with 3-7—10 in three appearances last week for the Pacific Division-leading Edmonton Oilers (13-6-3, 29 points). He opened the week with one assist in a 6-3 loss to the San Jose Sharks Nov. 12. McDavid then recorded a career-high six points (3-3—6), including his sixth career hat trick, in a 6-2 win over the Colorado Avalanche Nov. 14. In doing so, McDavid became the first Oilers skater to record six or more points in a game since Sam Gagner on Feb. 2, 2012 (4-4—8). He closed the week with a three-assist performance in a 5-4 overtime loss to the Dallas Stars Nov. 16. The 22-year-old Richmond Hill, Ont., native ranks second in the League with 14-26—40 in 22 games, trailing only teammate Leon Draisaitl (16-27—43 in 22 GP), and has been held pointless in just five of 22 appearances this season.
SECOND STAR – NATHAN MacKINNON, C, COLORADO AVALANCHE
MacKinnon ranked tied for second in goals last week while leading the Colorado Avalanche (12-6-2, 26 points), who rank second in the Central Division standings, with 4-3—7 in three appearances. He factored on all four Avalanche goals with 2-2—4 in a 4-0 triumph over the Winnipeg Jets Nov. 12 before being held off the scoresheet in a 6-2 loss to the Edmonton Oilers Nov. 14. He finished the week with 2-1—3, including the overtime winner, in a 5-4 victory over the Vancouver Canucks Nov. 16. The 24-year-old Halifax, N.S., native leads all Avalanche skaters and ranks sixth in the League with 13-16—29 in 20 games this season.
THIRD STAR – KEITH YANDLE, D, FLORIDA PANTHERS
Yandle recorded multiple points in each of his three appearances last week to lead all defensemen and rank third in the League with 1-7—8 while helping the Florida Panthers (10-5-5, 25 points) to a pair of wins in three contests. Yandle opened the week with three points (1-2—3) – all in the final frame – to help the Panthers rally from a 4-0 third-period deficit to defeat the Atlantic Division-leading Boston Bruins 5-4 in a shootout on Nov. 12. It marked just the ninth time in NHL history a visiting team rallied from a four-goal third-period deficit to win. He then recorded a pair of assists in a 4-3 loss to the Winnipeg Jets Nov. 14 and three helpers in a 4-3 victory over the New York Rangers Nov. 16. The 33-year-old Boston, Mass., native ranks sixth among blueliners with 2-16—18 in 20 games this season and has appeared in 817 consecutive regular-season games – the longest active "ironman" streak and the fifth longest in NHL history.