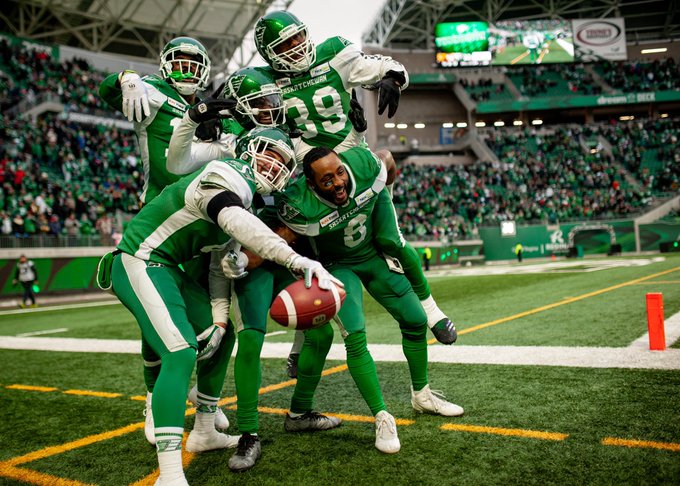 Picture: Saskatchewan Roughriders
The Saskatchewan Roughriders are one win away from playing for the Grey Cup.
On Saturday nin front of 29,156 fans, the green-and-white defeated a stubborn Edmonton Eskimos squad 23-13 to secure first place in the West as they finish the regular season with a record of 13-5. They finished the season winning 13 of their final 16 after dropping the opening two games of the year in Hamilton and Ottawa.
Filling in for the injured Cody Fajardo, rookie Isaac Harker completed 23 of 28 passes for 213 yards in what was a solid effort.
With teammates celebrating loudly outside the room where both Harker and head coach Craig Dickenson staged their post-game availability, the rookie quarterback said he wanted to get the job done.
"I really wanted to win not just for Cody, but for the whole team." Harker said. "It's a good feeling."
Fajardo, who told reporters after the game that he might have to push through the pain but he will be playing in the Western Final on November 17, that he was very proud of Harker for coming through.
"He said he's going to guarantee me some time off to get healthy." a smiling Fajardo said. "That was a big win for us as a team and for him as a quarterback."
Head Coach Craig Dickenson, who admitted he would like to play Calgary in the Western Final just for the fact he would be coaching against his brother Dave, says when he looks back at the regular season and what his team accomplished, he can credit it to a couple of things.
"I think a lot of things went right for us this year." Dickenson said. "I have to give a lot of credit to Jeremy (general manager Jeremy O'Day) and Craig Reynolds. I think they've got really great vision and they are both really good people. When you work for good people, you want to please them. We've also got great guys in that locker-room that want to come to work. To win 13, you have to do a lot of things right and get some breaks and we did both. We're not done yet, but we're proud of the guys in that locker-room."
The team now waits to see who will come out of the Western Semi-Final that will be played next weekend between the Stampeders and Winnipeg Blue Bombers.