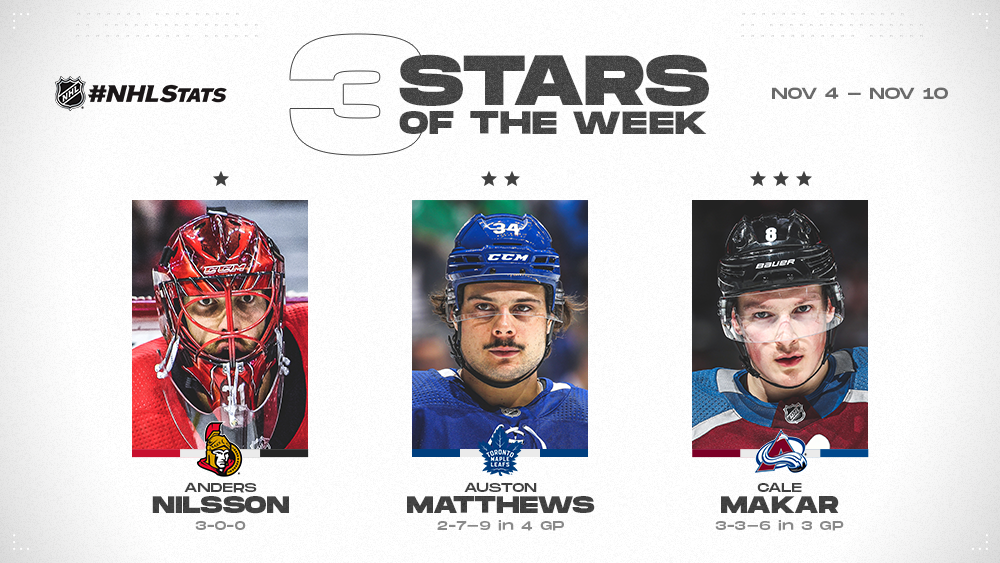 Ottawa Senators goaltender Anders Nilsson, Toronto Maple Leafs center Auston Matthews and Colorado Avalanche defenseman Cale Makar have been named the NHL's "Three Stars" for the week ending Nov. 10.
FIRST STAR – ANDERS NILSSON, G, OTTAWA SENATORS
Nilsson stopped 96 of the 101 shots he faced, compiling a 3-0-0 record, 1.64 goals-against average and .950 save percentage to backstop the Ottawa Senators (6-9-1, 13 points) to wins in each of his three starts. Nilsson turned aside 32 shots in a 6-2 triumph over the New York Rangers Nov. 4. He then made 26 saves in a 3-2 overtime win over the Los Angeles Kings Nov. 7 and capped his week with 38 stops in a 4-1 victory over the Carolina Hurricanes Nov. 9. The 29-year-old Lulea, Sweden, native has played in eight total games this season with a 4-3-1 record and ranks tied for sixth in the NHL with a .930 save percentage.
SECOND STAR – AUSTON MATTHEWS, C, TORONTO MAPLE LEAFS
Matthews factored on nine of his team's 11 goals last week, leading all NHL skaters with 2-7—9 in four appearances to help the Toronto Maple Leafs (9-6-4, 22 points) to a 2-1-1 record. Matthews opened the week with 1-1—2, including the game winner, in a 3-1 triumph over the Los Angeles Kings Nov. 5 and scored the game-tying goal in the third period of a 2-1 overtime win over the Vegas Golden Knights Nov. 7. He closed the week with a pair of helpers in a 3-2 shootout loss to the Philadelphia Flyers Nov. 9 and a career-high four assists in a 5-4 loss to the Chicago Blackhawks on Nov. 10. The 22-year-old forward from Scottsdale, Ariz., ranks tied for third in the NHL with 13 goals this season and sixth in points (13-12—25 in 19 GP).
THIRD STAR – CALE MAKAR, D, COLORADO AVALANCHE
Makar tied for the NHL lead among defensemen in goals and points last week with 3-3—6 in three contests to propel the Colorado Avalanche (10-5-2, 22 points) to a pair of wins in three outings. Makar opened the week with an assist in a 4-1 loss to the Dallas Stars Nov. 5. He then put up back-to-back multi-point outings with a career-high three points (1-2—3) in a 9-4 victory over the Nashville Predators Nov. 7 and his first multi-goal performance – including the game-winning tally – in a 4-2 triumph over the Columbus Blue Jackets Nov. 9. The 21-year-old Calgary, Alta., native leads all rookie skaters in assists and points with 4-13—17 in 17 contests to become the fourth defenseman in NHL history and second in the modern era (since 1943-44) to collect at least 17 points through his first 17 career regular-season games.