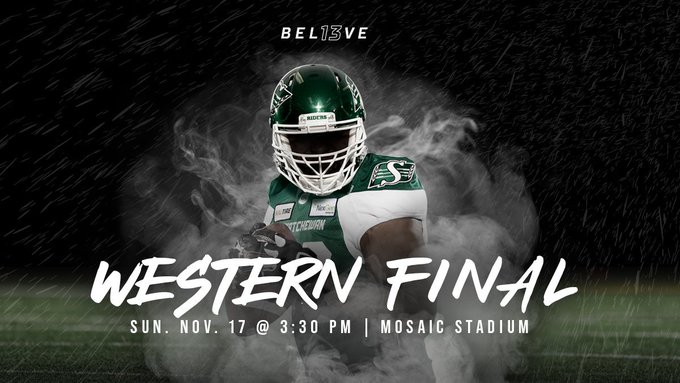 Do you "BEL13VE"?
The storybook ride continues for the Saskatchewan Roughriders. They didn't put a stubborn Edmonton team away like many thought they would, but they beat the Eskimos 23-13 to finish first in the West with a record of 13-5.
I don't think even the most hardcore Rider fan thought this team was going to be 13-5 with a rookie head coach especially after the first two weeks of the season. Yes, remember the first two weeks of the season. Collaros went down, Fajardo came in and did not look good, the defence got torched for 44 by Dominique Davis (how did he do that anyway) and the team went into first bye week of the season with a 1-3 record after getting torched by Nick Arbuckle and the Stampeders. Oh how things changed
Craig Dickenson told the assembled horde of media at game's end that when they went into that first bye, he told the players they were going to be the same way win or lose and it struck a chord with them. Dickenson said he told the players they weren't going to change, they just wanted the work during the week and the players responded because they appreciated it and they trusted them. I can't argue. As I said when the team started getting on their roll after that first bye week, I think they had a Chris Jones hangover and that they needed that week to realize it was Dickenson's team and that things had changed.
Dickenson admitted at the start of the season, he was hoping for 10 wins and that they would be playing well going into the playoffs and that while the team played well, they had a lot of breaks go their way. Again, I can't argue.
I also can't argue with Dickenson when he says his team didn't play its best and that they appeared to be tight. You can't tell me they won't be tight in two weeks time. That might be the biggest thing the coaching staff has to work on over the next few days.
--The question now is who will the Riders play on November 17? I would think it would be Calgary meaning Craig will have an opportunity to beat his brother for the first time with a whole lot at stake. If Winnipeg comes in, would the Riders QB at the start of the season be the QB on the other side? Craig admitted Saturday night he would like to play Calgary just because of the opportunity he would have to coach against Dave. That is understandable, but if Winnipeg wants to make something out of it, go right ahead.
--If you were one of those criticizing Brett Lauther after Saturday's game. just stop it. Lauther had a bad day at the office. He has made huge kicks for this team including the walk-off in Edmonton. He had a bad game, he knows he had a bad game and he will be better. End of story!
--I have said it once and I will say it again. The CFL seriously needs to look at attendance. When the biggest game the Riders have played at home occurs and the most passionate fan-base in the CFL doesn't sell out the game, there is something wrong. Yes, the Riders need to take a serious look at this as well. The Heritage Classic sold out, but the Rider game didn't? Both the league and the team need to ask themselves why. Will the Western Final be sold out? I am hoping it will be, but I doubt it will.
--Cody Fajardo says he may do it through pain, but he will be ready to go on November 17. I liked the job Isaac Harker did, but could he do that against a defence like Winnipeg and Calgary has. I doubt it.
--I wonder how the Stampeders felt seeing Jason Maas first not dressing several regulars and then throwing in the third string quarterback in a three point game who promptly tosses a pick-six. Hmmmmm!!
--Its early, but the forecast for November 17 calls for Sunny and minus 5 for a high with a low of minus 8. It could be worse!
--The NFL season is at the halfway mark. If the MVP isn't Russell Wilson, then it is Christian McCaffrey. Right now, there is no one else in the conversation if you ask me.
--Adam Vinatieri just needs to retire. He is more of a liability than a positive for the Colts.
--The Washington Nationals partied with the Washington Capitals this weekend. After seeing how Ovie partied with the Cup and seeing Max Scherzer have a good time, I can only imagine what stories will have come out of this weekend.
--If Taylor Hall ends the year as a New Jersey Devil, I'll be shocked. It's not hard to see he doesn't want to be there. Talk of him returning to Edmonton can end as well. They can't afford him and I don't think they need his personality in the room.
--What has happened to the Tampa Bay Lightning?
--That's all I got/ Have a great week!
(If not doing so already, you can follow me on Twitter @mblairYQR )