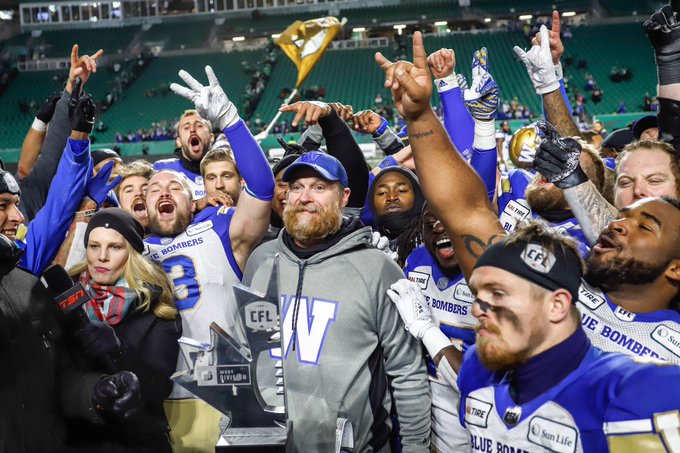 --Remember the Simpsons episode where a parade is thrown for an inanimate rod that saved a nuclear disaster. Maybe they should have a parade in Winnipeg for the crossbar in the north endzone. Would Cody Fajardo's pass have been completed if it doesn't hit the crossbar? Kyran Moore looked to be open, but we'll never know. Maybe a flag would have been thrown and the Riders would have had the ball at the one. Actually, if that was the case they probably still lose.
When you have the ball inside the five yard line, you need to score. The Riders had the ball how many times inside the 5 and couldn't get in. It is why they lost. It is as plain and simple as that. There is no debating it
Steve McAdoo will get the lion's share of the criticism and in this one, he deserves it. Why is it offensive co-ordinators try to get pretty on the goal-line? Bryan Bennett gets to the one yard line and then they go shotgun. Why? William Powell is a 1000 yd running back. When the ball is in on the goal-line, put the damn thing in his hands. Either that or sneak it by going straight ahead. Instead of doing that, the Riders had to get cutesy instead of just getting their nose dirty and doing their thing. Show some confidence in your o-line. It was just a dumb decision. It was also dumb to try and sneak Fajardo around the left side with two minutes to go. Give the damn ball to Powell and once again show some confidence in your o-line. McAdoo isn't the only O-C who is guilty of this but on this day the magnifying glass shines brightly on him. He simply didn't give the team a chance to win on this day with his play calling. Sometimes being basic is the best thing to do.
When asked by yours truly after the game, Fajardo said he played with two torn oblique muscles. We knew Cody was a tough s-o-b before hand, but this just escalates that. I can't imagine how much pain he is feeling. If that effort didn't show you, he is Saskatchewan tough I don't know what is. What a gutsy effort he gave. He is one of us folks. He finds a way. No wonder so many have taken to him. He is going to be a big part of what is a very promising future.
Give credit to the Bombers. They put a new quarterback in late in the season. They went into Calgary and beat the Stamps and they came into Mosaic and won here. That isn't a fluke. While Hamilton should be favoured to win the Grey Cup next Sunday, don't bet against Winnipeg. Next Sunday will be a great football game. The interest level obviously won't be the same but it should be a great game.
Zach Collaros will be the starting QB for the Bombers in what will be the last game of the season. The first game of the season saw his season get shortened by Simoni Lawrence. He shrugged it off when asked about facing Lawrence, but you know he wants to rub it in his face. Why wouldn't he. I would use that as a huge motivator going into Grey Cup week.
--A tip of the hat to Cougar women's basketball player Michaela Kleisinger. On Friday night, she did something no Cougar player has done since they joined Canada West in 2001 by recording a triple/double which is double digits in points, assists and rebounds. Considering the many great players the Cougars have had represent them on the court, this was quite the feat. Cymone Bouchard didn't do it, Katie Polischuk didn't do it, Bree Burgess didn't do it and either did Lindsay Ledingham and they are just four of many who excelled wearing Cougar colours. In promoting the game Saturday, I asked what she had for an encore. How about a repeat performance?!
Just about everything the 5th year player did turned to gold this weekend as she turned in the first two triple/doubles in Cougar WBB since becoming a Canada West member almost 20 years ago. Getting one is an accomplishment, but two? That's doing something especially when you consider as I found out after the game Saturday that she had been working on a big class assignment that just about fell through at the last second. Oh, the life of a student-athlete. Congrats Michaela!
--All in all, it was a pretty exciting weekend at the CKHS as the men's team won a pair against Winnipeg as well with the game Friday night coming right down to the buzzer before Matt Barnard's 20 footer found net as time ran out for an exciting one point win.
--Sounds like Jay and Dan got to "Experience Regina" on the weekend. Many had their pictures taken with the two TSN personalities from what I saw. Being at the basketball games this weekend, I did not get a chance to rub elbows with them, but I was told their show at the Conexus Arts Centre was fantastic and that all went well at the Brandt Centre as well. Speaking of which, how about those unis the Pats wore on Saturday. Those were sweet! A win over one of the top teams in the country was probably a little sweeter though.
--What is wrong with the Leafs? I don't know, but many are enjoying it. Count me in with that group!
--I had a chance to see Ron McLean's address on Hockey Night in Canada. McLean took a lot of heat this week for what happened to Don Cherry. I understand that and I think Ron did too. I have said this once and I will say it again. There may not be a truer professional in this business than Ron McLean, What you see on TV is what you get. Between him and Chris Cuthbert, there aren't many better. That had to be one of the toughest 5 minute soliloquies McLean has ever had to give and he came through.
There were rumours that Ron may be off Hockey Night in Canada to concentrate solely as host of "Hometown Hockey". I could understand that because if you don't have Don, the Ron and Don show simply isn't there. Let's see what is used to fill the Coach's Corner spot next week.
--I am tired of the Colin Kaepernick story.
--The fallout from the Myles Garrett-Mason Rudolph incident on Thursday continues. Former Browns offensive co-ordinator Todd Haley put a lot of blame on the incident on Browns head coach Freddie Kitchens saying it comes down to coaching.
"This to me, this comes back to coaching," Haley told SiriusXM Radio on Friday. "This falls squarely right on the head coach. Because the head coach talks to every assistant coach, who then talk to their groups of players. And there's an old saying in coaching: 'You're either coaching it or you're allowing it to happen.'"
Do I have to go on? I get the feeling more and more Kitchens will be a one and done and Chris Jones will be a man looking for a job. Would Jones want to come back to the CFL or seek employment south of the border? I think its the latter, but he is a modern-day Don Matthews and the Don came back to Canada after failed attempts down south. I still think he ends up in Toronto where he could work again with John Murphy if he is indeed let go with the rest of the Browns staff at the end of the year.
--I'm still not sure just why Guy Carbonneau is going into the Hockey Hall of Fame, but good on him for getting there. I would have several others in there ahead of Carbonneau, but he got the votes needed.
--While I rail on the Oilers for ditching their vintage blues to go to that god-awful orange that they wear, can someone in Vancouver start the "Bring Back the Black" look. Those vintage unis with the skate they wore on Saturday at home to Colorado were outstanding!