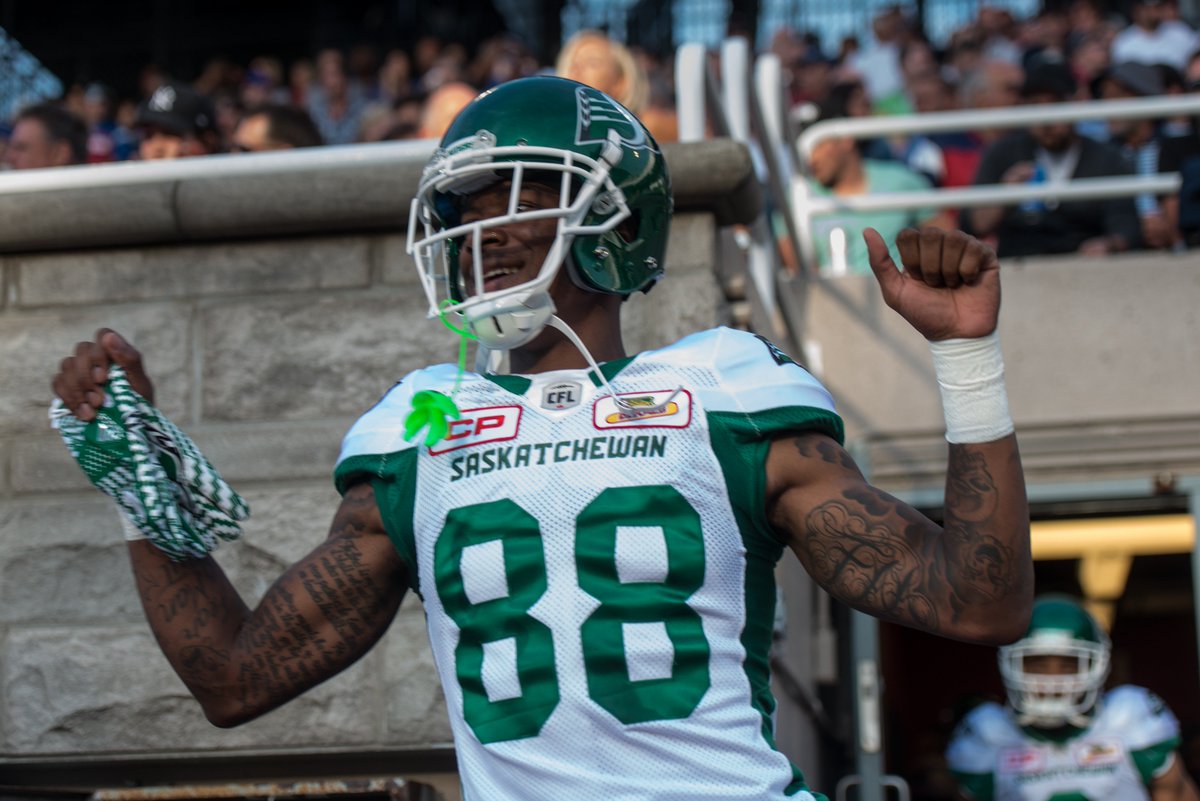 Photo: Saskatchewan Roughriders
Chris Jones doesn't want to hear anything about it, but I think it is safe to say that we have ourselves a good old-fashioned quarterback controversy in Riderville coming down the stretch. The Riders head coach was quick to say after the last-second win in Toronto that Kevin Glenn is still the starter, but as has been the case in this neck of the woods for many years, the backup quarterback may be the most popular man in the province again.
Brandon Bridge basically pulled one out of the fire Saturday in Toronto. Kevin Glenn was shaky, so Jones did not hesitate to put Bridge in and he came through throwing for almost 300 yards and two touchdowns against a good Toronto defence to put the Riders record to 8-6 with three of the last four at home. It would appear as if those who thought a 10 win season could happen this year will be right and then some. I had them at 9-9 and that should certainly be eclipsed.
Some think the Riders can run the table and go into the playoffs as the CFL's hottest team. Let's not go that far though. While fans like to look ahead, the team isn't and they know they have some tough games coming up. Ottawa played the Riders tough at TD Place, and we saw them hang on to get a "W" in BC Saturday. Trevor Harris makes them a different team. They are coming into a place though where opposition teams have quickly found out is a damn tough place to be in. The bottom line is this team can think playoffs whether it be through the east or west and isn't that a nice spot to be in considering what has happened since Banjo Bowl 2014. Those who believed in Chris Jones are now getting a chance to say "I told you so". Those who didn't are staying silent-----for now!
Thoughts on what happened at BMO Field
Trent who? For all the hype surrounding Trent Richardson and the expectations of what he could do, the answer was not much. 5 carries for 20 yards was it. I expect him to have more of a role moving forward as he understands the Canadian game more, but I think a lot of us were left wondering why he wasn't used more. For that matter, I think many of us are wondering why this team doesn't run the ball more.
We know what the tandem of Carter, Roosevelt and Grant can do and perhaps we are seeing more Caleb Holley as well. What a game it was for him!
Is Kevin Glenn 100 percent? He hasn't looked the same since re-injuring his hand at the end of the first half against Calgary. Whether he be the starter or the backup, the Riders need KG down the stretch at 100 percent! It just looks to me as if the passes aren't coming out right.
There are obviously no complaints about what Bridge is doing, but as one person said to me at the Pats game Saturday night, he fires everything in there and seemingly has very little finesse when it comes to lofting a ball into a receiver's hands. I would argue the pass to Naaman Roosevelt for the late TD in the first half was a nice throw that got to where it had to be, but there is some validity to the statement. Bridge's passes for the most part are just high-velocity darts. Hey, if its working, don't try to fix it.
Yes, the arrival of Jay Onrait and Dan O'Toole in the TSN broadcast booth meant Canadians didn't have to listen to Rod Black, but enough was enough. I like Jay and Dan, but the game became secondary and perhaps tertiary while they were invading the premises. It wasn't like Dennis Miller on Monday Night Football, but it was close.
Tyler Crapigna continues to get it done. The kicker is 25 for 29 this year and while he did have two costly misses at the start of the season, he has been very reliable. In his Rider career, he has made 65 of 75 field goals. Some can't get it through their head or won't accept the fact Jerome Messam was not coming back to Saskatchewan which is why he was traded away in the first place for Crapigna. Those who do understand that can see what a great trade it was for both teams.
--When do the Zach Collaros to Winnipeg rumours start? Is Matt Nichols hurt, and if so how long is he out for. If the injury suffered against Hamilton is a big one, can the Bombers afford to go with inexperience down the stretch.
--Thank god Sunday Ticket is back. SaskTel Max subscribers were able to scoop it up in time for Sunday's games. I am guessing it won't be much longer until Access subscribers have it back as well. Can Access get MLB Network too? (please??!) What a colossal disaster DAZN has been.
--If you were in the Brandt Centre Friday night, you could tell early on Miranda Lambert was not on top of her game. The energy of one of her shows just wasn't there. She admitted so as the night went on saying the events in Las Vegas and the death of Tom Petty hit her hard. That shouldn't come as a surprise seeing the country music fraternity is a tight one. Her show in Winnipeg the next night was cancelled because of "illness". I give her a lot of credit for coming out and not disappointing her fans. There were a lot here as there were earlier in the week in Edmonton and Saskatoon.
--UFC boss Dana White is coming off as quite the d-bag. After a nice little spiel to start off the pay-per-view on Saturday night, White went off after saying he had offered Jason Aldean a chance to sing the national anthem but he declined. Aldean decided to sing some Tom Petty and deliver a message on "Saturday Night Live" instead. Yes, Aldean singing "The Star Spangled Banner" in Vegas would have been symbolic, but it would have been through a Dana White promotion. Aldean likely had more of an American audience watching Saturday Night Live. Nice job Dana! Great job Jason!
--Alexandre Ovechkin has back-to-back hat-tricks at the "start" of the NHL season. Yes, we are a long ways away from the playoffs. Do it then Alex, do it then!
--So if Connor McDavid signed for 12 million dollars a year and the guy that went behind him Jack Eichel went for 10 million. What does Auston Matthews get?
--Playoff baseball. There is nothing like it! Game 3 of the Indians-Yankees season along with Game 2 of the Cubs-Nationals series were unbelievable. It's only getting started.
--Who would you rather have? Deshaun Watson or Dak Prescott? Of course, you would take Aaron Rodgers over both. I am guessing he once again spoiled the afternoon for many Cowboys fans. You knew that leaving him a minute and change was not going to work for the Cowboys the moment Prescott scored.
--Will Cleveland ever play with a lead? Will the Giants win a game?
--The Don Cherry jerseys the Pats wore Saturday were just plain ugly. Then again, they were Don Cherry jerseys, so they were awesome. I can only imagine the look of the team when they saw those for the first time. I also now know what Phil Andrews will be wearing in the booth when on the road.
--If a wrestling fan, ask yourself why Shane McMahon does what he does. The man just isn't all there. It's as entertaining as hell though. Yes it is! Fake or not, you just shouldn't be doing what he does.
--If like me, take time out today to go for a walk or do something to burn off the excess turkey. Happy Thanksgiving!
--That's all I got. Have a great short week!