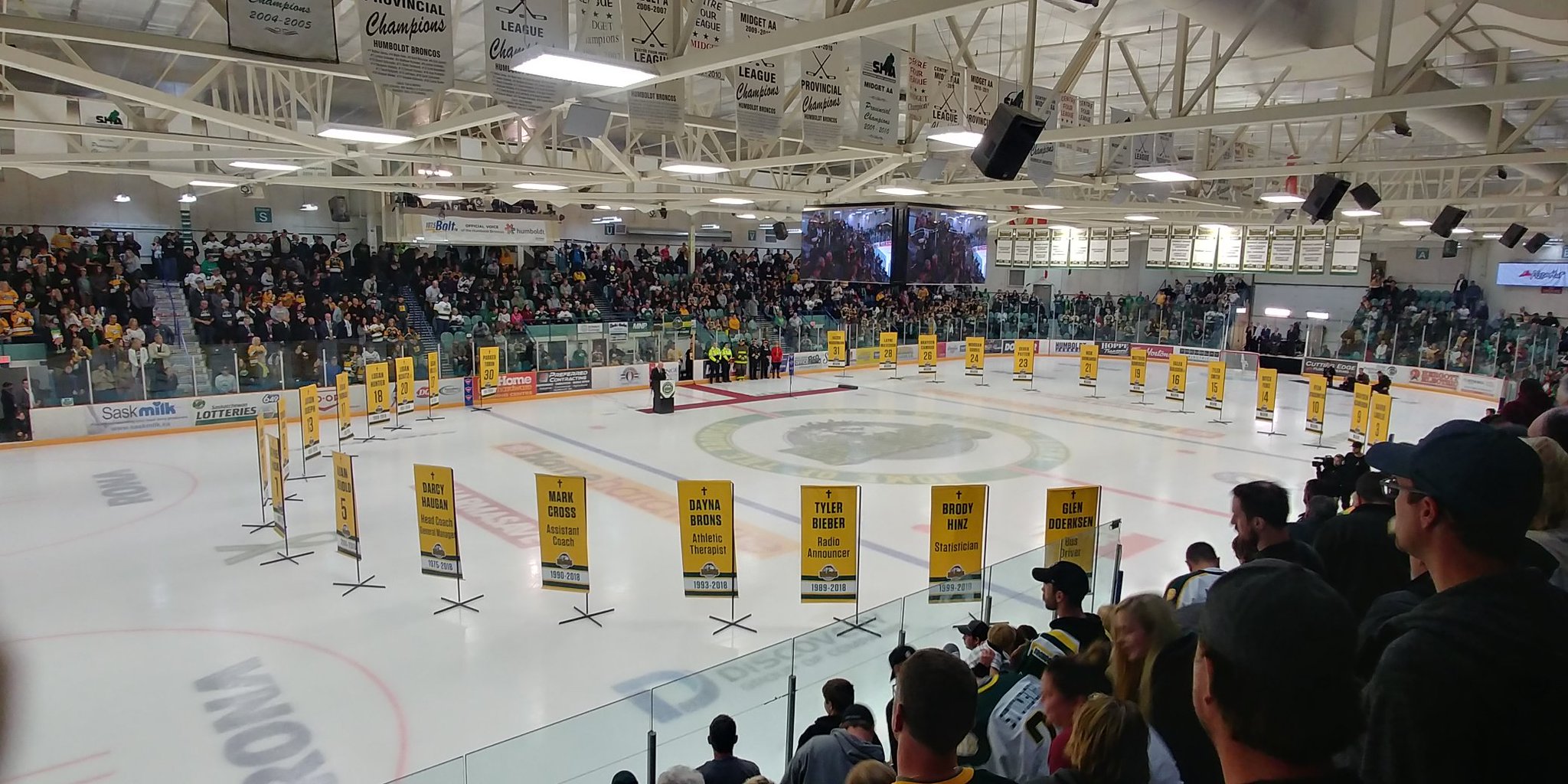 Courtesy: Ryan McNally/620 CKRM
--They didn't win the game, but they are back. With a North American audience watching, the Nipawin Hawks beat the Humboldt Broncos 2-1 in what was the SJHL team's first game back since the tragic bus crash that killed 16. After the game, a ceremony was held where banners of all 29 who were on the bus were unveiled around the ice while Scott Thomas, the father of Evan Thomas, one of the 16 killed, thanked everyone for the support shown to the organization and the community in the aftermath of the tragedy.
--The Columbus Blue Jackets signed head coach John Tortorella to a two-year contract extension on Wednesday. The extension will keep Tortorella with the Blue Jackets through the 2020-21 season.
Columbus has enjoyed its two most successful seasons under Tortorella, including the 2016-17 campaign when he led the team to a franchise-best 50 wins and 108 points en route to capturing the Jack Adams Trophy as the league's best coach.
--Predators forward Austin Watson has been suspended without pay for the entire preseason and first 27 games of the regular season for domestic abuse. Commissioner Gary Bettman handed down the suspension Wednesday after an investigation and a hearing with Watson last week. Watson pleaded no contest in July to a charge of domestic assault stemming from an incident in June, and the NHL found Watson engaged in unacceptable off-ice conduct.
--The Boston Red Sox became the fastest team to reach 100 wins since 2001 after David Price threw seven shutout innings in a 1-0 victory over the Toronto Blue Jays Wednesday night at Fenway Park.
The Red Sox, who on Tuesday became the first team this season to clinch a playoff berth, reached the century mark in their 146th game. The 2001 Seattle Mariners reached 100 wins in their 140th game and went on to win a major-league-record 116 games. Boston has reached 100 wins just four times in team history, last doing so when Ted Williams returned from World War II in the 1946 season.
--Although he wouldn't say specifically which ligament was damaged, Packers quarterback Aaron Rodgers said he has a sprained knee and that it has been "pretty sore the last three days."Rodgers was held out of practice Wednesday, and although he said he did not need any practice time in order to play in Sunday's game against the Minnesota Vikings, he could not yet commit to playing. "I want to play obviously," Rodgers said Wednesday. "You're just taking it one day at a time. See how it feels tomorrow and see how it feels Friday, Saturday and then hopefully ready to go Sunday."