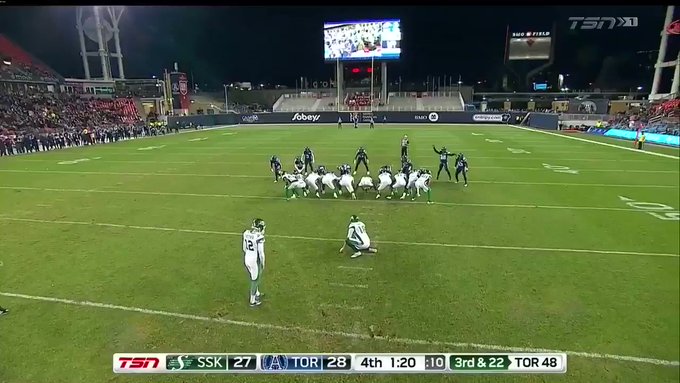 --To quote Twitter legend Fake Gainer "Brett Fuqn Lauther". One of the great stories of the 2018 CFL season wrote another chapter to the book with a massive 56 yarder to give the Riders a one-point win over the Argos. It was a game where there was a lot of good and a lot of bad, but in the end, no one is apologizing for the two points and they will take it.
The offence got its act together as Zach Collaros and company made some big plays ---plays that were needed to keep drives alive. Yes, he threw a couple of interceptions, but on both Trumaine Washington ripped the ball away from Naaman Roosevelt.. The "why aren't you throwing to Roosevelt" narrative came to an end as he had a 100 yard night and Marcus Thigpen ripped off another big touchdown run. The o-line had its ups and downs with a big up being the Dan Clark block to spring Thigpen, but they also had Collaros running more than what he wants to.
Defensively, the unit started well, but the team had difficulty stopping a pouty James Wilder Junior in the second half which just about cost them. The pressure on the QB wasn't there as well---at least not until crunch time. Yes, Charleston Hughes did deliver a couple of solid shots on McLeod Bethel-Thompson (calls that were probably roughing the passer calls in the NFL), but he was just a split second too late from getting the sack. Getting to MBT to disrupt a pass to SJ Green that would have won the game was huge.
In the end, the team is 8-5 and improved their chances thanks to Edmonton's loss in Ottawa at getting a home playoff game. It is setting up for what will be a playoff-like game against the Eskimos on Thanksgiving Monday.
On to Montreal
--Its pretty obvious Duron Carter is not wanted in Toronto despite the fact he is getting a paycheque from them. Marc Trestman is happy with letting Carter sit on the bench for whatever reason. He could have used Carter in Saturday's game, but he was content with letting him sit on the bench and rot. Is this tough love? Whatever it is, I am guessing Carter doesn't last the season in Toronto because it is obvious that Trestman has no desire to see him on the field.
--I would love to know what Wally Buono said to June Jones in the post-game handshake or what exactly he was thinking. Holy catnip did Hamilton screw that one up. Where do you start? Talk about showing no confidence in your kicker (which in hindsight proved to be true with the Hajrullahu OT miss). You have to try that field goal and basically put the hammer down on the win. How can you not? Much like it is when a d-back drops a sure pick on the last drive, you just knew BC was going to come down and tie it didn't you? One has to think that final few minutes was a tremendous boost to the confidence of Jonathan Jennings. You know this is his final chance to do something.
--Without throwing his hands up in the air and retiring, someone in the NFL needs to sit Clay Matthews down and explain what he needs to do when it comes to hitting the quarterback. Does he have to pick him up and lay him down gently? Once again, the Packers linebacker was victimized by a horrible call. He wasn't the only one. Dallas' Tyrone Crawford also got called for what was an atrocious "ROP" call on Russell Wilson and I'm a Seahawks fan so you know it was bad. The rule needs to be changed. More are seeing and saying that. If the NFL doubled down last week after the Matthews hit on Kirk Cousins, lets see what they do this week.
--Hands up if you had Minnesota in a survivor pool this week? I wasn't one of them, but oh yeah, I had Houston. So much for the Texans being a solid team when Deshaun Watson and JJ Watt are back.. They're 0-3.
-If the Browns had a kicker, they would be 3-0. If the Seahawks had an offensive line, they would be 3-0. Aren't the Patriots supposed to be 3-0 just because they're the Patriots? When does the "Is this it for the Patriots talk?" start?
--I received a text from someone at the Pats game Saturday night saying it was going to be a long year. Let's relax a little. The home team was taking on a team many believe will win the Eastern Division. Yes, it is going to be tougher to get some goals, but from what I saw watching the game on Access there was nothing to be that concerned about. There are still 66 games to go.
--Is anyone watching NHL pre-season hockey? Like the NFL and CFL, please tell me when everything counts.
--In the last week of the baseball season, I will be cheering for the Colorado Rockies to get into the playoffs. They deserve to be there.
--There has to be some more nice days in front of us right. Right?