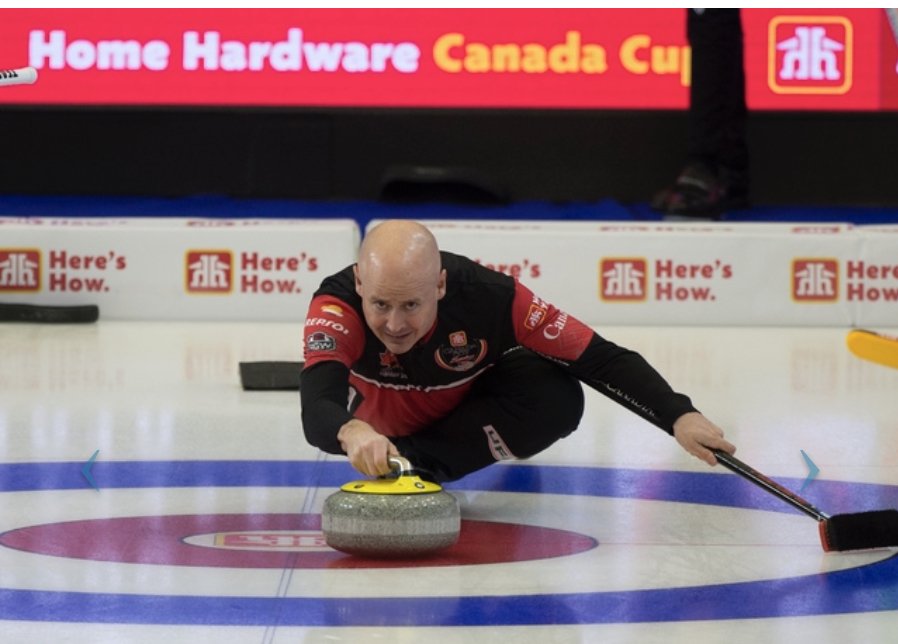 Photo: Michael Burns
It will be Kevin Koe of Calgary versus Brad Jacobs of Sault Ste. Marie, Ont., in Sunday's men's final at the 2018 Home Hardware Canada Cup after Koe rallied for a 7-5 win over Brad Gushue of St. John's, N.L., in Saturday's semifinal.
Two uncharacteristic misses by Gushue, and a refusal to go away by Koe and his Calgary teammates, led to a stunning reversal in the game, turning a 5-1, sixth-end Gushue lead into a Koe victory.
The Newfoundland and Labrador skip and reigning two-time Tim Hortons Brier champion had a chance to put the game away in the eighth end and a chance to win it in the 10th … and both times he failed to do so.
A straight-forward Gushue draw to the button in the eighth sailed wide, giving Koe and his team a steal of two, a 6-6 tie and new life.
"Obviously my missed draw in eight was what cost us the game," Gushue said later. "I threw it a little heavy… it slid a little further than I thought. But I have two of the best sweepers in the world and I have to use them, so that's totally on me."
Koe was heading off for a washroom break at the time but knowing nothing is safe on ice, he was keeping his eye on Gushue's shot.
"I was actually peeking through the curtains," he admitted. "I never expected him to miss, but I heard them say it was heavy … so I kept my eye on it. I don't know the last time I've seen him do that, especially against me in a big game, he doesn't miss those. So that got us back to even and we played a great nine and 10 … played a good back half."
Koe, third B.J. Neufeld, second Colton Flasch and lead Ben Hebert struggled early, giving up two in the second and trailing 5-1 at the break after Gushue, third Brett Gallant, second Mark Nichols, lead Geoff Walker and coach Jules Owchar stole a deuce in five.
Koe, a former Tim Hortons Brier and World champion, said it was a missed line call by himself and Neufeld on his final stone that resulted in the steal. They called off the sweepers and his rock curled hard and turned a chance at a steal into a deuce for Gushue.
"Me and B.J. just said sorry to the guys for screwing up that line call," said Koe. "I make that, it's guarantee one, maybe two steal and he's in tough shape. I threw it perfect, screwed up the line call so that was frustrating. But we've been good hanging in there all week."
And they did it again Saturday, scoring two in the seventh, stealing two in eight and singles in the ninth and 10th ends.
The Koe foursome will now play Jacobs, whom they lost 8-4 to in the opening round-robin draw.
--
Veteran Jennifer Jones rode a three-ender in the fourth to an 8-4 victory over Rachel Homan of Ottawa in the women's semifinal at the Home Hardware Canada Cup on Saturday evening at Affinity Place.
Jones and her teammates from Winnipeg will play Kerri Einarson of Gimili, Man., in Sunday's final at 2 p.m. (all times CST).
Both teams played cautiously through three ends, tied 1-1, but Jones, vice-skip Kaitlyn Lawes, second Jocelyn Peterman and lead Dawn McEwen made the first break in the fourth. Homan missed a double attempt with her final stone and left Jones a wide open draw for three.
"Getting a three against such a great team changed the momentum a bit," Jones said of the pivotal end. "We made some big shots when we needed them. Even when it got a little scary in eight we managed to hold them to two so all-in-all, pretty happy with our performance."
In the fifth Jones buried a stone early and Homan, backed by vice-skip Emma Miskew, second Joanne Courtney and lead Lisa Weagle never did moved it out of the house, giving up a steal of one and a 5-1 deficit.
Homan, winner of the 2015 Home Hardware Canada Cup, tried to battle back but the veteran Jones crew had answers for almost everything Homan and company could come up with. Jones scored another two in the seventh.
One of the few potential chances Homan had to get back into the game came in the eighth when a Lawes shot to eliminate a guard ended up taking out two Jones stones in the house and leaving Homan with three counters. Jones made a double with her final stone and Homan had to draw for two.
"We had quite a few picks in the middle (ends) and didn't quite find the lines," a disappointed Homan said of her team's performance. "We had to keep going to new paths. But Jenn and her team played well. It was a tough one tonight, but we had a lot of really good games and I'm proud of our efforts this week."
Team Jones adjusted to the ice conditions early and found the paths they needed to make the shots required to keep Homan at bay.
"All week we've been making the big shots when we had to, for the most part, and that was no different tonight."
Jones will now have a rematch with Einarson, who beat her 6-3 in the round robin. Asked what her team will have to do different to beat Einarson, Jones said: "I have to play better. I didn't play very well in the round-robin (game). They're a tremendous team, tons of great shots from them so we'll have to be sharp from lead to skip through 10 ends."
Einarson, vice-skip Val Sweeting, second Shannon Birchard, lead Briane Meilleur and coach Patti Wuthrich earned their bye into the final by finishing first in the round robin with a 6-1 record.
Sunday's winner of the final receives $14,000 (the losing side gets $9,000), a berth into the 2021 Tim Hortons Road to the Roar Pre-Trials and qualify for a World Curling Federation Curling World Cup event during the 2019-20 season.