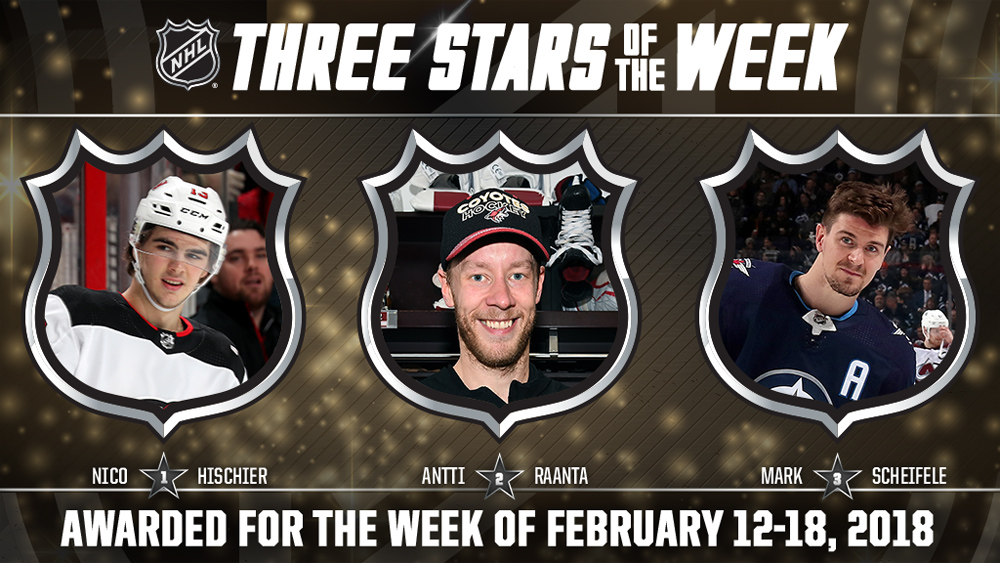 New Jersey
Devils
center
Nico Hischier
, Arizona
Coyotes
goaltender
Antti Raanta
and Winnipeg
Jets
center
Mark Scheifele
have been named the NHL's "Three Stars" for the week ending Feb. 18.
FIRST STAR – NICO HISCHIER, C, NEW JERSEY
DEVILS
Hischier scored in all four of his appearances, sharing the League lead with four goals and ranking second overall with 4-3—7 to power the
Devils
(31-20-8, 70 points) to a perfect week. He posted 1-1—2 in a 5-4 shootout victory over the Philadelphia Flyers Feb. 13. Hischier then registered 1-2—3, his third three-point performance of the season, in a 5-2 triumph against the Carolina Hurricanes Feb. 15. He added one goal in each of his next two outings, a 4-3 win over the Tampa Bay Lightning Feb. 17 and a 3-2 overtime victory against the Hurricanes Feb. 18. In doing so, Hischier became the fifth rookie in
Devils
franchise history to score in four straight team games and the first to do so since 1984-85 (
Greg Adams
). The 19-year-old Brig, Switzerland, native and No. 1 overall selection from the 2017 NHL Draft has played in all 59 New Jersey contests this season, ranking in the top 10 among rookies in assists (t-4th; 26), shots on goal (t-4th; 134), points (6th; 39) and goals (t-9th; 13).
SECOND STAR – ANTTI RAANTA, G, ARIZONA
COYOTES
Raanta stopped 123 of the 126 shots he faced, compiling a 3-0-0 record with a 0.90 goals-against average, .976 save percentage and one shutout in four appearances to lift the
Coyotes
(17-32-10, 44 points) to their first four-game winning streak since Jan. 4-12, 2016 (also 4-0-0). He made 37 saves in a 6-1 triumph over the Chicago Blackhawks Feb. 12, followed by 12 stops in relief in a 2-1 victory against the San Jose Sharks Feb. 13. Raanta then denied 34 shots in a 5-2 win over the Montreal Canadiens Feb. 15 before capping the week with 40 saves and his ninth career shutout in a 1-0 triumph against he Edmonton Oilers Feb. 17. The 28-year-old Rauma, Finland, native owns a 12-14-6 record with a 2.45 goals-against average, .924 save percentage and one shutout in 35 outings this season.
THIRD STAR – MARK SCHEIFELE, C, WINNIPEG
JETS
Scheifele ranked third in the NHL with 3-4—7 in three contests to propel the
Jets
(35-15-9, 79 points) to a perfect week and the top of the Central Division standings. He collected 2-1—3, including the shorthanded game-tying goal with 14.4 seconds remaining in regulation and the lone assist on the overtime winner, in a 4-3 victory against the Washington Capitals Feb. 13. Scheifele then registered his second straight three-point outing with a trio of assists in a 6-1 triumph over the Colorado Avalanche Feb. 16. He closed the week by scoring the game-winning goal in a 7-2 victory against the Florida Panthers Feb. 18. The 24-year-old Kitchener, Ont., native sits second on the
Jets
with 18-28—46 this season (43 GP) despite missing 16 games due to injury.
(NHL Media)