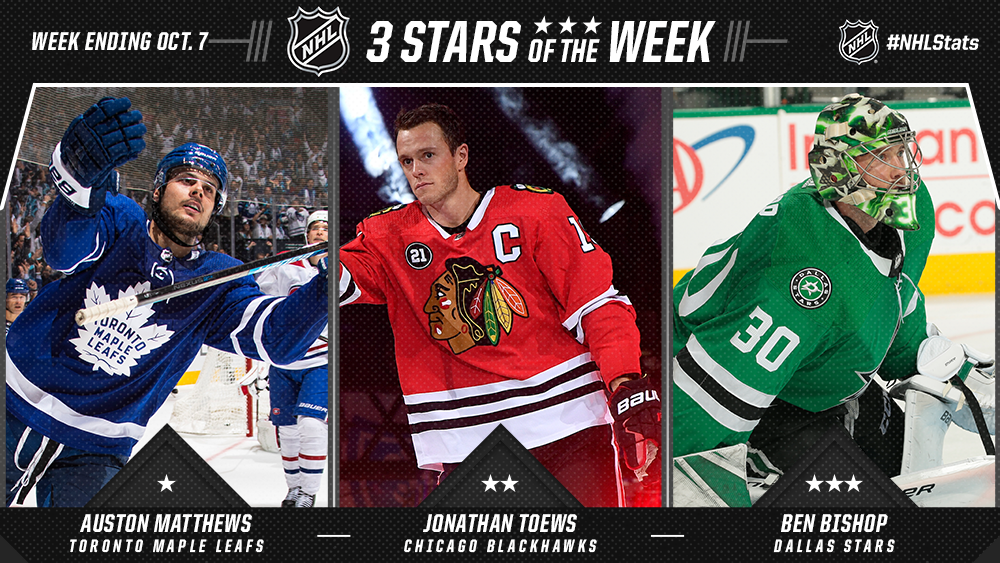 Toronto Maple Leafs center Auston Matthews, Chicago Blackhawks center Jonathan Toews and Dallas Stars goaltender Ben Bishop have been named the NHL's "Three Stars" for the week ending Oct. 7.
FIRST STAR – AUSTON MATTHEWS, C, TORONTO MAPLE LEAFS
Matthews registered 5-3—8 in three games, leading the NHL in both goals (tied) and points to power the Maple Leafs (2-1-0, 4 points) to a pair of victories. He scored twice, including his fourth career overtime goal, in a 3-2 season-opening win against the Montreal Canadiens Oct. 3. Matthews then collected 1-1—2 in a 5-3 loss to the Ottawa Senators Oct. 6. He capped the week with 2-2—4, his second career four-point game (and first since his NHL debut Oct. 12, 2016 at OTT: 4-0—4), in a 7-6 overtime triumph against the Chicago Blackhawks Oct. 7. In doing so, Matthews became the seventh player in Maple Leafs history – and first since 1991-92 (Dave Ellett) – to record multiple points in each of the team's first three games of a season. The 21-year-old Scottsdale, Ariz., native and No. 1 overall pick from the 2016 NHL Draft has 79-61—140 in his first 147 career games; his 79 goals share third place in the NHL since the start of 2016-17.
SECOND STAR – JONATHAN TOEWS, C, CHICAGO BLACKHAWKS
Toews shared the League lead with five goals and ranked second overall with six points (5-1—6) as the Blackhawks (2-0-1, 5 points) earned five out of a possible six standings points to open the season. He began the campaign with 1-1—2, including the lone assist on Patrick Kane's overtime goal, in a 4-3 victory over the Ottawa Senators Oct. 4. Toews then registered his fifth career hat trick, including the overtime winner, in a 5-4 triumph against the St. Louis Blues Oct. 6. In doing so, he became the fifth player in Blackhawks history – and first since Dec. 2, 2006 (Jeff Hamilton) – to complete a hat trick with an overtime goal. Toews finished the week with one goal in a 7-6 overtime loss to the Toronto Maple Leafs Oct. 7. The 30-year-old Winnipeg native has 297-383—680 in 794 career NHL games, including a franchise-record 11 overtime goals.
THIRD STAR – BEN BISHOP, G, DALLAS STARS
Bishop stopped 62 of 63 shots against, compiling a 2-0-0 record with a 0.50 goals-against average, .984 save percentage and one shutout to help the Stars (2-0-0, 4 points) begin the campaign with a pair of wins. He turned aside all 30 shots he faced in a 3-0 victory against the Arizona Coyotes Oct. 4, becoming the third goaltender in Stars/North Stars history to earn a shutout in a season opener. Bishop then made 32 saves, including 15 in the third period, in a 5-1 victory over the Winnipeg Jets Oct. 6. The 31-year-old Denver native has appeared in 325 career NHL games, amassing a 176-97-30 record, 2.34 goals-against average, .919 save percentage and 25 shutouts.