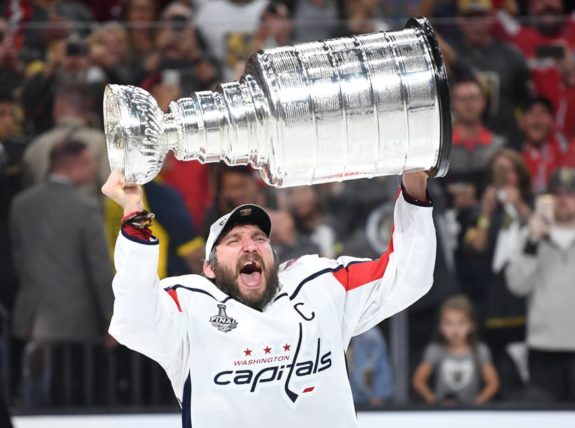 BANNER-RAISING, RIVALRIES MAKE UP OPENING NIGHT OF 2018-19 SEASON
On the heels of a campaign that saw the largest year-to-year scoring increase in more than three decades and another record-tying seven-team playoff turnover, the 2018-19 NHL season begins Wednesday in four cities: Toronto, Washington, Vancouver and San Jose.
* In Toronto, the Canadiens and Maple Leafs will face off for their 741st all-time regular-season meeting, the 17th to come in a mutual season-opener (TOR: 9-6-1, MTL: 7-9-0). The Canadiens (53-30-17, 100 GP) are one of three NHL clubs with at least 40 wins in season-opening games, joined on that list by the Red Wings (41-36-14, 91 GP) and Bruins (40-37-16, 93 GP).
* In Washington, the Capitals will raise their first-ever Cup banner to the rafters of Capital One Arena before hosting the Bruins, a contest that comes 119 days after the Capitals defeated the expansion Golden Knights 4-3 in Game 5 of the Stanley Cup Final. Defending Stanley Cup champions own an all-time record of 57-25-15 in season openers, including only three wins over the past 10 seasons: Pittsburgh won in 2009-10 and 2016-17, and Chicago won in 2013-14.
* In Vancouver, the Flames and Canucks renew their rivalry in their first matchup since Dec. 17, 2017, and first in more than 18 years without either Daniel or Henrik Sedin. Wednesday will mark the first time in the 21st century that the Canucks will play a game against any opponent without either Sedin in the lineup – a span of 6,752 days and 1,465 team games (1,360 regular season and 105 playoffs). A season-ending 5-2 victory in San Jose on April 9, 2000 was the last such occurrence.
* In San Jose, Erik Karlsson is expected to make his regular-season debut with the Sharks when they host the Ducks for the final game of opening night. Karlsson (126-392—518 in 627 GP) had 0.83 points per game over his first nine NHL seasons with the Senators, the eighth-highest points per game average by a defenseman in League history (min. 200 GP) – 0.12 better than the next-closest active blueliner (John Klingberg: 0.71; 42-172—214 in 303 GP).
SETTING THE STAGE: SEASON OPENERS
Highlights from 100 years of NHL season openers are noted below. A detailed overview – with stats for teams, players, head coaches and League records – is available at this link.
* Aside from the Golden Knights, who defeated the Stars 2-1 in their inaugural game in 2017-18, the Lightning (.680) hold the best point percentage in season-openers in League history.
* The Lightning, Canadiens and Canucks (4-0-0 since 2014-15) share the longest active win streak in season openers. The NHL record is nine straight wins, set by the Canadiens (1953-54–1961-62) and matched by the Blues (1978-79–1986-87).
* The Lightning, Canadiens, Canucks and Capitals (2-0-2 since 2014-15) share the longest active point streak in season openers. The NHL record is 17 consecutive season-opening games with a point, set by the Canadiens (13-0-4 from 1963-64–1979-80).
* The Wild visit the Avalanche on Thursday before hosting the Golden Knights on Saturday. Minnesota (.853; 13-1-3 in 17 GP) and Colorado (.737; 26-8-4 in 38 GP) rank first and second in League history, respectively, for point percentage in home openers (excluding Vegas).
* The NHL record for fastest goal from the start of a season opener is 0:10, scored by Minnesota North Stars forward Kent Nilsson on Oct. 11, 1986 against the Quebec Nordiques.
* The NHL record for goals by one player in a season opener is five, achieved twice in 1917-18 (Harry Hyland and Joe Malone) and once in 1922-23 (Babe Dye). The modern-era record is four, last achieved by Maple Leafs forward Auston Matthews in his League debut on Oct. 12, 2016 against the Senators.
* There have been 56 instances of a player scoring at least three goals in a season opener, including at least one to begin each of the past five campaigns (4 in 2017-18; 2 in 2016-17; 2 in 2015-16; 1 in 2014-15; and 2 in 2013-14).
* Ten active NHL players have scored a hat trick in a season opener, including four who did so in 2017-18: Connor McDavid, Wayne Simmonds, Brandon Saad and Alex Ovechkin.
* The NHL record for assists in a season opener is five, set by Devils forward Greg Adams on Oct. 10, 1985 against the Flyers and matched by Penguins forward John Cullen on Oct. 5, 1990 against the Capitals.
* The NHL record for points in a season opener is six, set by Penguins forward Kevin Stevens (2-4—6) on Oct. 5, 1990 against the Capitals.
* Both 2016-17 and 2017-18 began with three players recording at least four points in a season opener. Overall, there have been 96 instances all-time of a player recording at least four points in a season opener, including at least one to begin each of the past seven campaigns (3 in 2017-18; 3 in 2016-17; 1 in 2015-16; 2 in 2014-15; 1 in 2013-14; 3 in 2012-13; 1 in 2011-12).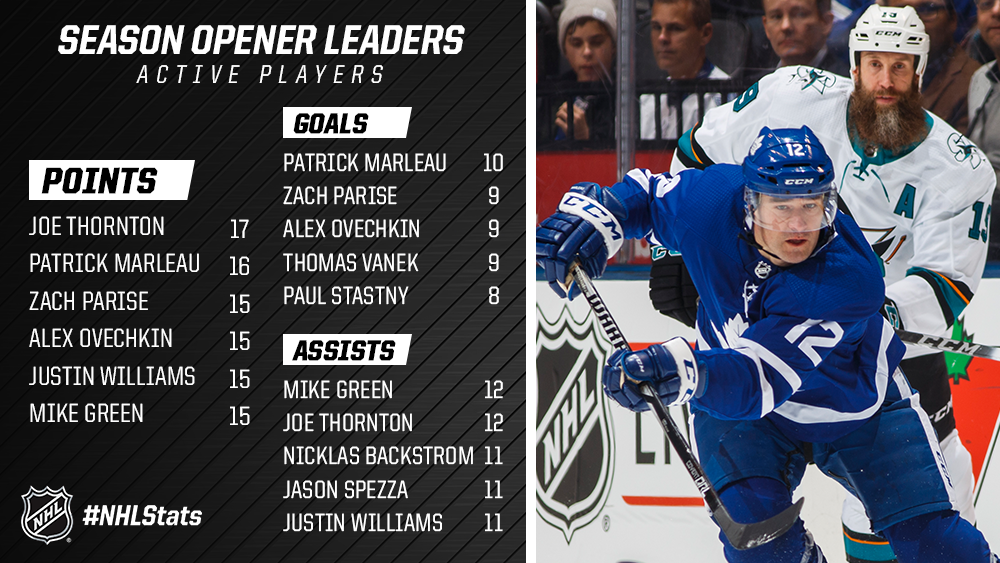 * Marc-Andre Fleury (VGK; 9-4-0 in 13 GP) and Ryan Miller (ANA; 9-3-1 in 13 GP) each need one victory to match the NHL record for career wins in season openers.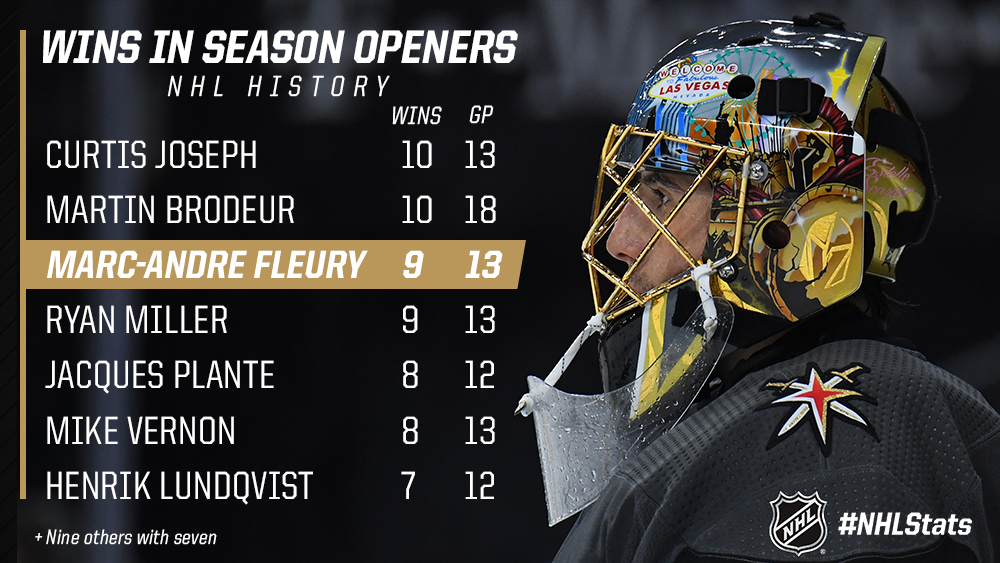 * Fleury, Antti Niemi (MTL; 6 GP), Jimmy Howard (DET; 7 GP) and Roberto Luongo (FLA; 15 GP) each have two shutouts in season openers, one shy of tying the record shared by Hall of Famers Glenn Hall (11 GP) and Jacques Plante (12 GP).
* Bruce Cassidy (BOS; 3-0-0), Jared Bednar (COL; 2-0-0) and Travis Green (VAN; 1-0-0) are the only active head coaches with a perfect record in season openers. Four other active head coaches have yet to lose a season opener in regulation: Mike Yeo (STL; 5-0-1), Guy Boucher (OTT; 4-0-1), Dave Hakstol (PHI; 2-0-1) and Phil Housley (BUF; 0-0-1).
* Housley is one of seven active head coaches in pursuit of his first win in a season opener, a list that includes four first-time NHL head coaches: Rod Brind'Amour (CAR), Jim Montgomery (DAL), Todd Reirden (WSH) and David Quinn (NYR). The others: Rick Tocchet (ARI; 0-2-0) and Bob Boughner (FLA; 0-1-0).
ON THE RADAR IN 2018-19
Young Stars
* Edmonton's Connor McDavid aims to become the sixth player in NHL history to win at least three consecutive Art Ross Trophies; only Wayne Gretzky (7), Gordie Howe (4), Phil Esposito (4), Jaromir Jagr (4) and Guy Lafleur (3) have done so. McDavid (87-169—256 in 209 GP) is within reach of hitting 300 career points before his 22nd birthday (Jan. 13, 2019), a feat achieved by only eight players in League history – Sidney Crosby is the only player to do so in McDavid's lifetime.
* Toronto's Auston Matthews and Winnipeg's Patrik Laine, the top two picks in the 2016 NHL Draft, respectively, each set out for a third straight 30-goal season. Since the 1980s, only four players have started their NHL careers with at least three consecutive 30-goal campaigns: Pavel Bure (3), Evgeni Malkin (3), Sergei Fedorov (4) and Alex Ovechkin (13).
* Reigning Calder Trophy winner Mathew Barzal enters 2018-19 after posting 22-63—85 last season (82 GP) to finish 14th in NHL scoring and with 20 points more than the next-closest rookie. The Islanders forward became the eighth rookie in League history to record 60 assists in one season; only two of the previous seven hit the mark again as a sophomore: Peter Stastny (93 in 1981-82) and Sidney Crosby (84 in 2006-07).
2018 Draft Class
Each of the top five picks from the 2018 NHL Draft – who hail from five different countries – remain on NHL rosters. Only once in the past 31 years have each of the top five picks played in a season-opening game immediately following their draft: 2008-09 (Steven Stamkos, Drew Doughty, Zach Bogosian, Alex Pietrangelo and Luke Schenn).
* Buffalo's Rasmus Dahlin (No.1) is set to become the fourth-youngest defenseman in the past 20 years to make his NHL debut (18 years, 174 days on Oct. 4). The franchise record for points by a rookie defenseman was set in 1982-83 by Phil Housley (19-47—66 in 77 GP), the team's current head coach.
* Carolina's Andrei Svechnikov (No. 2) will become the third-youngest player to debut with the franchise (18 years, 192 days on Oct. 4) behind Jeff Skinner (18 years, 144 days) and Paul Lawless (18 years, 172 days). The franchise record for goals (40) and points (72) by a rookie was set by the club's first-ever No. 2 pick, Sylvain Turgeon in 1983-84 when the team was in Hartford.
* Montreal's Jesperi Kotkaniemi (No. 3) will become the second-youngest skater to play in an NHL game for the club (18 years, 89 days on Oct. 3; tied with Claude Lemieux), less than three weeks older than Mario Tremblay (18 years, 73 days) was for his debut on Nov. 14, 1974. Tremblay scored twice in his second career game two nights later.
* Ottawa's Brady Tkachuk (No. 4), who celebrated his 19th birthday on Sept. 16, will make his NHL debut less than two years after his brother, Matthew, did so with the Flames (Oct. 12, 2016 at EDM). Their father, Keith, started the family tradition on Feb. 28, 1992 with the original Jets, notching an assist against the Canucks. Keith had 28-23—51 during his first full season as a rookie in 1992-93, while Matthew posted 13-35—48 in his rookie campaign of 2016-17.
* Arizona's Barrett Hayton (No. 5) could become the youngest player in Coyotes/Jets franchise history to make his League debut (18 years, 118 days on Oct. 4). Hayton would aim to follow in the footsteps of teammate Clayton Keller, who led the club with 23-42—65 as a rookie last season (82 GP). Since the end of the 1980s, only three clubs have had back-to-back seasons with a rookie hitting 60 points: the Red Wings from 1990-92 (Sergei Fedorov and Niklas Lidstrom), the Flyers from 1992-94 (Eric Lindros and Mikael Renberg) and the Penguins from 2005-07 (Sidney Crosby and Evgeni Malkin). Note: The 1992-93 Jets (2) and 2016-17 Maple Leafs (3) each had multiple rookies hit the mark in the same season.
Veterans
* Washington's Alex Ovechkin needs 78 points for 1,200 in his career (607-515—1,122 in 1,003 GP) and has scored at least 30 goals in each of his 13 NHL campaigns. The Capitals captain aims to become just the third player in League history to score 30+ goals in 14 consecutive seasons. The reigning Maurice "Rocket" Richard Trophy winner has led the League in goals seven times, tied with Bobby Hull for the most in NHL history.
* Pittsburgh's Sidney Crosby needs 52 games to surpass Mario Lemieux (915 GP) as the Penguins' all-time leader and 84 points for 1,200 in his career (411-705—1,116 in 864 GP). Crosby has averaged at least 1.06 points per game in each of his 13 NHL seasons and owns the sixth-highest point-per-game average in NHL history at 1.29 P/GP (min. 200 GP). Only three players in League history have had more consecutive seasons with at least one point per game (min. 20 GP), all with 15: Marcel Dionne (1972-73–1986-87), Wayne Gretzky (1979-80–1993-94) and Mario Lemieux (1984-85–2002-03).
* Florida's Roberto Luongo (471) sits 14 wins shy of passing Ed Belfour (484) for third place on the NHL's all-time wins list and 29 victories from joining Patrick Roy (551) and Martin Brodeur (691) as the only goaltenders with 500+ wins. Entering his 19th NHL season, Luongo also needs one shutout to pass Tony Esposito (76) and Belfour (76) for sole possession of ninth place and 29 games to pass Roy (1,029 GP) for second place on the all-time games played list among goaltenders, behind Brodeur (1,266 GP).
* San Jose's Joe Thornton (1,493 GP) is set to become the 19th player in NHL history to skate in 1,500 career games – and could climb as high as 11th place on the League's all-time list. Entering his 21st NHL season, Thornton needs four assists to surpass Mario Lemieux (1,033) for 11th place all-time; 31 points to leapfrog Teemu Selanne (1,457) for 15th place all-time; and sits just three goals shy of 400.
* Joining Thornton for a 21st NHL season are Patrick Marleau (TOR), Matt Cullen (PIT) and Zdeno Chara (BOS). Cullen, the oldest active NHL player, will celebrate his 42nd birthday on Nov. 2 and needs only 55 games for 1,500 in his career.
* Marleau (706 GP; 7th), 39, is one of four players beginning 2018-19 with an active consecutive games played streaks among the top 11 longest in League history. The others: Florida's Keith Yandle (715 GP; 6th), Pittsburgh's Phil Kessel (692 GP; 8th) and Montreal's Karl Alzner (622 GP; 11th).
NHL VETERANS SET FOR NEXT CHAPTER WITH NEW CLUBS
Blockbuster trades and free agent signings highlighted a busy summer. Takeaways from the complete offseason summary:
* After spending his first nine NHL seasons with the Islanders, John Tavares returns to his home province of Ontario on a seven-year contract with the Maple Leafs. Four Ontario-born players have accumulated at least 70 points in their first full season with the Maple Leafs, with each of those players traded to the club during the previous campaign: Doug Gilmour in 1992-93 (32-95—127), Dave Andreychuk in 1993-94 (53-46—99), Wilf Paiement in 1980-81 (40-57—97) and Red Kelly in 1960-61 (20-50—70).
* With the addition of Erik Karlsson, the Sharks are set to become the ninth team in NHL history to have multiple Norris Trophy-winning defensemen in their lineup for a game. Karlsson, a four-time finalist and two-time Norris Trophy winner (2011-12 and 2014-15), and Brent Burns, a two-time finalist and winner in 2016-17, have combined for 308-776—1,084 in their careers.
* After playing five seasons in the KHL, Ilya Kovalchuk returns to the NHL as a member of the Kings. The 35-year-old has 417-399—816 in 816 career NHL games, the eighth-most points by a Russian player in League history. Kovalchuk ranks eighth on the NHL's all-time regular-season overtime goals list with 14.
* Former Canadiens captain Max Pacioretty and former Jets forward Paul Stastny are among the newest members of the Golden Knights for their sophomore season. Pacioretty has 45 career game-winning goals, including 38 since the start of 2013-14 – second in that span behind Alex Ovechkin (43).
* Three-time 30-goal scorer Jeff Skinner joins the Sabres after eight seasons with the Hurricanes. Skinner (204-175—379), selected seventh overall in the 2010 NHL Draft, ranks second in goals and third in points among his draft class (Tyler Seguin: 229-276—505 and Taylor Hall: 191-283—474).
* The new-look Flames signed 10-time 20-goal scorer James Neal and acquired forward Elias Lindholm and defenseman Noah Hanifin from the Hurricanes, while also signing Bill Peters as their new head coach.
* Ryan O'Reilly, a 20-goal scorer in four of the past five seasons, joins the Blues along with St. Louis native Pat Maroon. Maroon will become the third Missouri-born player ever to suit up for the Blues, joining forward Cam Janssen (165 GP) and defenseman Chris Butler (45 GP).
REWIND: 2017-18 MARKED BY SURGE IN OFFENSE
A quartet of season-opening hat tricks in 2017-18 – four of 81 on the season – foreshadowed what would become the highest-scoring NHL campaign in more than a decade, with an average of 5.9 goals per game. Quick hits from 2017-18:
* The 7% increase in goals from 2016-17 to 2017-18 was the largest year-to-year spike since a 9% rise from 1979-80 to 1980-81 (excluding a 20% increase from 2003-04 to 2005-06 that followed various rule changes).
* Third season since 1996-97 to feature at least 5.9 goals per game. The others: 2005-06 (6.2; 7,588 G in 1,230 GP) and 2006-07 (5.9; 7,246 G in 1,230 GP).
* Twenty-one players recorded at least 80 points after only seven players hit the mark in 2016-17. Only three of the previous 20 campaigns saw more players reach the 80-point mark: 2006-07 (28), 2005-06 (26) and 1996-97 (22).
* Edmonton's Connor McDavid led a group of 24 players who averaged at least one point per game in 2017-18 (min. 25 GP), the most in one season since 2006-07 (32). There were eight such performances in each of the previous three campaigns.
* Philadelphia's Claude Giroux and Tampa Bay's Nikita Kucherov joined McDavid in the 100-point club, while eight players scored at least 40 goals in 2017-18, led by Alex Ovechkin (49).
* Giroux hit the 100-point mark for the first time thanks to a 44-point improvement over 2016-17, making him one of 21 players to boost his point total by 25 or more compared to the previous season.
* There were 67 instances of a team scoring at least seven goals in a game, the most in any season since 1995-96 (105).
* Overall, 82% of all skaters scored at least one goal (726 of 890), tied for the highest percentage in one season since 1980-81 when 85% of skaters scored a goal (484 of 570).
* The seven-team playoff turnover matched the largest year-to-year change in NHL history. It marked the second straight campaign and third time in four seasons that seven new teams reached the postseason. Overall, there has been playoff turnover of at least five clubs in 11 of the past 13 seasons.
* For only the fourth time since the conference format was introduced in 1974-75 – and second straight campaign – the last-place team from each conference reached the playoffs the following season, with both the Avalanche and Devils making the leap from 2016-17. The other instances: Red Wings/Rockies (last in 1976-77), Bruins/Sharks (last in 1996-97) and Maple Leafs/Oilers (last in 2015-16).
(NHLMedia)