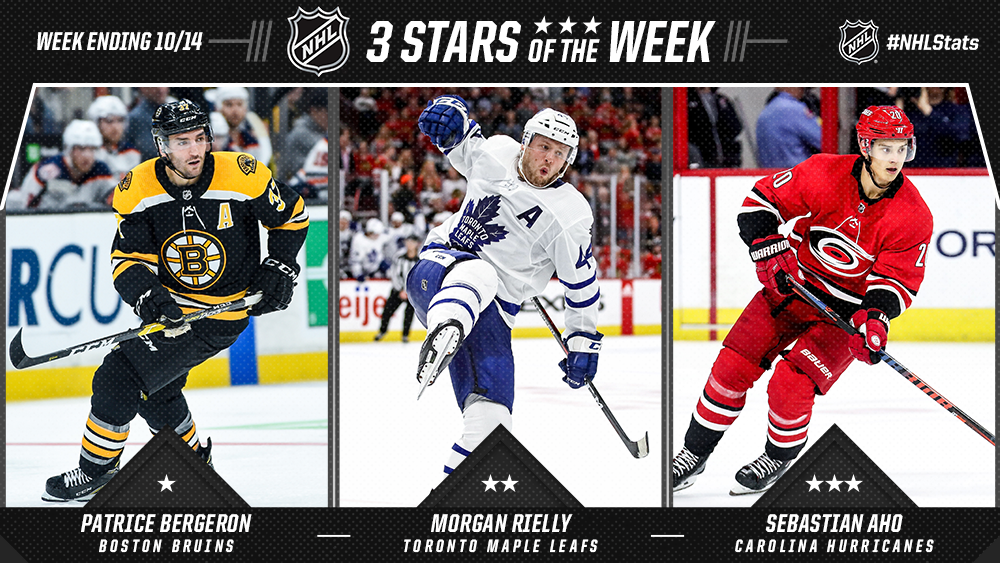 Boston Bruins center Patrice Bergeron, Toronto Maple Leafs defenseman Morgan Rielly and Carolina Hurricanes right wing Sebastian Aho have been named the NHL's "Three Stars" for the week ending Oct. 14.
FIRST STAR – PATRICE BERGERON, C, BOSTON BRUINS
Bergeron led the NHL with 4-5—9 in three games as the Bruins (4-1-0, 8 points) registered a perfect week to extend their winning streak to four contests. He collected 3‑1—4, including his fourth career hat trick and the decisive goal, in 6-3 triumph over the Ottawa Senators Oct. 8. In doing so, Bergeron became the fifth player in Bruins history – and first since 1995-96 (Cam Neely) – to record a hat trick in the team's home opener. He added 1-1—2 in a 4-1 win against the Edmonton Oilers Oct. 11 before closing the week with 0-3—3, his ninth career three-assist performance, in an 8-2 victory over the Detroit Red Wings Oct. 13. The 33-year-old Ancienne-Lorette, Que., native – who sits six goals shy of the 300-goal milestone (294-451—745 in 968 GP) – paces Boston and ranks third in the NHL with 5-6—11 in five appearances this season.
SECOND STAR – MORGAN RIELLY, D, TORONTO MAPLE LEAFS
Rielly posted a League-leading six assists and ranked fourth overall with 1-6—7 in three outings to help the Maple Leafs (5-1-0, 10 points) also extend their winning streak to four games. He established a career high with four helpers in a 7-4 victory against the Dallas Stars Oct. 9. Rielly then collected 1-1—2 in a 5-3 triumph over the Detroit Red Wings Oct. 11 and one assist in a 4-2 win against the Washington Capitals Oct. 13. The 24-year-old Vancouver native, who has notched at least one point in each of his six appearances this season, ranks second in the NHL with 3-10—13 overall. Only two other defensemen in League history have recorded as many points through their team's opening six games: Toronto's Harry Cameron in 1917-18 (9-6—15) and Vancouver's Paul Reinhart in 1989-90 (5-9—14).
THIRD STAR – SEBASTIAN AHO, RW, CAROLINA HURRICANES
Aho also extended his season-opening point streak to six games, placing third in the NHL with 3-4—7 in three contests as the Hurricanes (4-1-1, 9 points) picked up a pair of wins. He collected 1-1—2 in a 5-3 victory over the Vancouver Canucks Oct. 9. Aho then matched a career high with 2-2—4, highlighted by his second career overtime goal, in a 5-4 triumph against the Minnesota Wild Oct. 13. He closed the week with one assist in a 3-1 loss to the Winnipeg Jets Oct. 14. The 21-year-old Rauma, Finland, native – who became the sixth player in Hurricanes/Whalers history to post a season-opening point streak of at least six games – sits fourth in League scoring with 4-7—11 overall.