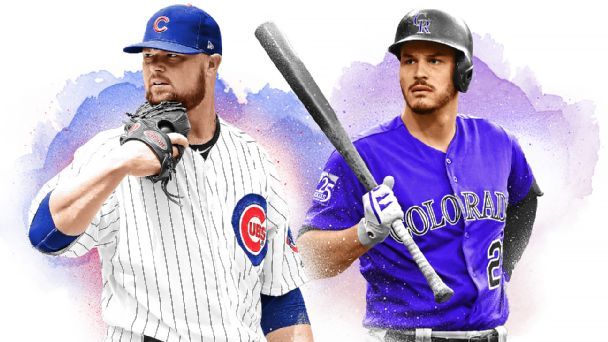 Chicago's Jon Lester and Colorado's Nolan Arenado will be key to their team's chances at moving onto the NLDS against Milwaukee
Both the Cubs and Rockies will find themselves in a win-or-go-home situation in tonight's National League Wild Card Game at Wrigley Field.
"I'm excited," Chicago's Daniel Murphy said. "Two-thirds of the league is home right now."
Both teams would have preferred to have the day off to prepare for the NL Division Series, which will open on Thursday at Miller Park, but after losing their respective division tiebreaker games on Monday, they must rebound quickly to face each other.
The Rockies were foiled by their 2018 nemesis -- the Dodgers -- in their tiebreaker on Monday, 5-2, but were quickly ready to hop on a plane and begin their postseason dream. It's the first time in the 26-season history of the franchise they've enjoyed the postseason two straight years.
Colorado lost last year's Wild Card Game to the D-backs, 11-8, at Chase Field.
"We're going to the playoffs," Rockies center fielder Charlie Blackmon said. "It's an amazing opportunity. We worked really hard to get here. Today was unfortunate, but the fact of the matter is, we have a chance to win the World Series."
The Cubs and Rockies haven't played each other since early May, and split their season series, 3-3.
This is the Cubs' second NL Wild Card Game since Joe Maddon took over as manager in 2015. That year, Jake Arrieta threw a shutout to beat the Pirates. The Cubs reached the NL Championship Series, but lost to the Mets and NLCS MVP Murphy, who was 9-for-17 with four home runs and six RBIs in the four-game sweep. Chicago is in this game after losing Monday's NL Central tiebreaker to the Brewers, 3-1.
Who are the starting pitchers?
Rockies
: Freeland (17-7, 2.85 ERA) will make his third career start against the Cubs. The 25-year-old lefty took the loss in his lone outing against them this season, holding the North Siders to three runs on six hits with one walk and five strikeouts in seven innings on April 30.
"I'm not going to change my mentality at all," Freeland said. "Anything that I did from April until now, it's going to be the same attitude. There's no reason to add any more pressure because of where you are, who you're playing, what's at stake or anything like that.
"I have my reports [from the April start]. I did a couple reports today just preparing for what could happen. They added a few guys to the Cubs. I went back, watched video, checked up on some guys to see if they made any adjustments. So I have my report ready."
Freeland will be pitching on three days' rest for the first time in his pro career, but he recalls doing it at the University of Evansville -- where he played after a standout career at Denver's Thomas Jefferson High School -- and doesn't expect undue fatigue.
Cubs
: Lester (18-6, 3.32 ERA) will be making his 22nd postseason start. The left-hander has been the workhorse for the Cubs, and this season marks the fifth in a row in which he's made at least 32 starts. Lester, 7-4 with a 3.32 ERA at Wrigley Field, has started the first game of a postseason series 10 times and also made one Wild Card start for the Athletics on Sept. 30, 2014, against the Royals. He did not get a decision in that game, which went 12 innings. He did give up six earned runs over 7 1/3 innings.
(MLBMedia)