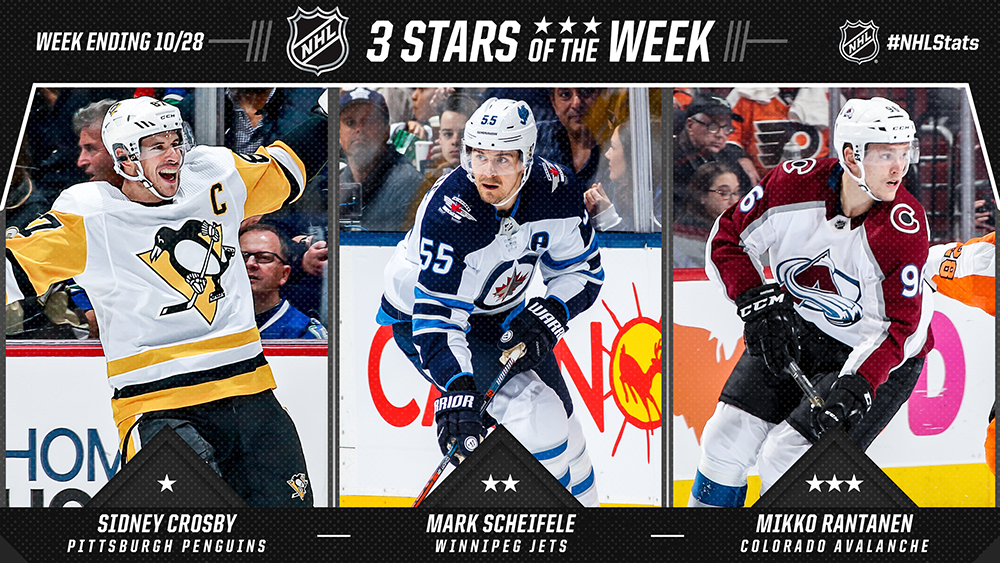 NEW YORK (Oct. 29, 2018) – Pittsburgh Penguins center Sidney Crosby, Winnipeg Jets center Mark Scheifele and Colorado Avalanche right wing Mikko Rantanen have been named the NHL's "Three Stars" for the week ending Oct. 28.
FIRST STAR – SIDNEY CROSBY, C, PITTSBURGH PENGUINS
Crosby recorded three straight multi-point performances, sharing the League lead in goals (5) and points (7) to power the Penguins (6-1-2, 14 points) to a 3-0-0 week and into first place in the Metropolitan Division. He scored twice, including his 14th career overtime goal, in a 6-5 victory against the Edmonton Oilers Oct. 23. Crosby then collected 1-2—3 in a 9-1 triumph over the Calgary Flames Oct. 25. He closed the week with two goals, the 82nd multi-goal effort of his career, in a 5-0 win against the Vancouver Canucks Oct. 27. The 31-year-old Cole Harbour, N.S., native – who has 5‑7—12 in nine appearances this season – leads the NHL with 1.29 points per game (416-712—1,128 in 873 GP) since making his League debut in 2005-06.
SECOND STAR – MARK SCHEIFELE, C, WINNIPEG JETS
Scheifele notched 4-3—7 in four contests to propel the Jets (7-4-1, 15 points) to a pair of wins in advance of the 2018 NHL Global Series in Helsinki, Finland. He matched a personal best with 2-2—4, his third career four-point performance, in a 5-4 overtime victory against the St. Louis Blues Oct. 22. Scheifele then scored once in a 4-2 loss to the Toronto Maple Leafs Oct. 24 and picked up one assist in a 2-1 triumph over the Detroit Red Wings Oct. 26. He finished the week with one goal in a 3-2 loss to the Toronto Maple Leafs Oct. 27. The 25-year-old Kitchener, Ont., native – who paces the Jets with 6-6—12 through 12 games this season – sits one point shy of 300 in his NHL career (119-180—299 in 378 GP).
THIRD STAR – MIKKO RANTANEN, RW, COLORADO AVALANCHE
Rantanen collected 3-4—7 in four games to guide the Avalanche (7-3-2, 16 points) to two victories. He scored twice, extending his season-opening point streak to nine contests (4-12—16), in a 4-1 win over the Philadelphia Flyers Oct. 22. After being held off the scoresheet in a 1-0 loss to the Tampa Bay Lightning Oct. 24, Rantanen bounced back with 1-3—4, his fifth career four-point performance and second of the season (also Oct. 18 at NJD: 1-3—4), in a 6-3 triumph against the Ottawa Senators Oct. 26. He added one assist in a 3-2 loss to the Minnesota Wild Oct. 27. The Nousiainen, Finland, native – who turns 22 today – paces the NHL with 5-16—21 in 12 games this season.