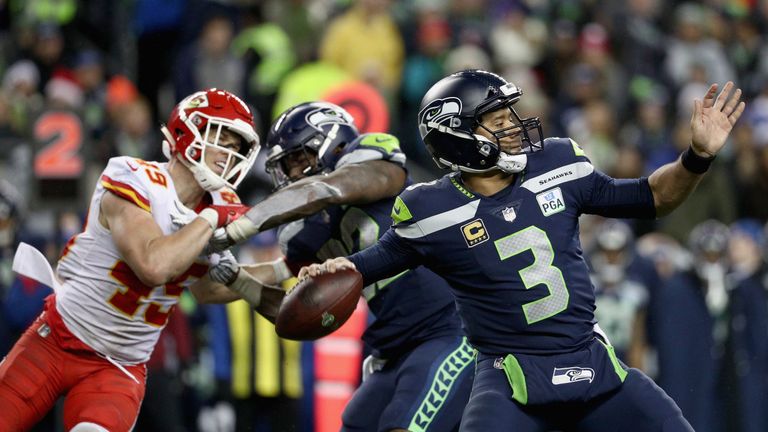 --Never doubt Russell when the lights are on at home. It's what I have said for years. Russell Wilson and the Seahawks are going to the playoffs despite what many thought at the start of the season. It even looks as if they may have a first-round playoff date in Dallas against the Cowboys. Oh, that will be fun!
Sunday Night Football from C-Link was what I thought it would be. Two of the game's most creative quarterbacks in Patrick Mahomes and Russell Wilson going at it in what was a classic. I wonder if Mahomes sat on the KC bench, looked on the field to see what Wilson was doing and went so that's what its like to play me.
--The Philadelphia Eagles are once again getting it done with Nick Foles under center. As I watched the Eagles thrilling last-play win over Houston yesterday, I wondered if the defending Super Bowl champs would even consider trading Carson Wentz for something. Nothing against Wentz, but this is two straight years that he hasn't been able to finish the season. Foles has stepped in and has led the team to wins over the playoff bound Rams and Texans. Many think Foles will be elsewhere next season, and I understand that thought process. I just wonder if the Eagles would even think of peddling Wentz. We'll see
--Still with QB's, the biggest question for Rider Nation going into Christmas is who will the quarterback be. I think many would like that information underneath their tree Tuesday morning, but I can't shed any light on the situation. Like everyone else, I can throw out a name or two but that's it.
Jonathan Jennings seems to be the clubhouse leader right now. Everyone realizes Mike Reilly is probably too expensive, but are holding out hope he could call Saskatchewan home. I threw it out there that maybe you make a call to see what Jeremiah Masoli's price-tag is in a trade. I don't even know if the Riders have finalized their plans yet. If anyone knows, they certainly aren't saying.
I don't even know if Zach Collaros is completely out of the equation, but I would have to think he is. I wonder if he has thrown his last CFL pass. With all this quarterback talk circulating, you would think his agent would let it be known his client is 100 percent after a concussion-filled 2018 and is ready to get back at it. That hasn't happened making me wonder if Collaros has made what would be a smart decision and hang up the helmet. If he does come back, there may be more questions about him going into this season than there was last. One thing is for sure. If he comes back, it has to be at a salary that is at least half of what it was in 2018.
--Sharks defenceman Erik Karlsson is getting two games for a head-shot on former Pat and current L-A King Austin Wagner on the weekend. Some defended the hit which sent Wagner to silly street. If that had been Washington's Tom Wilson delivering the hit, the outrage would have been far and wide with calls for a minimum 10 game suspension. There is no difference. In this NHL, that type of play won't be tolerated. Karlsson is I believe a first-timer so I'm OK with two games.
--Since a study came out earlier this month saying the climate is right for a return of MLB to Montreal, there has been a lot of chatter. The big question remains a stadium and who pays for it Hey, maybe we will be the ones paying for it with some of the 13 billion Quebec is getting from JT and the Liberals!
If that issue can get hammered out, MLB will return to Montreal. It is a story that would be welcomed by many baseball fans in this country. It is one worth watching in 2019.
--At the Christmas break, the Edmonton Oilers are a playoff team. They are clinging to the second wild-card spot in the West. I still don't know if Ken Hitchcock can get this team in, but at least Oiler fans like me go into Christmas with some hope.
Saturday night, the Oilers showed though that they can't really hang with the top teams as the Tampa Bay Lightning skated circles around them. Its not like Tampa doesn't do that against other teams though. Kucherov, Point, Stamkos, Johnson. etc. etc. They just keep coming at you like waves. They are fun to watch. Someone suggested last week that a Lightning-Jets Stanley Cup would be watching two similar teams go up and down the ice. I don't disagree, but there a lot of teams you could throw in that mix. Speaking of the Jets, why is it Mark Schiefele doesn't get more attention on the national stage. If he were in Toronto, he would the golden boy. He is one of a few Winnipeg players that don't get the attention they deserve.
--The evening of April 6 was one no one in this province and this country will forget. The Humboldt Broncos bus crash and the rebuilding of the team is certainly the story of the year in Canada for many different reasons. As I end this, I ask you one question.. Take the Broncos story out of the equation and
A) What was the biggest sports story of the year?
B) What was the biggest Saskatchewan sports story of the year?
I will have my top 10 Saskatchewan stories out later this week.
That's all I got. May your Christmas shopping be done, may your time with family be well-spent, may you stuff your belly with turkey or whatever. Merry Christmas and if you are travelling, be smart and stay between the lines!