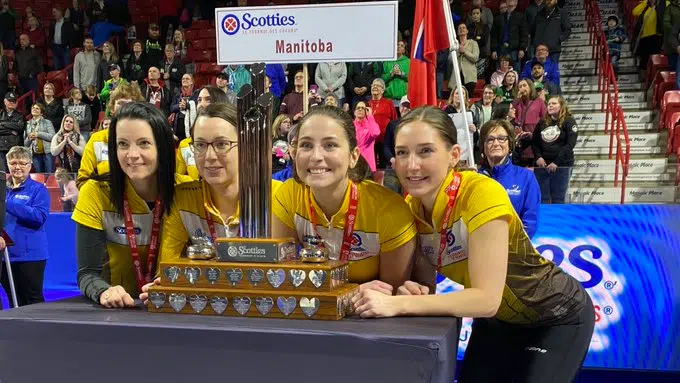 Picture: Curling Canada
It went longer than it should have, but Kerri Einarson has won the Canadian women's curling championship for the first time.
Einarson needed an extra end to beat Rachel Homan's Ontario team 8-7 in Sunday night's nail-biting final at Moose Jaw's Mosaic Place to end nine fantastic days of curling,
Einarson had a chance to win it in the 10th end, but an attempted draw with Homan sitting two was heavy meaning the game had to go to an extra end. In that extra end, Einarson was not going to let a second chance at the title slip through her fingers as her last rock glided to the button sending her and her team consisting of third Val Sweeting, second Shannon Birchard and lead Briane Meilleur into celebration mode.
"What an emotional roller coaster," Einarson said . "This means absolutely the world to me. I absolutely wanted to do this for myself and my teammates and especially Val. She's lost two big finals and we really put it together this week. I'm so proud of everyone."
The win means several things for the rink from Gimli. They will represent Canada at the World Women's Curling Championship in Prince George, B.C, they will be Team Canada at the 2021 Scotties in Thunder Bay and they will be in Saskatoon for the "Roar of the Rings" Olympic curling trials in 2021. The win was also worth $105,000
Total attendance for this year's event was 59,298 which is down from the 70,000 that went to the Scotties in 2015 when it was held in Moose Jaw. However, that figure is the highest amount to watch the Scotties since 2015.