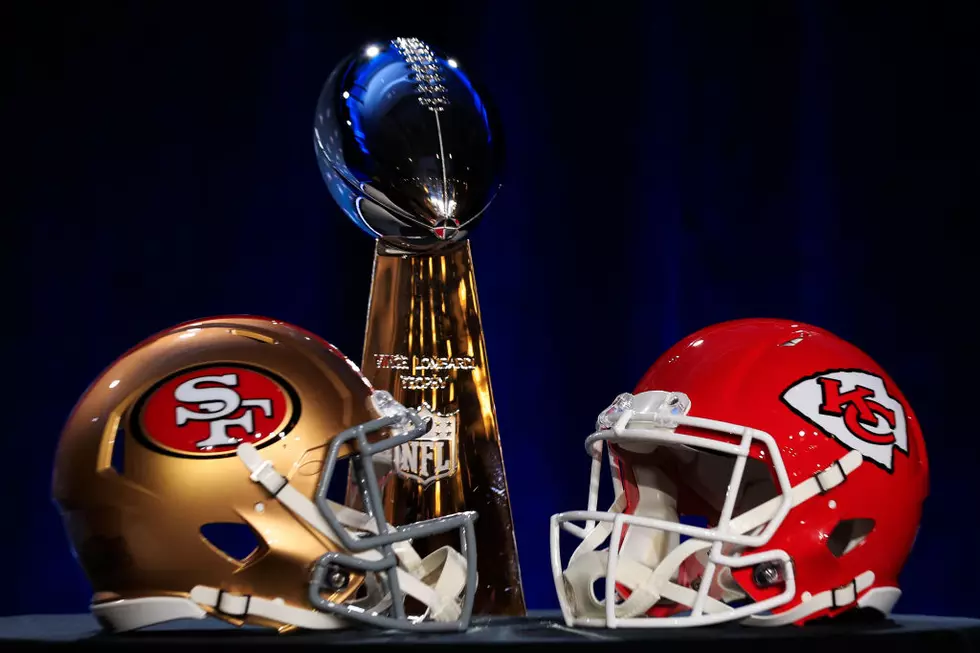 The National Football League is commemorating the end of its 100th season in Miami with Super Bowl LIV, featuring the NFC Champion San Francisco 49ers, the designated road team, and the AFC Champion Kansas City Chiefs, the designated home team. FOX will televise the contest from Hard Rock Stadium, with kickoff slated for 6:30 PM ET.
Including the postseason, 49ers quarterback JIMMY GAROPPOLO (23-5, .821) and Chiefs quarterback PATRICK MAHOMES (27-8, .771) have a combined career winning percentage of .794, the highest combined winning percentage among opposing starting Super Bowl quarterbacks (minimum 25 starts).
For the Super Bowl LIV capsule, click
here
.
Here's what's at stake in Super Bowl LIV:
With a San Francisco victory…
The 49ers would record their sixth Super Bowl victory, tied with the New England Patriots and Pittsburgh Steelers for the most Super Bowl titles by one franchise. San Francisco also captured Super Bowls XVI, XIX, XXIII, XXIV and XXIX.

The team would become just the second club in NFL history to win a Super Bowl after finishing the previous season with four-or-fewer wins, joining the 1999 St. Louis Rams.

San Francisco would win the Super Bowl for the first time in 25 years. At the same stadium, on January 29, 1995, the 49ers concluded the NFL's 75th season with a 49-26 victory over the San Diego Chargers in Miami.

Head coach KYLE SHANAHAN and his father, MIKE SHANAHAN, would become the first father and son head coaches to win Super Bowls. Mike won Super Bowls XXXII and XXXIII as head coach of the Denver Broncos.

San Francisco would improve to 6-1 in Super Bowls, and 3-0 in Miami Super Bowls (also XXIII after the '88 season and XXIX after the '94 season).
Nearly 50 years to the date of their last Super Bowl appearance (January 11, 1970, Super Bowl IV), the Chiefs would have their first world championship in five decades.

In the 60th season of the Chiefs franchise, the Lombardi Trophy would return to Kansas City for the first time since the AFL merged with the NFL prior to the 1970 campaign. LAMAR HUNT, who founded the franchise in 1960 and passed away in 2006, helped to create the AFL. He also asked then-NFL Commissioner PETE ROZELLE to call the game the Super Bowl.
Head coach ANDY REID would win his first Super Bowl. Reid would have 222 career wins, including postseason. Only five coaches in the history of the league have more victories, including the postseason.
Quarterback PATRICK MAHOMES would become the second-youngest quarterback ever to win a Super Bowl (BEN ROETHLISBERGER, Super Bowl XL).
The 49ers, who were 4-12 in 2018, became the third team to advance to a Super Bowl after winning four-or-fewer games the prior season, joining the 1999 St. Louis Rams (4-12 in 1998) and the 1988 Cincinnati Bengals (4-11 in 1987).
San Francisco earned a trip to Miami with a 37-20 win over Green Bay in the NFC Championship. Running back RAHEEM MOSTERT rushed for 220 yards, the second-most ever in an NFL postseason game, trailing only Pro Football Hall of Famer ERIC DICKERSON's 248 rushing yards for the Los Angeles Rams on January 4, 1986. Mostert also became the third player in postseason history to rush for at least four touchdowns in a single game, joining RICKY WATTERS (five) and LEGARRETTE BLOUNT (four).
Quarterback JIMMY GAROPPOLO has a 23-5 (.821) career record as a starter, including the postseason, and makes his first-career Super Bowl start.
Tight end GEORGE KITTLE has 2,945 career receiving yards and surpassed Pro Football Hall of Famer MIKE DITKA (2,774) for the most receiving yards by a tight end in his first three seasons in league annals. Wide receiver EMMANUEL SANDERS joined Pro Football Hall of Famers WALTER PAYTON and LADAINIAN TOMLINSON, along with ODELL BECKHAM JR., as the only non-quarterbacks to record both a passing and receiving touchdown in multiple games since 1970. Wide receiver DEEBO SAMUEL had three games with at least 100 receiving yards in 2019, the most by a rookie in franchise history.
Rookie defensive lineman NICK BOSA has recorded three sacks in the 49ers first two postseason games and can become the third rookie since 1982 when the individual sack became an official statistic, to record at least four sacks in a single postseason, joining GREG TOWNSEND (4.5 sacks in 1983) and GARIN VERIS (four in 1985). Defensive lineman ARIK ARMSTEAD has recorded a sack in each of San Francisco's two postseason games this year while cornerback RICHARD SHERMAN has registered an interception in both the Divisional and Championship rounds. Defensive lineman DEE FORD spent five seasons (2014-18) with Kansas City and recorded a career-high 13 sacks and seven forced fumbles with the Chiefs in 2018.
Kansas City won the AFC Championship with a 35-24 win over the Tennessee Titans. Quarterback PATRICK MAHOMES led the Chiefs back from a 10-0 deficit, giving Kansas City its first lead on a highlight-reel, 27-yard run just prior to halftime. He also threw for 294 yards and three touchdowns. Wide receiver SAMMY WATKINS caught seven passes for 114 yards, including a 60-yard touchdown. Earlier, the Chiefs captured the AFC West division title (12-4) for a fourth consecutive year, the longest streak in franchise history.
The Chiefs have scored at least 30 points in each of Mahomes' first four career postseason starts, tied for the second-longest postseason streak in the Super Bowl era. At 24 years and 138 days old on Sunday, he is the fifth-youngest quarterback to start a Super Bowl. With a victory, Mahomes would become the youngest player to win both an NFL MVP award and a Super Bowl championship, surpassing Hall of Famer EMMITT SMITH (24 years, 233 days old on the last day of his MVP 1993 season). Mahomes recorded 75 touchdown passes and 9,238 passing yards in his first 30 career games, both the most by any player through his first 30 career games in NFL history.
Running back DAMIEN WILLIAMS has four touchdowns this postseason, including three in the Chiefs Divisional Round victory. Williams has nine total touchdowns in his first five postseason games, tied with Pro Football Hall of Famer TERRELL DAVIS (nine) and LARRY FITZGERALD (nine) for the most by a player in his first five postseason games in NFL history. Wide receiver TYREEK HILL has 21 career touchdowns of at least 40 yards, tied with Pro Football Hall of Famer JERRY RICE (21) for the third-most such touchdowns in a player's first four seasons in NFL history. Tight end TRAVIS KELCE became the first tight end in NFL history with four consecutive 1,000-yard receiving seasons. Since 2017, Hill and Kelce have combined for 7,795 receiving yards, the most by a wide receiver-tight end teammate duo over a three-season span since 1970.​