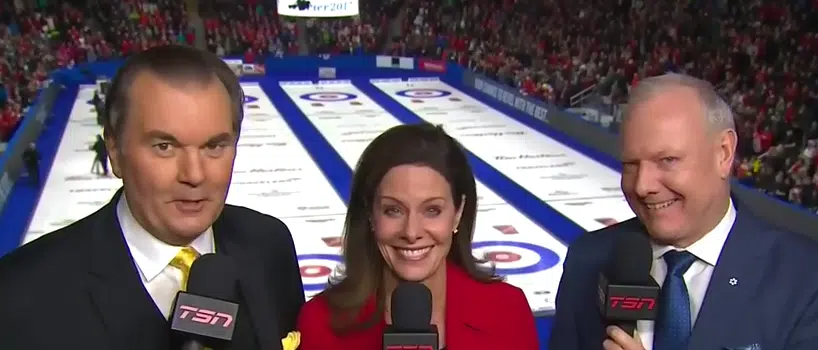 A relationship that has thrived for nearly four decades is confirmed to continue for an additional eight years. Curling Canada, TSN, and RDS announced jointly today that Bell Media's sports networks continue to be the exclusive English and French broadcasters of Curling Canada Season of Champions events.
The agreement, which includes both broadcast and digital media rights, takes effect in the 2020-21 season and will carry through the 2027-28 season. The announcement was made during TSN's Curling Day in Canada broadcast during the 2020 SCOTTIES TOURNAMENT OF HEARTS, from Moose Jaw, Sask.
Season of Champions curling is available to TSN, RDS, TSN Direct, and RDS Direct subscribers through the networks' streaming platforms, available at TSN.ca, RDS.ca, and the TSN and RDS apps.
"There are so many exciting aspects to this new agreement, but greatest of which is that curling fans will continue to receive a broadcast package that is unparalleled in Canadian amateur sports," said Katherine Henderson, Chief Executive Officer of Curling Canada. "No other broadcast platform offers this kind of access to our sport, with TSN and RDS showing more than 300 hours of championship-level curling over the course of the season. As well, we have shared ambitions of continuing to grow our game at all levels, from clubs all the way up to our high-performance events, and reach new audiences that will position curling in a highly visible, innovative, and popular place in the Canadian sports scene, and provide tangible benefits to both Bell Media networks as well as Curling Canada and its stakeholders."
"We're thrilled to announce this long-term extension of our great partnership with Curling Canada, through which we will continue working together to showcase the sport of curling to Canadian viewers for many years to come," said Shawn Redmond, Vice-President, TSN and Discovery. "Season of Champions curling is a cornerstone of our programming strategy, as it shines the spotlight on the most significant events in the sport. With our world-class curling productions showcasing the game's brightest stars to a national audience, we're very excited to continue to elevate the game and be Canada's home for the tournaments that are so beloved by fans across the country."
Curling Canada's Season of Champions series includes the SCOTTIES TOURNAMENT OF HEARTS, the TIM HORTONS BRIER, the HOME HARDWARE CANADA CUP, the TIM HORTONS ROAR OF THE RINGS, the ROAD TO THE ROAR PRE-TRIALS, the OK TIRE & BKT TIRES CONTINENTAL CUP, as well as the World Men's and Women's Curling Championships.
TSN first began broadcasting curling in 1984, and has been the exclusive broadcaster of Season of Champions events since 2006.
(Bell Media)