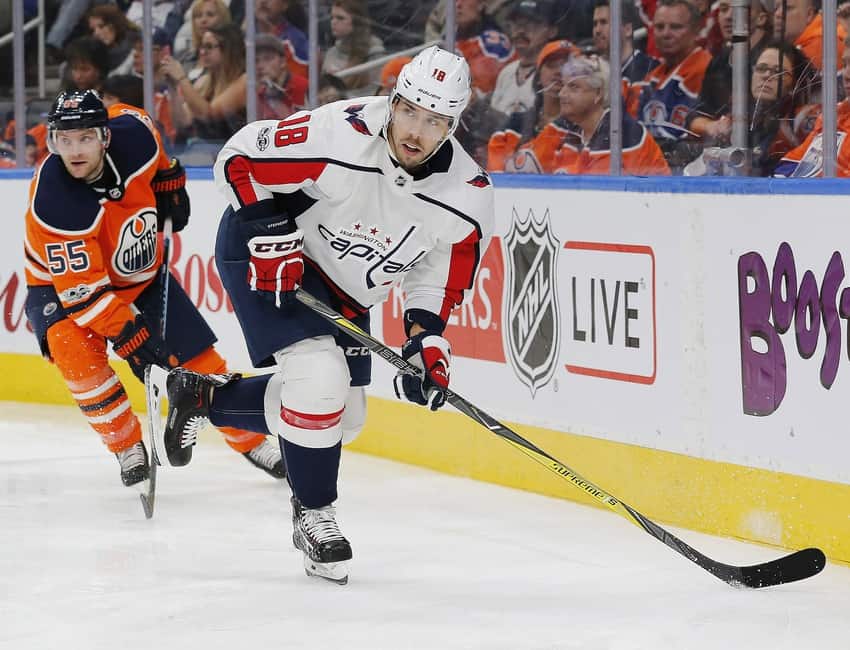 The greatest thing about winning the Stanley Cup is that it's so much bigger than yourself.
It's about families and communities and positive influences. It's about your country and your home. And should the Washington Capitals manage to take one of the next three games against the Vegas Golden Knights, Chandler Stephenson intends to make sure it's about the Humboldt Broncos.
The Saskatoon native hasn't gone too far down the road with any planning – "it's not in our hands or anything like that," he noted after Wednesday's practice at T-Mobile Arena – but he's certain that the Broncos will be involved in some way with his Cup day if the Capitals turn their 3-1 series lead into a championship.
"That would be something special," said Stephenson.
The April 6 bus crash that killed 16 members of the Broncos hit close to home for the 24-year-old Capitals winger. He's taken part in summer skates with Kaleb Dahlgren and Brayden Camrud – both among the survivors – and felt like he knew many of the young men who died because, in Saskatchewan, there's basically only one degree of separation from anybody else.
It's what Stephenson likes most about the province where he was born and raised. It's why he continues to wear a green and yellow Broncos bracelet and wants to do anything he can to show support for the organization.
"Everybody knows everyone. You know somebody and they know that same person," Stephenson said of Saskatchewan. "The whole community itself, not even the hockey community, is so small. That's kind of the cool thing about it – you'll hear somebody telling a story and it's like 'Oh yeah, I've met that person, I know that person."'
He remembers sharing the ice at Canlan Ice Sports Jemini with the Broncos last summer. That's where an annual 3-on-3 tournament is held featuring pros and aspiring pros. You basically form your own squad, pay a $1,500 fee and get some high-paced off-season games in.
"That whole Humboldt team was playing on a team," said Stephenson. "You just kind of see their faces throughout the rink and you see their faces that they passed away. It feels like you know them a lot more just because you can recognize them and you know their names and things like that.
"Their captain, Logan Schatz, I've just seen him around the rink. I knew him."
Stephenson is nearing the end of his first full season in Washington and grew up riding the buses during four years in the Western Hockey League with the Regina Pats.
He was at home two months ago when news of the Broncos bus crash first started to circulate. He immediately pulled out his laptop and started searching for information. He couldn't believe what he was seeing and hearing.
"It started off with five were dead and then went to seven and then to nine and then to 12," he recalled. "The cops that were on it and stuff like that, my dad knew who they were, and they said there were 16. You just hope that it's not real, I guess. You can't really put into words.
"I was talking to my brother and he said that Kaleb was OK – well, he wasn't OK, he had a fractured skull and broken vertebras, two broken femurs – yeah, he was pretty banged up. Then Brayden Camrud, who I knew, just kind of hurt his chest and walked it off, but he saw everything. Yeah, I don't even really want to pick his brain at that, for kind of what he saw. He hurt his chest a bit and that was it. He was helping guys. He was the first one there and saw everything."
Stephenson has been warmed by the outpouring of support from all corners of the hockey world. More than $15-million in donations were made. The surviving Broncos players and families of the dead have been guests at a number of high-profile events.
As the Capitals made their way through these playoffs, it started occurring to Stephenson that he might be able to do something similar with the Cup. He knows first-hand how cool that experience can be, having attended Joey Kocur's party in Kelvington when he was four.
"It's just getting to share it with everyone that you want to share it with and just kind of the memories people will have from it," he said. "It's just so much more than just hockey, winning the Cup."
Stephenson has already talked with goaltender Brayden Holtby, a Llyodminster native, and assistant coach Lane Lambert, a Swift Current native, about honouring Humboldt with a Cup visit. Holtby is open to the idea, saying "it's the right thing to do."
That could mean bringing it to the town itself or making sure the Broncos join them for a day in Saskatoon. They'll work through the logistics if they manage to finish off this series with Vegas.
Camrud and fellow Bronco Nick Shumlanski were guests of Colby Armstrong during the second round in Pittsburgh, and Stephenson caught up with them there. He saw Dahlgren doing an interview with Don Cherry and Ron MacLean on the ice at Capital One Arena before Game 4 of this series but didn't get a chance to chat.
He looks forward to doing that once the season is over. Perhaps in the shadow of the most famous trophy in sports.
"I try not to bring [bus crash] up," said Stephenson, when asked how he approaches the Broncos. "I feel like they get kind of sick talking about it. It's just not comfortable. It's a lifetime of horror.
"Eventually I'd like to just kind of see how they're doing from everything and that kind of thing, but I think it's a little too fresh right now."
(Chris Johnston/Sportsnet)