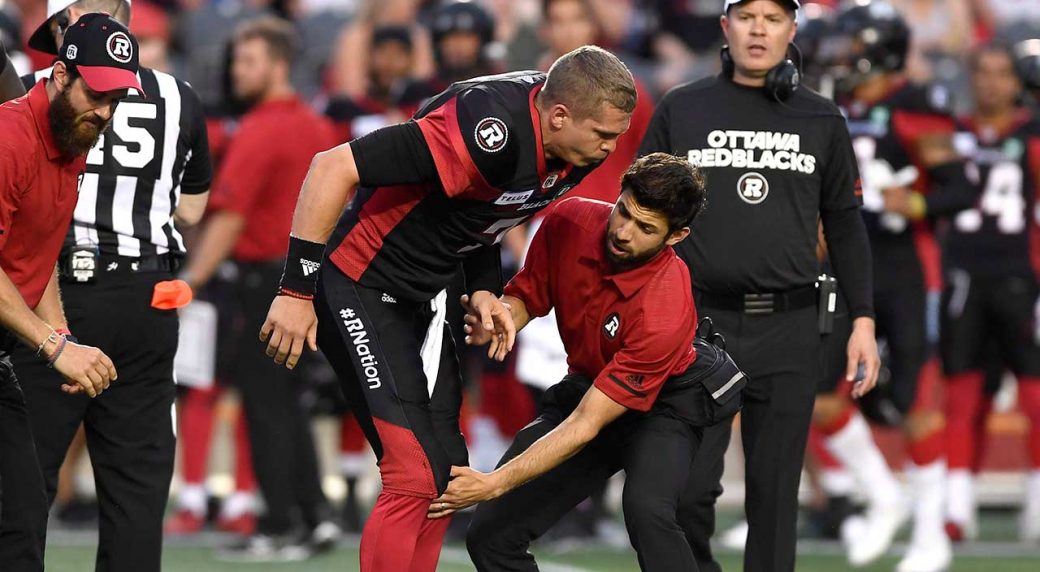 --The injury to Trevor Harris last week had many thinking the Ottawa REDBLACKS were in serious trouble as their marquee player may be lost for the season which would have been disastrous for the team. One will only go so far as their starting quarterback can take them and if said quarterback gets hurt, all bets are off. We have seen it before in the CFL and we will see it again.
Looking around the league, there are a lot of no-name quarterbacks who will start the year at number 2. Yes, there could be some stars just waiting for their chance, but its a whos-who out there.
BC - Jonathan Jennings (starter), Travis Lulay (backup) = solid
Calgary -- Bo Levi Mitchell (starter), Ricky Stanzi (backup) = iffy
Edmonton -- Mike Reilly (starter), Kevin Glenn (backup) = solid
Saskatchewan -- Zach Collaros (starter), Brandon Bridge (backup) = solid
Winnipeg -- Matt Nichols (starter), ?????? thanks to retirement of Durant = disaster
--
Hamilton -- Jeremiah Masoli (starter), Johnny Manziel (backup) = work in progress
Montreal -- Drew Willy (starter), Matthew Shiltz, Antonio Pipkin, Garrett Fugate = WHO?
Ottawa -- Trevor Harris (starter), Dominique Davis = could be manageable
Toronto -- Ricky Ray ( starter), James Franklin (backup) =solid, best in the league.
While the Lions and Eskimos are solid with veteran backups, Lulay and Glenn aren't getting any younger and some guys need to develop so who is slated as number 3.
The league is undergoing a change at quarterback and while there are household names, other names need to start developing or else the league will have a problem at its marquee position soon which is something I don't think the league wants.
--Johnny Football made his debut Friday night. What did you think? I was left uninspired by the performance. The numbers were good, but it wasn't against a first-string CFL defence. Manziel did make some plays with some feet and he didn't seem to be affected by the wider field or the 12th man. That is encouraging. He's not going to come in here and wow everyone overnight. It will be a slow and steady progression. We'll see what type of reps he gets in the Tabbies 2nd pre-season game of the year.
--I thought Marc Trestman would throw Rams QB Noah Picton into the game at the end for a series or two. Many on Twitter wanted it to happen, but it didn't with some saying James Franklin had been in long enough. I can't disagree with that. One person on Twitter said if you're not going to put the Canadian QB in at mop-up time to get some reps, then nothing is going to change despite what Brandon Bridge wants. I can't disagree.
--I saw something Sunday I hadn't seen in a while. People in Humboldt that were smiling. The amount of good that the Saskatchewan Roughriders did by visiting the community for just a couple of hours to do their thing and have a meet and greet was unmeasurable. Humboldt will take a long time to recover from the events of April 6. Events like Sunday helped. Full credit to Chris Jones, Craig Reynolds and the players for giving the community an afternoon to remember---an afternoon to mix and mingle with their football heroes on their turf. An afternoon to put the misery aside. Well done to all of those involved.
--So where are we on the Stanley Cup? Some are saying the Knights have run out of gas and a Washington win in Game 4 all but gives Ovie his first Cup. Others are saying we have a 7 game series in the making. It looked like Washington was the better team in Game 3, but I think the hockey universe has learned not to count out the Knights.
--Win or lose, the Capitals can't say adios to Barry Trotz can they? That is the talk much to my surprise. How can you get rid of a guy that has brought you this far and may take you to the top of the mountain.
--I don't watch a lot of NBA games, but I know bad officiating when I see it and the officiating in the NBA Final is trash. Aren't the best guys supposed to be on the floor? If these are the best guys, I'd hate to see the 3rd and 4th "best" crew.
--Its no secret I am not a Buck Martinez fan. On Saturday, he tried to defend Toronto shortstop Aldemys Diaz for not throwing home on a play that could have cut down a Detroit runner at the plate. He said it is because Diaz is playing for a new team and may not have realized what was going on. ?????? Diaz has been a shortstop for a large portion of his baseball career. Shortstops know what to do and he didn't do it. A new team has nothing to do with it. I can't imagine what goes through Dan Shulman's mind when he has to work with such a dullard. Blue Jays fans deserve so much better when it comes to their broadcasts. They deserve to have Shulman doing as many games as he wants to do. His brilliance at calling a game makes Buck look even worse whether it be as p x p or analyst. By the way, I heard former Expos p x p guy Dave Van Horne calling a Miami Marlins game on the weekend. He remains one of the best.
--You couldn't have asked for a better afternoon at the ballpark. 735 fans came to Currie Field for the Red Sox home opener as they pasted Swift Current. Opening day is always an exciting time around the park and it was no different at Currie Field. A Sunday afternoon with some friends, having some beverages, sharing some yuks and watching some ball with the sun shining brightly is an afternoon well spent. If you haven't been to a Red Sox game (or any WMBL game for that matter) get out there and support the teams. You won't find better baseball on the prairies and there are many baseball fans around.
--That's all I got. Have a great week!