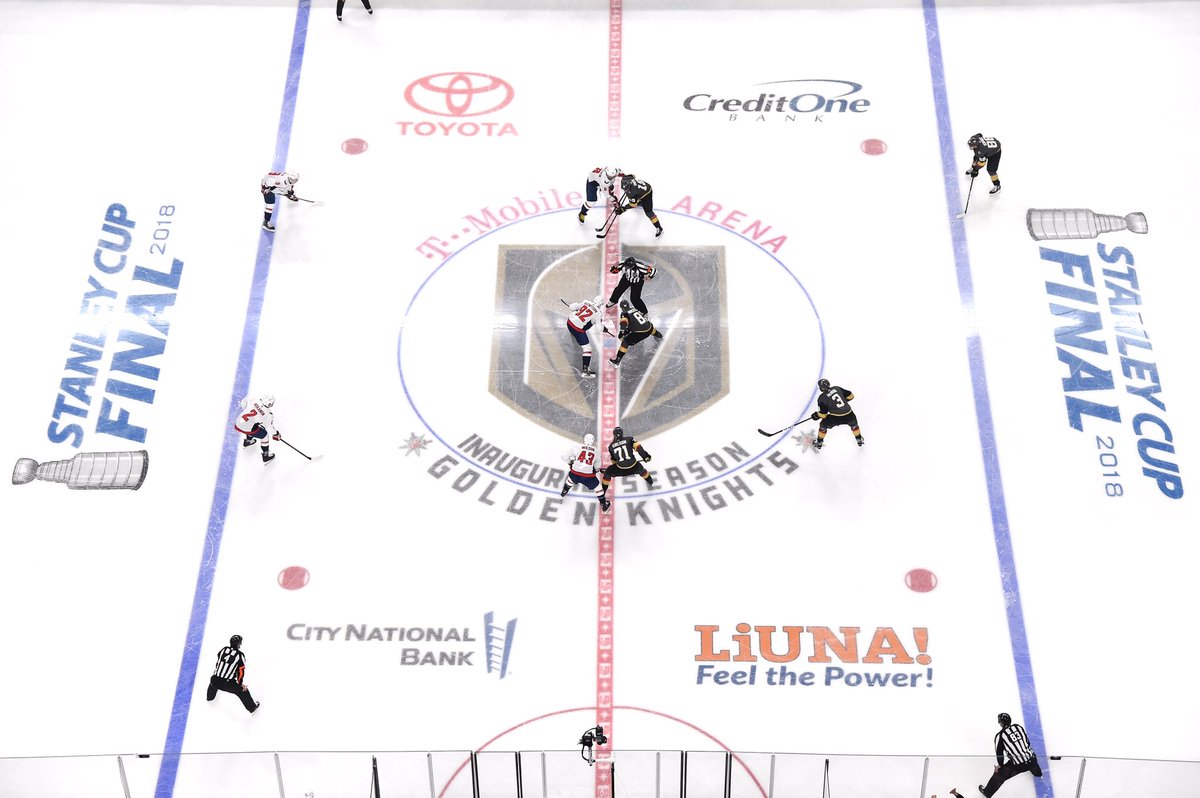 Game 5 Officials
The referees for today's game are Marc Joannette (#25) and Wes McCauley (4). The linesmen are Jonny Murray (#95) and Matt MacPherson (#83).
Game 5 Trends
* The Golden Knights went 2-0 in Game 5 en route to the Stanley Cup Final, defeating San Jose at T-Mobile Arena in the Second Round and clinching the Western Conference Final at Winnipeg. The Capitals are 2-1 in Game 5, recording home wins over Columbus in the First Round (overtime) and Pittsburgh in the Second Round before losing at Tampa Bay in the Eastern Conference Final.
* Teams that take a 3-1 lead in a best-of-seven series have gone on to win the series 90.8% of the time (276-28 in 304 series), with the success rate increasing to 97.0% in the Final (32-1 in 33 series). The Capitals have won 58.3% of series in which they won three of the first four games (7-5 in 12 series). The rest of the NHL owns an all-time series record of 269-23 (92.1% in 292 series) when leading 3-1 in a best-of-seven series.
* The Golden Knights, who face elimination for the first time, aim to become the 16th team to force a Game 6 when trailing 3-1 in the Final. The last team to do so in any series was the Toronto Maple Leafs in the First Round this year against the Boston Bruins; the Bruins went on to win in seven games.
* The Capitals (9-3 away from Capital One Arena) can match an NHL record with their 10th road victory. Only four teams in NHL history have earned more road wins than Washington in a single playoff year, three of which captured the Stanley Cup: the 1995 Devils (10-1), 2000 Devils (10-2) and 2012 Kings (10‑1). The 2004 Flames (10-4) also won 10 road games, but ultimately lost in the Stanley Cup Final (4-3 L vs. TBL).
* The Golden Knights, meanwhile, are a League-leading 7-2 on home ice this postseason. Only one other team in NHL history has recorded seven home wins during its first-ever playoff appearance: the 1996 Florida Panthers (in their third season) went 7-4 at home to reach the Final.
Capitals Notes
* The Capitals – who fell behind 2-0 in the First Round vs. CBJ, 1-0 in the Second Round vs. PIT, 3-2 in the Conference Finals vs. TBL and 1-0 in the Stanley Cup Final vs. VGK – are attempting to become the second team in NHL history to win the Stanley Cup despite trailing in all four playoff rounds. The 1991 Penguins also faced a series deficit in each round, eventually defeating the North Stars in the Stanley Cup Final (4-2 W).
* The Capitals went 3-for-5 on the power play in Game 4, raising their conversion rate to 29.6% this postseason (21-for-71). Among teams with at least 60 opportunities, only three have converted at a higher rate during a single playoff year since the League officially began tracking power-play percentage in 1977-78: the 1981 New York Islanders (37.8%, 31-for-82), 1982 Islanders (29.9%, 23-for-77) and 1994 Toronto Maple Leafs (29.7%, 22-for-74).
* Captain Alex Ovechkin opened the scoring in Game 3 with his 14th goal of the playoffs, matching Winnipeg's Mark Scheifele for the League lead and also tying John Druce's (1990) single-year franchise record. Only one NHL player since 1997 has potted more goals in a single postseason: Pittsburgh's Sidney Crosby in 2009 (15) en route to winning the Stanley Cup.
* Ovechkin became the 34th player in League history to register 60 career playoff goals. Only three other active NHLers have reached the milestone: Patrick Marleau (72), Crosby (66) and Evgeni Malkin (62). Ovechkin's average of 0.50 goals per playoff game (60 G in 120 GP) ranks ninth in NHL history among players with at least 100 postseason appearances.
* Ovechkin has 33 goals in 56 career games (regular season and playoffs) against Golden Knights netminder Marc-Andre Fleury, his second-highest total versus any NHL goaltender behind the Rangers' Henrik Lundqvist (35 in 71 GP).
* Ovechkin, who eclipsed 600 goals and 1,000 games during the regular season (607-515—1,122 in 1,003 GP), is making his Stanley Cup Final debut in his 13th NHL season. Only one player has scored more regular-season goals prior to making his Stanley Cup Final debut: Dave Andreychuk, who had 634 goals when he played for the Lightning – and ultimately won the championship – in 2004.
* Forward Evgeny Kuznetsov collected four assists in Game 4, tying a single-game Stanley Cup Final record achieved by 11 other players. The last: Colorado's Joe Sakic in Game 2 of the 1996 Final vs. FLA (8-1 W). Kuznetsov's four assists also equaled a Capitals' single-game playoff record, achieved by Scott Stevens in Game 6 of the 1988 Patrick Division Final at NJD (7-2 W) and Andrei Nikolishin in Game 3 of the 1998 Eastern Conference Final at BUF (4-3 OT W).
* Kuznetsov leads the playoffs with 12-19—31 (23 GP), tied for the second-highest point total in a single postseason since 1997. Pittsburgh teammates Evgeni Malkin and Sidney Crosby notched 14-22—36 and 15-16—31, respectively, in their Stanley Cup-winning 2009 campaign.
* Kuznetsov (Chelyabinsk, Russia) and Ovechkin (Moscow, Russia, 14-12—26) rank 1-2 in playoff scoring. Only two Russian-born players have led the NHL in postseason scoring during the League's modern era (since 1943-44): Detroit's Sergei Fedorov (Pskov, Russia) in 1995 and Malkin (Magnitogorsk, Russia) in 2009 and 2017.
* Kuznetsov, who set a franchise playoff record with an 11-game point streak (May 3-28: 6-10—16) that ended in Game 2, has 23-36—59 in his past 41 outings (regular season and playoffs) dating to Feb. 24.
* John Carlson scored in the second period of Game 4 to boost his career playoff totals (all w/ WSH) to 18-36—54 (99 GP), matching Calle Johansson (12-42—54 in 95 GP) for the most postseason points by a defenseman in Capitals history. Carlson also owns the franchise playoff record for goals by a blueliner (18) and ranks third in assists by a defenseman (36), behind Scott Stevens (44) and Johansson (42).
* Carlson, who led NHL blueliners with 15-53—68 during the regular season, paces all defensemen with 5-14—19 during the playoffs – franchise records for assists and points by a blueliner in a single postseason.
* Goaltender Braden Holtby is 44-37 in 81 career playoff appearances (all w/ WSH), compiling a 2.03 goals-against average, .929 save percentage and six shutouts. That is the second-highest save percentage and fifth-best goals-against average in NHL postseason history among goaltenders with at least 50 outings.
* Forward Devante Smith-Pelly posted the winning goal in Game 4, his second tally in as many games and sixth of the playoffs (23 GP) after scoring seven times during the regular season (75 GP). Smith-Pelly has registered one other winning goal this postseason, the series-clincher in Game 6 of the First Round at CBJ.
Golden Knights Notes
* The expansion Golden Knights are seeking to become the first NHL, MLB, NBA or NFL team to win a championship in its inaugural season – excluding the first year of a league's existence – since the 1950 Cleveland Browns captured the NFL Championship. The NBA's Minneapolis Lakers (1948-49) and Baltimore Bullets (1947-48) also won the title in their respective first seasons.
* The Golden Knights are the first expansion team in 50 years from the NHL, MLB, NBA or NFL to even reach the championship series or game in its inaugural season. The 1967-68 Blues were the last to accomplish the feat, emerging from the NHL's all-expansion West Division to advance to the Stanley Cup Final (where they ultimately lost to the Canadiens in four straight games).
* The Golden Knights have recorded three consecutive losses for just the fourth time in 101 games (regular season and playoffs). The other three instances, all during the regular season: Oct. 30 – Nov. 2 (0-3-0), Nov. 28 – Dec. 1 (0-3-0) and Feb. 26 – March 2 (0-2-1). They have not lost four consecutive games at any point in 2017-18.
* Forward Jonathan Marchessault has registered half of his team-leading eight playoff goals in games following a loss, scoring in three of five such contests for a total of four goals and eight points. In the Second Round vs. SJS, Marchessault collected 1-2—3 in Game 3, including an assist on William Karlsson's overtime goal that gave Vegas a 2-1 series lead. In Game 5 against the Sharks, he posted 1‑1—2, including a late insurance goal to give the Golden Knights a two-goal advantage. Marchessault then scored twice in Game 2 of the Western Conference Final at WPG, including the winning goal, as the club rallied for four straight victories to clinch the series.
* Marchessault collected one assist in Game 1 vs. WSH, giving him 8-11—19 in the 2018 Stanley Cup Playoffs. That established a record for a player with a franchise in its first-ever postseason, surpassing the Islanders' Jude Drouin in 1975 (6-12—18) and Sharks' Igor Larionov in 1994 (5‑13—18). Marchessault and Reilly Smith are currently tied for the team lead in playoff scoring (Marchessault, 8-12—20; Smith, 4-16—20).
* The line of Marchessault (8-12—20), Smith (4-16—20) and William Karlsson (7-8—15), featuring Vegas' top three point-producers, has combined for 19-36—55 and five game-winning goals during the playoffs (19 GP).
* Goaltender Marc-Andre Fleury has allowed two or fewer goals in 10 of his 19 postseason appearances this year, compiling a 13-6 record with a 2.15 goals-against average, .929 save percentage and four shutouts. That includes a 7-2 clip at home, where he has a 1.91 goals-against average, .936 save percentage and two shutouts.
* Already a three-time Stanley Cup champion (w/ PIT), Fleury is the 19th goaltender in NHL history to represent multiple teams in the Final. The last netminder to do so was Dominik Hasek, who backstopped the Red Wings to a Stanley Cup win in 2002 after playing in the Final with the Blackhawks (1992) and Sabres (1999).
* Fleury, who registered every win during Pittsburgh's championship run in 2009, can become the 11th goaltender in NHL history to have his name on the Stanley Cup at least four times – and the fourth of that group to win with multiple clubs. He also can become the first goaltender in League history, and eighth player regardless of position, to win the Stanley Cup in consecutive years with different teams – and first since Cory Stillman did so in 2004 with the Lightning and 2006 with the Hurricanes.
* Skating in his 97th NHL contest (regular season and playoffs), forward Tomas Nosek (2-0—2) registered his first career multi-goal performance and winning goal in Game 1 of the Stanley Cup Final. Vegas acquired the 25-year-old Pardubice, Czech Republic, native from Detroit in the 2017 NHL Expansion Draft. He originally signed with the Red Wings as an undrafted free agent in 2014.
* Nosek also provided the heroics in Game 1 of last year's Calder Cup Final, scoring the winning goal for the Grand Rapids Griffins with 13.9 seconds remaining in regulation (vs. SYR). He led the Griffins, and ranked third in the AHL, with 10-12—22 in the playoffs en route to winning the Calder Cup.
* Nosek became the 10th Golden Knights player with a game-winning goal in the 2018 Stanley Cup Playoffs, one shy of the NHL postseason record last accomplished by the 2017 Predators.